Dir: Ulrich Seidl. Austria. 2013. 91mins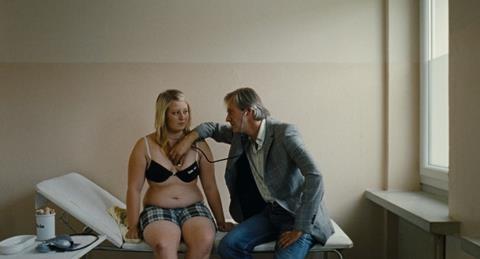 Now that the Ulrich Seidl trilogy is completed, it turns out Paradise: Lost would have been a better fitting title for the three films. There wasn't much love in Paradise: Love nor was there much real faith in Paradise: Faith, therefore, predictably enough, Seidl finds no 'hope' for the finale.
Like most of his work, the trilogy once again offers Seidl's jaundiced theory that there is no chance for human beings to achieve their dreams and desires, whether they are legitimate or more frequently, perverse.
In a disappointing conclusion to an ambitious project, he follows Meli (Melanie Lenz), an overweight 13 year- old to a diet camp, where she falls in love with a well-kept doctor in his fifties (professional stage actor Joseph Lorenz), an impossible affair which the man himself seem to encourage for a while - but only for a while - for there cannot be any hope at the end of the their romantic journey. No real surprise considering this is a Seidl film.
Meli is the daughter of the same Teresa who went to look, in the Love episode, for sexual bliss in Kenya and her aunt, who passes through briefly in that film's opening sequence, is the same Anne-Marie flagellated herself for Jesus in the Faith episode. With her mother away on holiday and the auntie praying on her knees, Meli is sent to a summer camp where she is supposed to shed, in the company of kids her own age and condition, some of their vastly unnecessary kilograms.
In no time at all, with a bunch of uninspiring instructors doing practically nothing to help them, the boys and the girls bond together, fool around, smoke cigarettes when no one watches, reveal secrets to their closest friends ( mostly secrets related to the early stages of sexual life), drink beer and sneak into the kitchen for some junk food. Without better looking company to remind them of the reason they are in the first place, they even tend to forget their plumpness and songs about "flapping your fat" do not seem to make any impression on them.
Already introduced in the first section of the trilogy as someone who likes nothing better than lounging on a sofa, munching sandwiches and talking on her beloved cellphone for hours, Meli's dormant sex buds are sufficiently titillated by her intimate conversations with her spunky roommate, Verena (Verena Lehbauer) to find in the presentable camp doctor (Joseph Lorenz) the perfect object for her puppy love. But while he is intrigued and at times even tempted to pluck the raw fruit (Seidl concedes he had thought of Nabokov's Lolita and even intended to call the girl's character by that name), Meli's idea of happiness is beyond her reach in this film.
Less outrageous and original than either one of the two preceding trilogy parts, Meli's tentative romance in Paradise: Hope is rather pedestrian and can hardly reflect on the larger aspects of 'hope' in the same way that the earlier films attempted to do with the concepts of 'love' and 'faith'. Meli's infatuation looks like nothing more than just that, too vague a reason to see it as a metaphor of shattered human hopes. This is just an incident soon to be forgotten, unless Meli will go home to sit again on her couch and munch sandwiches, mulling over her missed opportunity.
This also looks to be the most contrived and manipulative of the three Paradise episodes. Actions are dictated and cut off in the middle arbitrarily, insinuating more than there is any need for and despite all efforts, the script hardly manages to fill up the 91 minutes of its running time. Some of the problems might have been alleviated by warmer relations between Lenz and Lorenz, but the two are uncomfortable enough for the audience to suspect they are unhappy with their characters. The most natural performance comes from the ebullient Verena Lehbauer as Meli's close friend and confidante.
The film's visual style often looks like a sort of compromise with a conventional movie narrative - which Seidl insistently rejected in the past - but to the credit of his two cameramen Wolfgang Thaler and Ed Lachman, some of the images – for instance a forest in the mist with Meli and the doctor lying on the ground – could easily be displayed in a museum.
Like most of his work, the trilogy once again offers Seidl's jaundiced theory that there is no chance for human beings to achieve their dreams and desires, whether they are legitimate or more frequently, perverse. But the moments of grace and compassion which lent depth to his sardonic approach in the past, are less effective here, and the trilogy which started with a shout and went to a scream, wraps up in a whisper.
Production company: Ulrich Seidl Film.
International sales: Coproduction Office, www.coproductionoffice.eu
Producer: Ulrich Seidl
Screenplay: Ulrich Seidl, Veronika Franz
Cinematography: Wolfgang Thaler, Ed Lachman
Editor: Christoph Schertenleib
Production designers: Renate Martin, Andreas Donhauser
Main cast: Melanie Lenz, Joseph Lorenz, Verena Lehbauer, Johanna Schmid, Michael Thomas, Vivian Bartsch