Dir: Robert Luketic. US. 2013. 106mins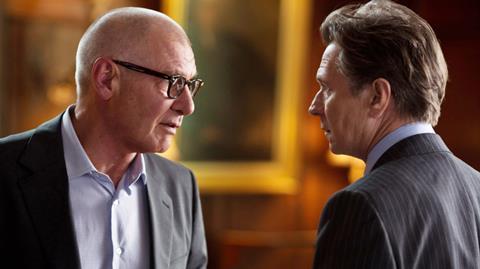 The digital devices get almost as much screen time as the cast in Paranoia, a far-fetched thriller that manages to feel generic in spite of its fairly novel setting in the world of high tech corporate espionage. Co-stars Gary Oldman and Harrison Ford give the cast some heft, but with the youthful and less well-known Liam Hemsworth as the lead this lightweight indie outing might be better suited to video and TV markets than theatrical.
Oldman and Ford aren't helped in their villainous roles by a script that's bereft of decent dialogue.
The multi-company co-production gets its first theatrical test in a wide US release through Relativity Media on August 16, when it will have to compete with three other late summer openers. Independent distributors that picked up rights from I M Global will handle the international rollout through September and October, when competition could be lighter and where Oldman and Ford's names might be especially valuable.
Based on a 2004 novel by Joseph Finder (whose work was previously adapted in 2002 mystery High Crimes) but clearly shaped for the post-financial meltdown era, the story begins with software wiz Adam (Hemsworth, best known for The Hunger Games) on the outs at the global tech company run by hardscrabble British billionaire Nicolas Wyatt (Oldman).
To get his job back and make money to care for his ailing blue-collar dad (Richard Dreyfuss), Adam agrees to infiltrate the company of Wyatt's former mentor and current arch rival Jock Goddard (a shaven-headed Ford). Before long, of course, Adam finds himself under threat by both tech titans and in trouble with girlfriend/co-worker Emma (Amber Heard, from The Rum Diary).
Steered by Australian director Robert Luketic (whose previous credits include gambling thriller 21), the film never manages to gain much tension or momentum. And it relies too heavily on expository tech talk and the plot-twisting capabilities of very clever smartphones.
Hemsworth (also an Aussie and the younger brother of Thor star Chris Hemsworth) has a certain amount of boyish charm but doesn't seem ready to carry an adult thriller. Oldman and Ford aren't helped in their villainous roles by a script that's bereft of decent dialogue.
Production companies: Reliance Entertainment, Demarest Films, E Stars Distribution, Emjag Productions, Gaumont, Film 360, Deepak Nayar Production
US distribution: Relativity Media
International sales: I M Global, www.imglobalfilm.com
Producers: Alexandra Milchan, Scott Lambert, William D Johnson, Deepak Nayar
Executive producers: Stuart Ford, Sam Englebardt, Sidonie Dumas, Christophe Riandee, Allen Liu, William S Beasley, David Greathouse, Douglas Urbanski, Ryan Kavanaugh, Tucker Tooley
Screenplay: Jason Hall, Barry L Levy, based on the book by Joseph Finder
Cinematography: David Tattersall
Editor: Dany Cooper
Production designer: David Brisbin
Music: Junkie XL
Website: http://paranoiamovie.com/
Main cast: Liam Hemsworth, Gary Oldman, Amber Heard, Harrison Ford, Richard Dreyfuss