Dir: Christopher Landon. US. 2014. 84mins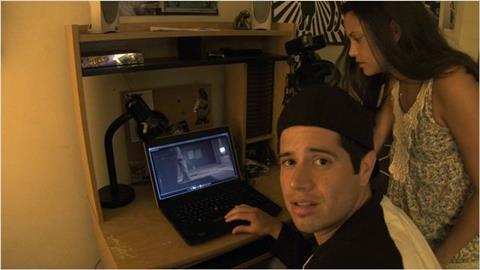 A competently made, moderately engaging franchise placeholder that doesn't strike out and take enough chances with its supernatural possession story, ancillary spin-off Paranormal Activity: The Marked Ones mainly marks time until the enormously lucrative found-footage genre series ostensibly returns to the roots of its main story later this year. Aimed in concerted fashion at Hispanic audiences, which have helped make the Paranormal Activity films a box office success, the movie achieves a feeling of realistic socio-cultural milieu but suffers from an under-sketched narrative and a timidity born of parceled-out corporate profit protection.
The film needs more ideas. It's more a movie of character-rooted tension and suspense than horror, which would work a lot better with more meat on its bones.
Paranormal Activity 4 pulled in the lowest returns of the series (under $54 million domestically), but still grossed over $142 million worldwide against a reported $5 million budget. The Marked Ones will have considerable competition and a short theatrical window, between holdover and expanding Christmas releases and the similarly themed horror film Devil's Due, opening Stateside on January 17. Still, social media buzz — a key component of the franchise dating back to even before the original film's 2009 release — suggests distributor Paramount should be able to effectively leverage the Paranormal Activity brand and provide a robust bridge to the next installment (editor-producer Gregory Plotkin is helming the fifth numbered film, and sixth in the series, currently slated for release in October.)
Pivoting from security camera and webcam footage to the more conventional handheld video camera, The Marked Ones tracks a couple of recent Oxnard, California, high school graduates, Jesse (Andrew Jacobs) and Hector (Jorge Diaz), who make a series of unnerving discoveries about Jesse's downstairs neighbor, Ana (Gloria Sandoval), concurrent with their classmate, straight-arrow valedictorian Oscar (Carlos Pratts), seemingly going off the deep end.
When Jesse is gifted with strange powers (and worrisome wounds), he and Hector, along with Marisol (Gabrielle Walsh), are spurred to investigate a potential connection to Ana. Later, when Jesse's behavior becomes more aggressive and troublesome, Hector and Marisol lean on Oscar's thuggish older brother, Arturo (Richard Cabral), to try to save their friend.
Originating writer-director Oren Peli and fellow producer Jason Blum have also found genre success as producers on the Insidious franchise, which has some nominal overlap with this series. But among the films which they seem to have paid particular attention to this go-round are 20th Century Fox's 2012 hit Chronicle — whose jocular-turned-dark-and-panicked video camera footage-framing device serves as a strong influence upon The Marked Ones in terms of its structure — and Warner Bros.' Final Destination franchise, for how it's managed to tell discrete stories that fit into a larger narrative tapestry.
Writer-director Christopher Landon, having had a hand in penning all of the sequels, fits his film neatly into the mythology of the Paranormal Activity series. But at under a brisk 80 minutes without end credits, the movie doesn't much dawdle or waste time around the edges, perhaps to a fault.
The Marked Ones feels fairly authentically rooted in Mexican-American culture (various scenes with Jesse's grandmother Irma, played by Renee Victor, occur without subtitling), and most of the acting is pleasantly naturalistic, charting a course from warm and playful to worried and then terrified.
Its characterisations are a bit thin, however. Marisol is especially underwritten, an eye candy addition who feels untethered to either Jesse or Hector. A lot of The Marked Ones feels safe, like it's just biding time. The film needs more ideas. It's more a movie of character-rooted tension and suspense than horror, which would work a lot better with more meat on its bones.
Most notably, the film feels like it misses a big opportunity for a truly arresting and unique showdown when it introduces the notion of a group of gangbangers squaring off against a coven of witches, only to fritter away the potential this sequence.
The film's technical credits are solid for a work of its budget. Landon nicely abstains from an abundance of aggressively foleyed jump-scares, opting for a workable blend of practical effects, smart camera placement and a couple well-utilized computer-augmented effects. If its standalone payoffs feel wan, hardcore fans of the series will at least leave talking about how The Marked Ones fits in with past films and what's to come.
Production companies: Blumhouse Productions, Solana Films, Room 101 Productions Inc.
US distribution: Paramount Pictures
Producers: Jason Blum, Oren Peli
Executive producer: Steven Schneider
Co-producers: Samson Mucke, Gregory Plotkin
Screenplay: Christopher Landon, based on the film "Paranormal Activity" by Oren Peli
Cinematography: Gonzalo Amat
Editor: Gregory Plotkin
Production designer: Nathan Amondson
Website: www.ParanormalMovie.com
Main cast: Andrew Jacobs, Jorge Diaz, Gabrielle Walsh, Renee Victor, Gloria Sandoval, Richard Cabral, Noemi Gonzalez, David Saucedo, Carlos Pratts