Dir: Hafsteinn Gunnar Sigurðsson. Iceland. 2014. 95mins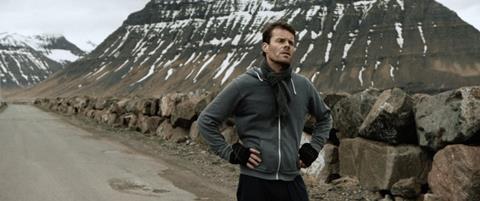 A delightfully droll bit of Icelandic comedy-drama, Hafsteinn Gunnar Sigurðsson's highly watchable film dwells astutely on fractured human relationships with particular emphasis on the male of the species. One of the best up-and-coming young European directors, he has crafted a revealing, amusing and intelligent film to be cherished.
Paris Of The North is a delightfully dry and wry comedy drama.
Of course, given this is Icelandic cinema, Paris Of The North (París norðursins) is a dry and brittle film, with a dark humourous spine running alongside the sometimes blewak drama. The film, which world premiered in competition at Karlovy Vary, must be a contender for a major award and will be a regular feature at other international film festivals.
His first film, the excellent 2011 comedy-drama Either Way (A Annan Veg) also screened at Karlovy Vary as well as many other festivals, and went on to speedily remade in the US as Prince Avalanche, directed by David Gordon Green.
That film also dealt with male relationships, as two mismatched chaps painted lines in the remote Icelandic roads, and with Paris Of The North he heads into vaguely familiar territory as it focuses on lonely and rather confused teacher Hugi (Björn Thors), living in a tiny fishing village in the North West of Iceland, total population 150. He passes his days jogging; going to an Alcoholics Anonymous meeting (of just three people) and taking Portuguese language lessons online.
He was in a relationship with a local woman (Nanna Kristín Magnúsdóttir), but it drifted to an end, though he still knocks a football about with her young son. His empty life is punctured by the arrival of his boozy father (played by actor/rock star Helgi Björnsson) who arrives from Thailand. The precarious balance that Hugi has managed to sustain is thrown out of kilter as his father tests Hugi's patience.
Just as he is ready to throw him out, his father is rushed to hospital and Hugi is forced to take him back into his tiny house and try and tend to him. Things gets wonderfully complex as his father starts romancing the woman Hugi was seeing (who happens to be daughter of one of the other AA members and is the ex-wife of the other), though when Hugi finds out his ex-girlfriend, who has moved to Portugual (hence the lessons), is seeing a new man he goes off the rails and starts drinking again.
The wonderfully – and often beautifully – bleak landscape contrasts perfectly with the more downbeat aspects of the story. It is a slow moving and darkly funny story (an elastic band around the penis moment may have some male watchers wincing), with Hafsteinn Gunnar Sigurðsson favouring gentle slow takes (interspersed with momentsof rock music) that allows the wry and sparse performances of the actors to shine through and let them quietly develop their characters. Paris Of The North is a delightfully dry and wry comedy drama.
Production companies: Kjartansson & Zik Zak Filmworks, Arizona Productions, Flickbook Films, Profile Pictures
Sales contact: Pascale Ramonda, pascale@pascaleramonda.com
Producers: Sindri Pall Kjartansson, Porir Snaer Sigurjonsson
Executive producers: Skulli Fr. Malmquist, Ditte Milsted, Jacob Jarek, Guillaume de Seille, Tobias Munthe
Screenplay: Huldar Breiðfjörð
Cinematography: G Magni Agustsson
Editor: Kristjan Loomfjord
Production designer: Halfdan Pedersen
Music: Prins Póló
Main cast: Björn Thors, Helgi Björns, Nanna Kristín Magnúsdóttir