Dirs/scr: Marie Amachoukeli, Claire Burger, Samuel Theis. France. 2104. 95mins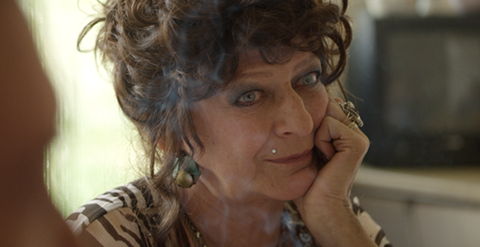 A fascinating, raw and often powerful interweaving of fact and fiction, Un Certain Regard opener Party Girl plays like a gritty soap opera at times, slowing introducing its lead characters and getting more and more engaging as the film draws on. Playing a version of herself, the vibrant Angelique Litzenburger (the real-life mother of co-director/writer Samuel Theis) is a dominant character whose conflicted personality is the beating heart of the film.
The realist style of the film is what resonates as Party Girl delves into an intimate story amongst a group of people – and a region – rarely seen on film.
Using non-professional actors and with a storyline loosely based on their on lives, the film's neo-realist roots shine through with the film-makers admitting explicit links to Pialat and Cassavetes, with films like A Woman Under The Influence and Mama Roma (stories of free-spirited atypical women) a strong reference.
The film follows Angelique, an exuberant almost 60 year-old woman living in Lorraine near the France/German border who has only known the nightlife, having worked as a bar hostess in 'cabaret clubs' in the region. She has four grown-up children, but is hardly the perfect example of motherhood, and yet she still relishes her club life with fellow dancers and hostesses.
She likes to drink too much and hang out in her bar, but now she is older her client base has withered away. Michel (Joseph Nour), a regular client, is still in love with her, and to her surprise asks her to marry him. To her even greater surprise she says yes.
The film follows Angelique adjusting to life in the daylight and living in Michel's ordinary house rather then her usual life of being carried drunkenly to bed by a bouncer from the club. She struggles to adjust to this new life – and has a drunken lapse – before her four children (played by real life children Mario Theis, Samuel Theis, Severine Litzenburger and Cynthia Litzenburger) arrive from different parts of the country to help arrange aspects of the wedding and share some rare quality time with her.
Party Girl originated with a real-life event, Angelique's wedding and weaves in autobiographical elements such as her cabaret life, the children and own unique look. While the opening half – which details her cabaret life and who she views new domestic life – is quite intriguing, the film comes to life in the second part when her children arrive to try and support her, with the late arrival of youngest daughter Cynthia, who had been placed in a foster home, the most poignant. They all have a good relationship with her, but at the same time don't really know her.
Drama comes as she begins to have doubts about getting married, and while aspects of the story may well be rather familiar the realist style of the film is what resonates as Party Girl delves into an intimate story amongst a group of people – and a region – rarely seen on film.
Production company Elzevir Films
International sales Pyramide International, www.pyramidefilms.com
Producers Marie Masmonteil, Denis Carot
Cinematography Julien Poupard
Editor Frederic Baillehaiche
Music Nicolas Weil, Sylvain Ohrel, Alexandre Lier
Main cast Angelique Litzenburger, Joseph Bour, Mario Theis, Samuel Theis, Severine Litzenburger, Cynthia Litzenburger