Dir: Pascal Rabate. France. 2014. 92mins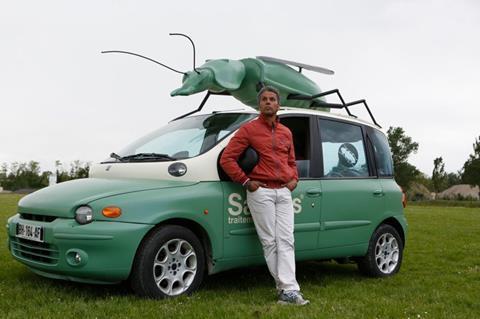 An ironical romantic morality play may sound like a contradiction in terms but that is probably the best way to describe Patchwork Family (Du goudron et des plumes), Pascal Rabate's new look at all of the foibles of provincial France today, of which there are many.
The script veers all over the place, with neither the love story nor the social issues, being treated with anything but flippant disinterest.
In his last film, Holiday By The Beach (for which he got a directing award in Karlovy Vary), he had deprived his characters of the right to speak, expecting them to be funny and satirical at the same time, without saying a word. This time, they have a lot to say but somehow manage to avoid the thorny issues which seem to preoccupy the French at the present time, putting a kind of good-humored patina over all their troubles and borrowing some of the American comedy gimmicks to lead to a pleasing end that should leave all the characters, but probably not every audience, happy and fulfilled.
In a plot riddled with clichés, to the point it becomes a kind of self-conscious mannerism, the script Rabate concocted with Antoine Pinson has Sami Bouajila playing a pesticide salesman too smart for his own good. A divorced loner of North African origins with the unlikely name of Christian, he is an incorrigible philanderer who asks for nothing better than to fall in love. He dotes on his teenage daughter Vanessa (Talina Boyaci) who's working hard to become a baton-twirling cheerleader; scoffs at his brother's self-piteous moodiness and resists his father's insistent innuendoes to become a respectable member of the community in which he lives.
Apparently a free spirit who rejects any attempts to conform, he refuses to join a triathlon competition between three neighboring cities, but then accepts it because he doesn't want to shame his daughter. He is kicked out of the team for not being an upstanding citizen but finally he almost saves the honour of the city at the last moment. He falls for Christine (Isabelle Carre) the pregnant mother of his daughter's closest friend, who conveniently enough has no husband of her own… but just when this seemingly perfect couple, are about to hit it off there is the proverbial snag which almost prevents it, before the athletic competition restores universal entente.
Sounds familiar, doesn't it? But Rabate obviously wished to go further than the clichés and satirise such issues as the efforts of the immigrant community to blend into the French spirit, also to point out how much the landscape of the countryside has changed from the good old times, with new, non-descript, box-like homes spread all over the place, offering the grim comfort of modern life but deprived of all grace.
But the need to have romance at any cost results in an uneasy relationship that doesn't make much sense, given Christian's character as painted in the early scenes, and bereft of a solid anchor, the script veers all over the place, with neither the love story nor the social issues, being treated with anything but flippant disinterest.
On one hand, Rabate's immigrants do not need much pressure to become just like their neighbors and to gain their approval, abandoning every single trace of their own identity. On the other hand, the love story is flimsy enough to evaporate in the slightest wind. Both Sami Bouajila (one of France's favorite North African entertainers) and Isabelle Carre (who was as pregnant as her character when she shot the movie) play their roles straight to fit into Rabate's traditional deadpan style, which is supposed to raise smiles rather than guffaws. Some of the time it works, but more often than not comic inventions drag their feet just that bit too long and it is well known that no joke works when the listener knows the punchline before it is delivered.
Production companies: Loin derriere l'Oural
International sales: Film Boutique, www.filmboutique.com
Producer: Xavier Dalmas
Screenplay: Pascal Rabate, Antoine Pinson
Cinematography: Benoit Chamaillard
Editor: Jean-Francois Elie
Music: Alain Pawzner
Main cast: Sami Bouajila, Isabelle Carre, Talina Boyaci, Gustave de Kervern, Laura Genovino, Charles Schneider