The historical thriller Glorious 39 is Stephen Poliakoff's first film for 10 years and will have its world premiere at Toronto.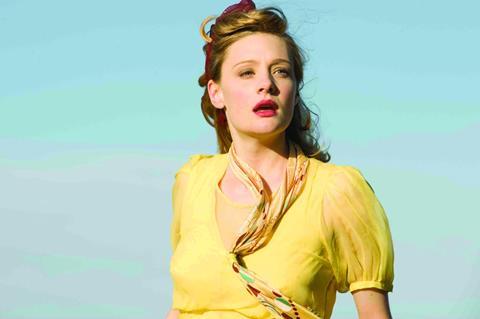 Stephen Poliakoff is squirming in his director's chair, a 56th birthday present from the crew of his new feature project, Glorious 39. After capturing a few scenes, he abandons the seat which bears his name and slumps into a deckchair.

Perhaps it is not the chair that feels new, but rather the idea of being at the helm of a feature film again.
"With the world in financial turmoil, who knows how that will affect the financing of films, especially British films. It's always been a very fragile cottage industry"

Stephen Poliakoff
Glorious 39 marks Poliakoff's return to film-making after a 10-year stint in television during which time his credits included the critically acclaimed UK TV dramas Capturing Mary, The Lost Prince and Gideon's Daughter. Prior to that he wrote and directed feature films including Close My Eyes (1991) starring Clive Owen, The Tribe (1998) with Joely Richardson and Anna Friel, and Food Of Love (1997) starring Richard E Grant.

"I had a great time making television but people were saying, 'Come on, make a movie.' I left the cinema because of problems with distribution but things are better now," he says.

Poliakoff set the script for Glorious 39 on the eve of the Second World War in the UK: "It was a time of enormous passion; there were those who were really against the idea of standing up to Hitler and those who were passionately for. I thought it was an extraordinarily interesting time to set a thriller," he says.

Set between the present day and 1939, the film follows the members of an aristocratic English family desperate to uphold their very traditional way of life amid great social and economic upheaval. Romola Garai (Atonement) plays the eldest sibling, a budding young actress in love with a Foreign Office official. But when she finds secret recordings of the anti-appeasement movement, her perfect life begins to unravel.

Garai stars alongside an impressive UK cast which includes Bill Nighy as her father and Julie Christie as her aunt, alongside Charlie Cox, Eddie Redmayne, Juno Temple and David Tennant. Nighy, for one, says he jumped at the chance to work with Poliakoff: "Stephen has a very original way of looking at things."

Funding fell into place

The project is produced by Martin Pope of Magic Light Pictures, whose credits include Lawless Heart and The Heart Of Me, and freelance producer Barney Reisz, who Pope brought on board as a second producer because other commitments meant he needed to share production responsibilities.

Reisz, whose credits include the Emmy award-winning mini-series Elizabeth I, had worked with Poliakoff some 15 years earlier as a location manager on the director's 1993 film, Century. Reisz is producing Glorious 39 for leading independent UK TV producer Talkback Thames, which works regularly with Poliakoff and is not ruling out further involvement in feature film production.

Poliakoff completed the script in April 2008 and the financing was pulled together in a matter of months. "The speed at which it came about was down to the power of the script, the power of the project, and the power of the cast that Stephen was able to get together. Cast just fell over themselves to work with him," says Reisz.

Reisz and Pope approached BBC Films, with which Poliakoff has regularly worked, and the organisation agreed to invest in the project's $6m (£3.7m) budget. "The BBC has always been a huge fan of Stephen. They made it clear they wanted to be involved right from the start," says Reisz. Jane Wright, head of rights and commercial, was eager to be involved after a "long and fruitful history of working with Stephen on his television dramas".

Around $1.4m (£860,000) came from the UK Film Council's (UKFC) Premiere Fund. Sally Caplan, head of the fund, says: "This is a chilling and remarkable thriller based on fact, which although period, has great contemporary relevance." She is confident it will mark Poliakoff's "triumphant return to the big screen".

To obtain the UKFC funding, the producers had to bring a UK distributor on board and Momentum Pictures was happy to oblige, taking theatrical and home entertainment rights. Sam Nichols, the one-time managing director of Momentum Pictures who has since left the company, says: "The mixture of such a stellar cast and crew alongside Stephen's brilliant and unique style first attracted us to this project."

A further $570,000 (£350,000) was provided by regional body Screen East (the project shot in Norfolk), while Quickfire Films, the London-based sales and acquisition company invested just over $815,000 (£500,000), in exchange for international sales rights. It then subcontracted the rights to The Works International. Joy Wong, head of The Works, describes the project as a "compelling thriller" with an "impressive cast".

Stately procession

Glorious 39 shot for seven weeks in Norfolk and London late last year, at locations including stately homes Walsingham Abbey and Claydon House. Some interiors were also shot at Ealing Studios.

"Stephen was pretty wedded to doing it in the UK and he knew Norfolk really well. He was specific about some of the landscapes he wanted and the feel of the place. Norfolk was perfect," says Reisz.

Poliakoff says he enjoyed the variety of settings. "We've had the chance to shoot in some extraordinary places, some very evocative and never-filmed-in locations in Norfolk," he says.

The cold November and December temperatures might have posed a problem given the film is set in late summer but Reisz was not fazed. "We make it work, we fake it and we watch the weather forecast carefully." While filming a picnic scene on a particularly cold day, actors sucked ice cubes to stop their breath from fogging when they exhaled.

Sound post-production took place at London's Boom Post Production, while picture post was carried out at Ascent Media. The team is now gearing up to take Glorious 39 to Toronto and to the London Film Festival, with a planned late 2009/early 2010 theatrical release in the UK in time for the 70th anniversary of the start of the Second World War. The film has sold to the Middle East (Italia Film).

Meanwhile Poliakoff is working on an original screenplay and has a theatre production on the horizon. While he has not ruled out further feature films, he is concerned about how the credit crunch will affect film-making.

"With the world in financial turmoil, who knows how that will affect the financing of films, especially British films. It's always been a very fragile cottage industry," he says. "But it's the cheapest form of entertainment and people like going to the cinema. Hopefully the cinema industry won't be decimated quite as much as one might imagine."
In Figures
$6m
Budget of Glorious 39
3
Number of filming days at Ealing Studios
$1.4m
UK Film Council investment in Glorious 39
$815,000
Screen East investment in Glorious 39