Dir: Greg Mottola. US-UK. 105mins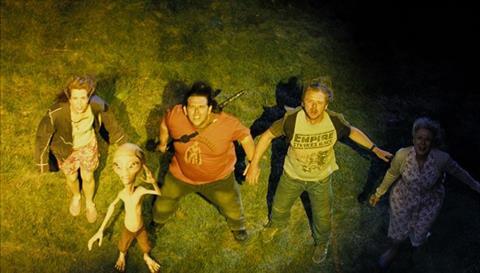 After tackling the zombie genre in Shaun Of The Dead and cop-action movies in Hot Fuzz, the British acting duo of Simon Pegg and Nick Frost turn their hand to sci-fi in the smart and savvy US-set comedy-adventure Paul, which could prove a cult hit with fantasy fans.
Sigourney Weaver makes an even later-late cameo appearance as 'The Big Guy', head of the federal pursuers, which naturally provides a few laughs and references for sci-fi fans.
The film has a Valentine's Day opening in the UK, prior to releasing in the US on March 18 and a subsequent international rollout. First marketing port of call is likely to be the supportive sci-fi fan base – who will have been tracking the film online – as well as fans of Shaun and Hot Fuzz, while publicity will be bolstered by Pegg and Frost heavily supporting the film and working the TV, press and media outlets.
This time round, though, the story is very much located in the US – though Pegg and Frost resolutely play wide-eyed Brits on a road-trip holiday – which could help its US release, along with a cast includes Seth Rogen (providing the voice of the 'Paul' of the title), Kristen Wiig, Jason Bateman, Bill Hader, Blythe Danner and that sci-fi icon Sigourney Weaver.
Best friends Graeme Willy (Simon Pegg) and Clive Gollings (Nick Frost) are off on the sci-fi geeks trip of a lifetime – a trip in an RV to America's UFO heartland to try and track the legendary spots of supposed extraterrestrial activity. Driving close to the Area 51 region they come across a car crash – and are amazed to find the car was being driven by a smart-ass alien named Paul (voiced by Seth Rogen), who has been locked up in a top-secret military base for year and is now on the run… and he wants a lift from Graeme and Clive.
The unlikely threesome find themselves followed by federal agents – led by Agent Zoil, played by Jason Bateman – determined to find Paul before he reunites with a mother ship due to meet him at the spot where he first landed on earth. They end up accidentally kidnapping evangelical Christian Ruth Boggs (Kristen Wiig), who refuses to believe in the concept of an alien life-form, given it sits against her religious beliefs, until Paul cures her of a long-term eye problem.
Against all the odds the two nerds and their newfound friend (who starts a fumbling romance with Graeme) race against time to keep Paul from his federal pursuers and deliver him to his mother ship.
Pegg and Frost also script Paul, the first time these two long-time real-life best friends have written together. Shaun Of The Dead and Hot Fuzz were scripted by Pegg and Edgar Wright, who directed both of those films. There is a strong sense of ease in their dialogue, and as clear fans of the alien-encounter sci-fi genre the film is peppered with in-jokes and gags that fans will love.
The pair are completely at ease as the nerdy best pals, always wearing a suitably slobby sci-fi t-shirt and completely receptive to the notion of an alien encounter (though they do peel off the 'Alien on Board' sticker on their RV when they pick up Paul). And as the free-spirited alien Paul, the voice casting of Seth Rogen works extremely well – you know what you are going to get with Rogen (though his slacker persona is not to everyone's taste), but here he is genial, funny, enthusiastic and warm-hearted as an alien just looking to finally go home.
His CGI alien look is extremely traditional…small-bodied with a large head, though Paul also has the ability to make himself invisible (if he holds his breath) and can also re-animate recently deceased beings – which leads to one funny gag (about him bringing a small bird to life and them promptly eating it) and an expected dramatic twist at towards the end of the film.
The casting of US comedy talents such as Jason Bateman, Kristen Wiig and Bill Hader (though not as funny here as he can be) helps give the film a classy indie comedy edge. Wiig and Hader starred in Paul director Greg Mottala's last film Adventureland, while Rogen, of course, starred in Mottala's Superbad. Bateman is nicely cast as a steely-eyed federal agent (his first name is Lorenzo, leading to a rather cringe-worthy gag about his full name being 'Lorenzo Zoil'), while Wiig is sheer-perfection as an innocent who is won over by Paul's dubious charms.
Blythe Danner makes a late appearance as Tara Walton, the person Paul first met when he landed on Earth some 60 years earlier, while Sigourney Weaver makes an even later-late cameo appearance as 'The Big Guy', head of the federal pursuers, which naturally provides a few laughs and references for sci-fi fans. Cameo performances by the like of Jeffrey Tambor and Jane Lynch help reinforce the comedy credentials.
The film is an easy watch and has some real laugh-out-loud moments, though at times when it also feels over-plotted – a sub-plot about Ruth's red-neck father also chasing Paul and the RV feels like a pursuer too-much – but luckily it moves at a smart pace and the genuine warmth between Pegg and Frost makes Paul a comedy-adventure to be cherished.
Production companies: Relativity Media, Working Title, Big Talk Pictures
International distribution: Universal Pictures
Producers: Nira Park, Tim Bevan, Eric Fellner
Executive producers: Liza Chasin, Debra Hayward, Natascha Wharton, Robert Graf
Screenplay: Simon Pegg, Nick Frost
Cinematography: Lawrence Sher
Production designer: Jefferson Sage
Editor: Chris Dickens
Music: David Arnold
Website: www.whatispaul.com
Main cast: Simon Pegg, Nick Frost, Seth Rogen (voice), Jason Bateman, Kristen Wiig, Bill Hader, Blythe Danner, Joe Lo Truglio, John Carroll Lynch, Jane Lynch, David Koechner, Jesse Plemons, Sigourney Weaver