Dir: Danny Donnelly. UK. 2012. 87mins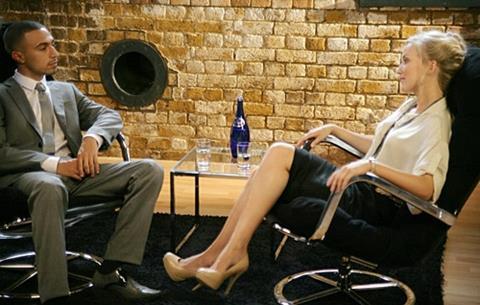 The heady mix of gun-toting estate hoodies and flash Premiership footballers might be a combination made in heaven for any British tabloid red-top, but if offers up little original let alone exciting in this rather pedestrian urban thriller, whose only real calling card it the lead casting of public voted BAFTA rising star Adam Deacon in the lead role.
The film offers no easy answers and has a certain clichéd honesty about its structure and relationships.
The London estate language may well be realistic, but pretty much everything else rings false…ranging from the astonishingly empty training session supposed top footballer Jerome Davies (Deacon) take part in – maximum three other players – through to his clumsy interview with 'top' television reporter Lisa (Nichola Burley) who he then proceeds to romance.
The film is at its strongest when it comes to the relationship between estate gang leader Baron (a striking performance from David Ajala, who has real screen presence) and Jerome as it tackles that old chestnut of what happens when you try and leave your past behind you. But despite its dubious international appeal, Payback Season could well be a modest success in the UK where distributor Revolver is savvy when it comes to promoting urban drama and has had previous successes with films starring Deacon.
Jerome grew up on the streets, but managed to escape his council estate origins when he became a footballer. He has the trappings of a top player – a London riverside flat and a white Ferrari – but still goes to see his good-old mum and his younger brother who still live on the estate…all this despite the fact that Ferrari's don't fare well with speedbumps - so he must be a loving son.
When he runs into old friend Baron and his gang on the estate, his loyalty to his past prompts him to offer taking them all out to a series of flash London clubs, but Baron pushes the relationship into blackmail territory by asking Jerome for money. Initially he agrees, but as Baron gets more demanding – and also threatens his family – Jerome is pushed to breaking point.
Alongside all this is Jerome's burgeoning relationship with television reporter Lisa (Burley, who starred in hit British 3D dance film StreetDance), who gradually comes to see that his beneath his brash playboy exterior is a sensitive soul.
Adam Deacon is oddly charismatic on screen, though never really looks the part as a footballer. He may well handle the bling and booze parts of the job, but when it comes to the ballplay he looks plain uncomfortable. The casting in a cameo role of England football legend Sir Geoff Hurst as his agent is engaging (and he acts pretty well), but not enough to give the film a dose of class. The Chronicles Of Narnia actress Anna Popplewell (who played Susan in the films) also has a brief cameo as a friend of Lisa, though looks to have taken the role as a chance to play an adult and wear bright red lipstick.
Debut director (and co-scripter) Danny Donnelly – who worked in the music industry – smartly doesn't take the film into happy ending territory, and closes his film on a suitably bleak note. The story and dialogue rarely convinces, but at least the film offers no easy answers and has a certain clichéd honesty about its structure and relationships.
Production companies: Angry Badger Pictures, Pure Film Productions
Producers: John Adams, Danny Donnelly
Sales contact: Angry Badger Pictures, john@angrybadgerpictures.com
Executive producers: Danny Donnelly, Justin King, Jason Maza
Screenplay: Danny Donnelly, Jenny Fitzpatrick
Cinematography: James Martin
Editor: Oliver Parker
Production designers: Paul Burns, Ana Viana
Main cast: Adam Deacon, Nichola Burley, David Ajala, Leo Gregory, Anna Popplewell, Bronson Webb, Billy Seymour, Arnold Oceng, Sir Geoff Hurst, Nicola Posener