Dir/scr: Kiyoshi Kurosawa. Japan. 2012. 270mins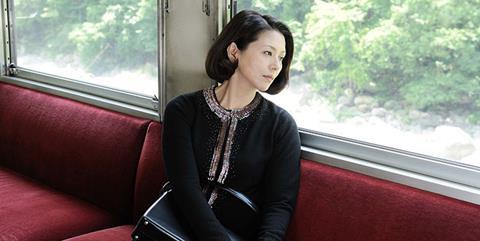 Neat, precise and minimalistic, Kiyoshi Kurosawa's adaptation of a Kanae Minato mystery novel features all the right ingredients for a hit TV show, which it indeed is. Originally produced a as five-part series for the Japanese satellite broadcaster WOWOW, it is doubtful whether this long-winded story of culpability, sins and retributions, will manage to keep cinema audiences in their seats for four and a half hours.
The narrative unfolds in a simple, direct, effective manner, the camera is close enough to serve the characters, TV style, with the result being that disturbing details stand out even more.
As for Kurosawa's impatient admirers, who have been breathlessly waiting for a new opus, they will find the thrills rather mild and the psychology rather thin, though solid performances from a large cast and brilliant camera work will ease the task of watching it. Still, the best place for this Penance (Shokuzai) remains the small screen. The film version screened out of competition at the Venice Film Festival.
In the prologue, played before the credits, schoolgirl Emili, is abducted, raped and murdered, but the four classmates who were with her at the time are unable to identify the culprit. The girl's mother, Asako (played by Kyoko Koizumi, the mother in Kurosawa's earlier festival hit Tokyo Sonata), grieving and exasperated by their lack of cooperation condemns the four of them to a penance she will have to accept. Here the plot jumps 15 years later. Asako is still obsessively looking for the abductor, while the four girls have grown into young women, their lives fashioned, one way or another by the penance they had willingly accepted to take on.
Sae (Yu Aoi), a recluse beautician, falls prey to a young man, Takahiro (Mirai Moriyama), who treats her as an object rather than a human being; Maki (Eiko Koike) turns into a strictly moralistic teacher, who manages to save her kids from a madman brandishing a knife, only to be blamed later for using brutal methods to repress the attacker, and Akiko (Sakura Ando), who has been told by everyone, including her parents, that she is stupid, ugly and bearish, unhinges when her older brother comes home in the company of a strange woman and her daughter.
All three of these girls are convinced they share the responsibility for Emili's fate. The fourth, Yuka (Chizuru Ikewaki), rejects all guilt for she is far too busy paying back her older sister for stealing their mother's affection. Each one of the four girls has her own chapter, in each one of them Asako, the vengeful mother, has a relevant part, with the fifth episode finally resolving the crime of the prologue, revealing Asako's own role in it all and leading to her own penance.
Each chapter seems to adopt a slightly different approach, featuring stories that are unrelated between them except for Asako's ever-insistent presence which ties them together. Every time they grow a bit weirder, ranging from freakish to almost but not quite horror,
Kurosawa's touches are always there to remind you of the director's identity - plastic bags floating in the air and nylon curtains flying in the wind, a touch of perversity at one point, social satire at another, dysfunctional families galore, crazy looks in the eyes of respectable people, businessmen and educators etc. But the narrative unfolds in a simple, direct, effective manner, the camera is close enough to serve the characters, TV style, with the result being that disturbing details stand out even more. Judiciously cast, Kurosawa gets a stellar performance out of Koizumi, but all the rest do not fall far behind.
However, in all fairness, the individual plots seem to become more farfetched as they go on, too belabored in their insistence to prove no one is exempt from justice, including those who claim to inflict it. Most of this could have been easily accommodate in a normal feature length movie.
Production companies: WOWOW, Nikkatsu Corporation, Django Film
International sales: Free Stone Productions, http://freestone.main.jp
Producers: Tomomi Takashima
Screenplay: Kiyoshi Kurosawa, based on novel by Kanae Minato
Cinematography: Akiko Ashizawa
Editor: Koichi Takahashi
Production designer: Chie Matsumoto
Music: Tusuke Hayashi
Main cast: Kyoko Koizumi, Yu Aoi, Eiko Koike, Sakura Ando, Chizuru Ikewaki, Teruyuki Kagawa