Dir: Alex Kurtzman. US. 2012. 115mins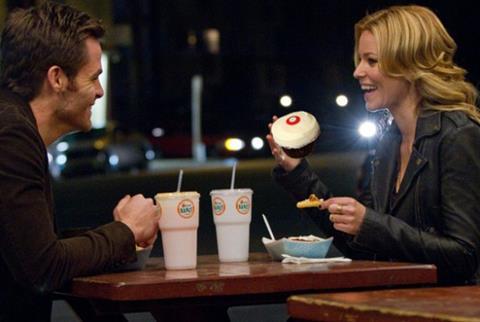 The directorial debut of Alex Kurtzman, co-screenwriter of big-budget genre fare like Star Trek, Cowboys & Aliens and the Transformers movies, People Like Us takes aim at the intense affection and resentment that only family can inspire, telling the story of a young man's discovery of a half-sister he never knew he had. An affectionate drama marked and buoyed by engaging performances, the movie's apex of catharsis is a genuinely nice payoff, but the home stretch of the road it takes to get there bends a bit too much toward convenience.
Cinematographer Salvatore Totino delivers a Los Angeles that feels palpably rooted as these characters' homes instead of some tourist snapshot fantasy of the same.
People Like Us will provide an interesting test of the star power of Chris Pine, who apart from Star Trek hasn't had a film crack $100 million domestically, and just four months ago had This Means War top out at a disappointing $55 million Stateside. Word-of-mouth, especially amongst older audiences, will be crucial to the movie's entrenchment as smart, popcorn-alternative summer counter-programming, especially since international returns will remain fairly limited.
On the heels of learning some bad news about one of his recent deals, fast-talking salesman Sam Harper (Pine) also finds out his semi-estranged father, a renowned music producer, has died. Facing down debt and possible legal troubles, Sam reluctantly travels home to Los Angeles with his girlfriend Hannah (Olivia Wilde), but misses the funeral, which doesn't put him in good standing with his mother Lillian (Michelle Pfeiffer).
In the course of fulfilling his father's last wishes, Sam is given a shaving kit with $150,000 in cash, and instructions from his father to deliver it to Frankie Davis (Elizabeth Banks), a single mother bartender who is in recovery and has an 11-year-old son, Josh (Michael Hall D'Addario), on the cusp of trouble in school. Sam contemplates keeping the money for himself, but learns Frankie is a half-sister that his emotionally distant father kept a secret. In the process of getting to know Frankie and Josh, Sam is forced to rethink what he thought he knew about his family and own childhood.
People Like Us is very loosely based on true events — Kurtzman meeting his adult half-sister, and Orci's aunt discovering that her father had a secret family she knew nothing about. Working together with Jody Lambert, another old college friend, their script largely breaks free of the rigidity of structure of the action movies for which Orci and Kurtzman are most known. Especially early on, People Like Us is notable for the specificity and slight quirkiness of its characters, and how they behave in scenes — at times letting one another in and at other times obfuscating. Many of its best moments, in fact, juggle different feelings and reactions, as in real life.
Still, the movie's third act more or less betrays this freshness, yielding to convention and hinging awkwardly on several pivots. The gaping inclusivity of its title tips this off — People Like Us desperately wants to really locate the universality in its story, and be all things to all people.
Fundamentally, though, the movie seems to change personalities, all with an eye toward deepening the conflict in the most traditional of ways. There's a minor health scare that goes nowhere; Wilde becomes further shackled to her duty as the movie's voice of conscience ("You've got to make this right," Hannah tells Sam); and Sam snaps at Josh ("I can't babysit you because you don't have any friends") in a way that doesn't ring true.
If one can overlook these road-bumps and the obviousness with which the dramatic boil gets turned up, there's much to enjoy. The movie's technical package is solid. Shooting in a bevy of locations, cinematographer Salvatore Totino delivers a Los Angeles that feels palpably rooted as these characters' homes instead of some tourist snapshot fantasy of the same.
The performances are winning, as well. Pine and Banks have a legitimately nice chemistry, and the latter brings a sardonic, self-defensive pop to scenes even if the movie shrugs off Frankie's disease of alcoholism in short order. Pfeiffer, meanwhile, showcases a fragility laced with surprising reserves of flintiness. And in his feature film debut, young D'Addario is solid.
Production companies: DreamWorks Pictures, Reliance Entertainment, K/O Paper Products
Domestic distribution: Walt Disney Studios Motion Pictures
Producers: Roberto Orci, Bobby Cohen, Clayton Townsend
Executive producer: Alex Kurtzman
Co-producer: Jody Lambert
Assistant producer: Kim Cavyan
Screenplay: Alex Kurtzman & Roberto Orci & Jody Lambert
Cinematography: Salvatore Totino
Editor: Robert Leighton
Production designer: Ida Random
Music: A.R. Rahman
Website: www.PplLikeUsMovie.com
Main cast: Chris Pine, Elizabeth Banks, Michael Hall D'Addario, Michelle Pfeiffer, Olivia Wilde, Mark Duplass, Philip Baker Hall, Jon Favreau, Dean Chekvala, Sara Mornell