Dir: Thor Freudenthal. US. 2013. 106mins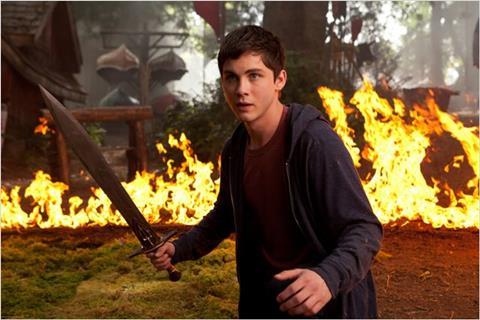 A mythologically-infused adventure quest with a reluctant hero archetype straight from the notes of Joseph Campbell, Percy Jackson: Sea Of Monsters works as a delivery vehicle for unabashed B-movie pleasures aimed squarely at the preteen set. A solid sequel to 2010's Percy Jackson & The Olympians: The Lightning Thief, this predictably plotted but nonetheless fun and engaging offering harks back to matinee serials of yore, where moderated, all-ages peril and derring-do were the name of the game.
For parents seeking less sexually fraught genre fare than the Twilight series, Sea Of Monsters delivers to-scale thrills and catharsis without any attendant nightmares or uncomfortable conversations.
The franchise debut — directed by Chris Columbus, who returns as an executive producer here — pulled in $227 million worldwide, with more than three-fifths of that total coming from overseas. Opening August 7, this follow-up will try to get an early start on bigger budget genre competition Elysium, but should be a quieter, long-form earner, experiencing lower than average drop-off and drawing in family-friendly audiences in the Stateside lead-up to the return to school for many kids. Home video will also be a major player.
The story for Sea Of Monsters picks up after the events of the first film, with narration establishing the creation of Camp Half-Blood, which serves as a sanctuary for Percy (Logan Lerman), the half-human son of Poseidon, master of the sea, as well as the children of other gods. When its magical borders begin to fail, however, Clarisse (Leven Rambin), the daughter of god of war Ares, is tapped by headmasters Mr. D (Stanley Tucci) and Chiron (Anthony Stewart Head) to retrieve the fabled Golden Fleece, which has healing properties that can save their sanctuary.
Percy, however, discovers that he is prophesied to save Camp Half-Blood — or possibly destroy it. Hoping it's the former, he sets out on a parallel journey. Percy is accompanied by his newly discovered cyclops half-brother Tyson (Douglas Smith) and two longtime friends, satyr Grover (Brandon T. Jackson) and Annabeth (Alexandra Daddario), the demigod offspring of Athena, the goddess of wisdom. Their search puts them in conflict and competition with Luke (Jake Abel), who has his own, darker motivations for wanting the fleece.
The Harry Potter series is a definite antecedent here, along with a whole bevy of fantasy-tinged young-adult film adaptations (both successful and not). However, what helps distinguish Sea Of Monsters, based on a popular series of novels by former school teacher Rick Riordan, is its generally sprightly tone — the mix of modulated danger and sometimes silly asides. For parents seeking less sexually fraught genre fare than the Twilight series, Sea Of Monsters delivers to-scale thrills and catharsis without any attendant nightmares or uncomfortable conversations.
Marc Guggenheim's script also traces easy-to-follow through-lines for fans of the books as well as neophytes. In the first film, Luke stole Zeus' lightning bolt, and in this movie he continues his angry rebellion against his father, Hermes (Nathan Fillion). There's not an abundance of deep or hard-edged emotion here, and there are missed opportunities all around for fun with how various mythological beings appear to humans. In that regard, Sea Of Monsters is perhaps half-empty or slight.
But director Thor Freudenthal (Hotel For Dogs, Diary Of A Wimpy Kid) knows how to juggle character bits with well-staged action. On the technical front a couple choices are smirk-inducing; Tyson sporting sunglasses to cover his eye and then using a magic mist spray to achieve the same effect just seems like a way to tamp down special effects costs. Yet Sea Of Monsters delivers a consistent string of solid action set pieces, starting with a giant, metallic, fire-breathing bull that attacks Camp Half-Blood, cycling through an amusing escape from cyclops Polyphemus and ending up in the Bermuda Triangle, where Percy and his cohorts end up in the belly of a beast in one of the more striking CG sequences of the year.
Several of the youthful performances favour a certain demonstrativeness that doesn't linger much on the brain. Lerman, though, ably embodies Percy's can-do spirit and awakening, while Fillion in particular serves up a wry, winning supporting turn.
Production companies: Fox 2000 Pictures, TSG Entertainment, Sunswept Entertainment, 1492 Pictures
US distribution: 20th Century Fox
Producers: Karen Rosenfelt, Michael Barnathan
Executive producers: Chris Columbus, Mark Radcliffe, Guy Oseary, Greg Mooradian
Co-producer: Bill Bannerman
Associate producer: Jeffrey Harlacker
Screenplay: Marc Guggenheim, based on the novel Percy Jackson & The Olympians: The Sea Of Monsters by Rick Riordan
Cinematography: Shelly Johnson
Editor: Mark Goldblatt
Production designer: Claude Paré
Music: Andrew Lockington
Website: www.PercyJacksonTheMovie.com
Main cast: Logan Lerman, Alexandra Daddario, Leven Rambin, Brandon T. Jackson, Douglas Smith, Jake Abel, Stanley Tucci, Anthony Stewart Head, Nathan Fillion, Paloma Kwiatkowski, Missy Pyle, Mary Birdsong, Yvette Nicole Brown