Dir/scr: Hiroshi Ishikawa. Japan. 2013. 90mins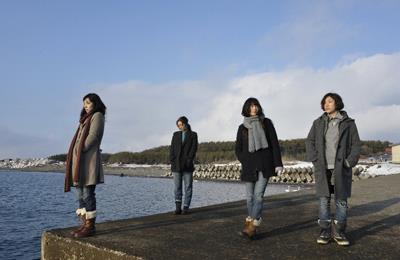 A moody and moving story of four women all caught up with their own very different painful memories, the brittle and gently sorrowful Petal Dance (Petaru Dansu) is an impressively low-key drama driven by a series of strong and subtle performances by the four leads.
The film's final scenes see the four women, all haunted by their own sorrows, wandering onto the snowy beach.
The film, which has its world premiere at the Hong Kong International Film Festival and is set to open in April in Japan, is made with admirable restraint by writer/director Hiroshi Ishikawa (who made 2005's Su-ki-da). It is a story that could easily have lapsed into melodrama, but he maintains a delicate intensity as the film heads off into road trip territory. Though the core story is relatively downbeat it ends with an underlying sense of optimism as these four women look to the future rather than the past.
Using flashbacks and shot (with real style by Nagano Yoichi) with wintery blues and greys, the film interweaves the story of four different women, and how they are brought together an attempted suicide.
Jinko (Aoi Miyazaki, who starred in 2005 hit Nana) and Motoko (Sakura Ando) are college friends who hear that another of their former classmate Miki (Kazue Fukiishi, from 13 Assassins) has attempted suicide and is in hospital.
Meanwhile Jinko meets Haraki (Shiori Katsuna) at the library where she works when Haraki asks her for information on books about suicide. When Jinko sees her at a railway platform she thinks she is about to try and kill herself and drags her to the ground, injuring her arm but establishing a friendship with Haraki, who was innocently just stretching her legs rather than mulling over suicide.
When Motoko borrow's her ex-husband's car, Haraki offers to drive the two women to the hospital to see Miki. They spend two days and one night on the road, getting to know each other, sharing aspects of their past. Though Miki is subdued and bemused to see them, she asks if they can take her to the nearby beach.
The film's final scenes see the four women, all haunted by their own sorrows, wandering onto the snowy beach. Elegantly and plaintively framed as they are scattered across the beach, the film hints at sadness before ending on a moment as they gun giggling from the on-coming waves. The subtext is that they are slowly allowing the sadness of the past to merge with a low-key optimism for the future.
Production company: Go Seek Pictures
International sales: Bitters End Inc., www.bitters.co.jp
Producers: Kosano Tamotsu, Sadai Yuji, Skoga Ishizuka, Hashimoto Ryuta
Cinematography: Nagano Yoichi
Music: Kanno Yuke
Main cast: Aoi Miyazaki, Shiori Katsuna, Sakura Ando, Kazue Fukiishi