Dir: Stephen Frears. UK. 2013. 94mins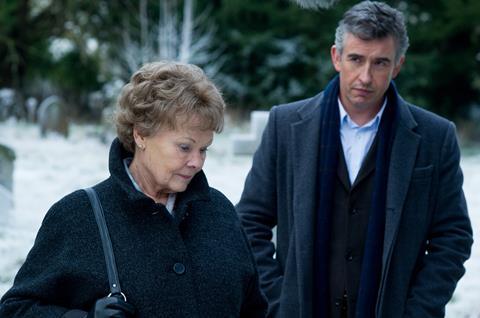 Philomena is a real delight. Funny, moving, beautifully performed and directed with restraint and a wonderfully delicate touch, it is a film that will click with audiences and also likely have awards committees sitting up and taking note. On the surface an easy fit for audiences who embraced The Best Exotic Marigold Hotel, it is so much more than that – it's a gently powerful and absorbing film that will have audiences veering between tears and laughter.
Philomena is a lovely and memorable film that will strike a chord with audiences.
The film, which had its world premiere at the Venice Film Festival (and was greeted with an ovation by the assembled worlds press), has been picked up by The Weinstein Company for the US and could well feature as one of the early prominent Oscar campaign titles, particular focus on the ever-excellent Judi Dench.
But while she will not doubt garner great attention – as an elderly Irishwoman who searches for the son she gave up decades before – in truth the film is a real double-act, with Steve Coogan (also producer and co-screenwriter) sheer perfection as the cynical and rather jaundiced journalist who joins her on her journey of discovery. Along with splendid – and rather different – performances in What Maisie Knew, The Look Of Love and Alan Partridge: Alpha Papa, this has been a red-letter year for Coogan, who proves with ease what a varied performer he can be.
Based on a real-life story, the film opens in wryly humourous style with political spin-doctor and former BBC journalist Martin Sixsmith (Coogan) having lost his job and mulling over either a little 'human interest' journalism or writing a book about Russian history. At a party waitress Jane Lee (Anna Maxwell Martin) overhears him talking about his plans, and suggests he meets her mother Philomena (Dench), who was forced to put her son up for adoption when she was in her teens and stuck in a brutal Irish convent where the nuns (or 'the wicked nuns' as Sixsmith's editor wants them called) forced unwed young Irish girls to work as slave labour and made money selling children for adoption.
And so, the world-weary and rather superior Sixsmith heads off on a strange journey with the down-to-earth, generous and warm-hearted Philomena as they head first to the Irish convent and then on to Washington DC as they try and track down the son she was forced to give up but had never forgotten. Their journey not only reveals the striking and moving story of her son, but also creates an unexpected bond between Sixsmith and Philomena.
Initially the film feels rather familiar, with its unveiling of the wry and sarcastic Sixsmith and some simply staged flashbacks to Philomena at the convent, but it really finds its feet as the pair head off on their investigative journey. It is a simple on the surface, but the story gradually layers in the more complex questions of faith, moral decisions, the responsibility of the Catholic Church and the simple bonding between two unlikely people.
The film is littered with some genuinely funny moments – Sixsmith's bemusement that he first meets her in her favourite Harvester restaurant; her long description to him of the latest romantic fiction she has just read, or her enthusiasm for watching Big Momma's House on the Washington hotel television instead of visiting the Lincoln Memorial – as well as some barbed digs at targets as varied as the Church and Ryan Air, but these are always balanced by the fact that this is a serious and very real story, with tearjerking moments always lurking just around the corner.
Director Stephen Frears is an unobtrusive presence here, smartly letting the relationship between the pair grow gradually and never in a simplistic manner, avoiding cinematic flourishes (though final scenes at the snowy Convent as quite stunning, with kudos going to veteran cinematographer Robbie Ryan) and never letting the film become sentimental or mawkish.
Judi Dench is perfect as the mild-mannered and gentle Philomena, and while she plays this Irishwoman in a rather clichéd fashion at times, there is a real underlying strength to this hardy woman whose spiritual faith tested, and in the end she feels like a real and rounded character rather than a one-dimensional comedy-drama character. Steve Coogan gives perhaps his best ever performance, delivering some witheringly funny lines (his script with Jeff Pope is terrific) but also underplaying a character that could easily have been portrayed as classically pompous and smug.
Philomena is a lovely and memorable film that will strike a chord with audiences. Warm, compassionate and gently challenging, it will likely be a box office winner worldwide.
Production companies: Baby Cow Productions, Magnolia Mae Films, Pathe, BBC Films, BFI
International sales: Pathe International, www.patheinternational.com
Producers: Steve Coogan, Gabrielle Tana, Tracey Seaward
Executive producers: Henry Normal, Christine Langan, Cameron McCracken, Francois Ivernel, Carolyn Marks Blackwood
Screenplay: Steve Coogan, Jeff Pope, based on the book The Lost Child Of Philomena Lee by Martin Sixsmith
Cinematography: Robbie Ryan
Editor: Valerio Bonelli
Production designer: Alan Macdonald
Music: Alexandre Desplat
Main cast: Judi Dench, Steve Coogan, Sophie Kennedy Clark, Anna Maxwell Martin, Ruth McCabe, Barbara Jefford, Kate Fleetwood, Peter Herman, Mare Winningham, Michelle Fairley