Dir/scr: Wim Wenders. Germany. 2011. 103mins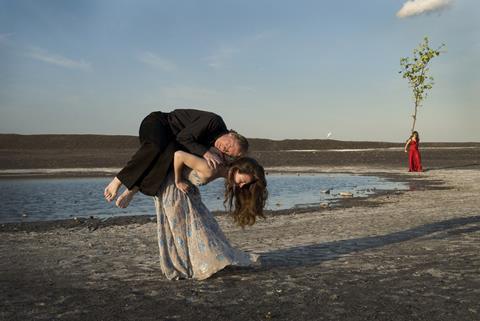 Billed as "the world's first 3-D arthouse film", Wim Wenders' tribute to the late German choreographer Pina Bausch proves that 3-D and contemporary dance are made for each other. The stereography looks great, and makes an eloquent and exhilarating case for extending the remit of the 3-D feature beyond animation and action blockbusters.
Wenders' film also reminds us just how radical and viscerally dramatic Bausch's choreographies are.
Niche artforms rarely attract the kind of funding that made this performance-based documentary possible, so we should be thankful that Wenders had the clout and the determination to push the film through after the death of Bausch in summer 2009, just two days before test shoots were due to begin.
That event changed the nature of the film from a document of working methods to a tribute (the film has the sub-head of "A film for Pina Bausch by Wim Wenders"). We do get some glimpses of Pina, in archive performance footage and interview footage which has been given a 3-D makeover, but mostly Wenders' widescreen homage consists of works created by Bausch in the course of a 27-year association with the Tanztheater Wuppertal - some played on stage, and some on the streets and in the parks and functional modernist buildings of this German industrial city.
If it is to find the wide audience it deserves, Pina will have to follow up on its technical innovations by breaking new distribution and marketing ground. Circuits that already offer live opera in the cinema are one route, and in certain locations the film may even benefit from the same 'one-day-event' model they generally follow. In large urban centres such as London, Paris or New York there's probably enough of an audience for contemporary dance to give this theatrical residence in one prestige venue and treat the product like a West End/Broadway show. In Germany, where Bausch is a national treasure, its spread is likely to be broader.
The film is centred on four of Bausch's most celebrated choreographies - 'Café Müller', 'The Rite of Spring', 'Vollmond' and 'Kontakthof' - which she herself had selected with Wenders for the film. We see them performed on stage at the Wuppertal theatre, sometimes only for the camera, sometimes with a docile and rarely glimpsed live audience. Other dance sequences - generally solo or a deux - take place outdoors, at traffic intersections, on the Wuppertal Suspension Line monorail, in parks, disused factories, on escalators, in swimming pools.
Interleaved between the chunks of dance are personal memories of Bausch, recalled by individual members of her international dance company talking in their own languages; they look at the camera without speaking as their testimonies play in voiceover. The Bausch passages are few and carefully dosed to avoid lachrymose sentiment and among the highlights is footage of her dancing in 'Café Muller'.
The first 3-D sucker punch comes a couple of minutes in as we see a diaphanous stage curtain ripple out to touch the seat in front of us. The technology used by Wenders - which was evolving even during production - is not entirely faultless, with some shuttering on rapidly moving background figures, but this will only bother the 3-D nerds. Mostly the focus is limpid and crisp, and colour (a red petticoat in 'The Rite of Spring', a pink dress in a solo danced to a Sephardic ballad) is cleverly used against grey-blues to heighten the effect of the layers.
But Wenders' film also reminds us of something that would have come across, to a large extent, in 2-D: just how radical and viscerally dramatic Bausch's choreographies are. Often revolving around struggles between men and women sublimated into dance, works like; Vollmond' or 'Café Muller; are as cinematic as anything choreographed by Busby Berkeley (though admittedly less conventionally pretty).

Production companies: Neue Road Movies, Eurowide Filmproduction, ZDF, ZDFtheaterkanal, Arte, 3sat
International sales: HanWay Films, www.hanwayfilms.com
Producers: Wim Wenders, Gian-Piero Ringel
Executive producer: Jeremy Thomas
Cinematography: Helene Louvart, Jorg Widmer
Stereography: Alain Derobe
Editor: Toni Froschhammer
Music: Thom Hanreich