Dir: Jason Moore. US. 2012. 112mins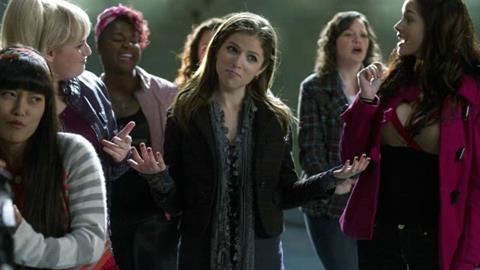 A well-groomed, funny and altogether special musical comedy set against the backdrop of collegiate competitive a cappella singing, Pitch Perfect hits an abundance of right notes, resulting in one of the most full-bodied mainstream comedies of the year. Suffused with a joie de vivre, this enjoyable adaptation of Mickey Rapkin's 2008 nonfiction book of the same name augurs good things not only for freshman feature director Jason Moore but also its various young cast members.
With smart material and sharp oversight, the cast uniformly shine.
Feeling justifiably bullish about its word-of-mouth prospects, Universal is opening Pitch Perfect in select theaters this Friday, September 28, before rolling it out wider the following weekend. The film's focus on singing rings bells of comparison to the High School Musical franchise and small screen Stateside hit Glee, but its adolescent artistic focus more broadly recalls movies like Bring It On, Drumline, Step Up and Fired Up! - sub-cultural celebrations that found (or should have) warm embrace by mostly younger audiences. Positive peer review and critical notices alike should help drive solid eight-figure box office business and significant ancillary value; the movie's soundtrack should be a big player for Universal as well.
Pitch Perfect unfolds at Barden University, where would-be deejay Beca (Anna Kendrick) arrives under a sort of plea agreement with her father, a professor at the school: give college an honest try for a full year, after which he may consider approving a move to Los Angeles. Beca is ambivalent about the whole college experience, but kind of stumbles into The Bellas, an all-girls a cappella group headed up by two seniors who have their eyes on returning to an intercollegiate national competition and besting their long-time rivals, fronted by the self-satisfied, antagonistic Bumper (Adam DeVine).
Aubrey (Anna Camp) is an uptight taskmaster, while Chloe (Brittany Snow) is more open to some of Beca's ideas to update the Bellas' repertoire. While locked in a loose platonic-romantic orbit with a cappella rival Jesse (Skylar Astin), Beca, along with fellow unlikely recruit Fat Amy (Rebel Wilson), tries to find her way and fit in with the Bellas while still remaining true to herself.
Its literary roots may sometimes make for a slightly unwieldy adaptation when the story's structured and familiar competitive elements abut its more colorful character bits, but they undoubtedly also give Pitch Perfect a depth far beyond the grasp of average movies of this ilk. The film also goes to the well a bit too often with a couple of its jokes (the copious use of an "a ca" prefix on different retorts feels forced, given that it's spread out amongst different characters), but the dialogue is generally smart and crackling throughout. There is a definite, clear and rich personality here.
Tasked with creating a big ensemble, screenwriter Kay Cannon (a veteran of television's 30 Rock) crafts distinct characters that serve the plot but don't ring false, and she even has some smart fun with the requisite background Bellas who don't have much dialogue. Furthermore, she roots the material culturally in a way that means something; the movie casts a referential net, but ties songs and movies to Beca, Jesse and others in telling fashion.
Moore, who has 10 episodic credits spanning back over the past decade, remains best known for his 2004 Tony nomination for the hit musical Avenue Q. In his first film, he showcases a superb touch with actors, and maintaining a tonal consistency. Pitch Perfect's technical package is additionally slick, and attractive, but brightly edited to focus on the characters rather than more kinetic cuts.
With smart material and sharp oversight, the cast uniformly shine. Having already given highly touted performances in Up in the Air and Bridesmaids, respectively, Kendrick and Wilson are the more known commodities, but each are excellent here, dialed into their characters' frames of mind.
DeVine (Workaholics) has a blast as the nemesis to the Bellas, and Camp channels high-strung peer-domination to superlative effect. Astin is also great, possessing an easygoing charm.
In smaller roles, Ben Platt, who as Jesse's nerdy roommate figures into the movie's conclusion, displays a winning tenderness. And as a super-soft-spoken member of the Bellas, Hana Mae Lee will have viewers leaning forward to catch her eerie, off-the-wall quips.
Production companies: Gold Circle Films, Brownstone Productions, in association with Denstu, Inc.
Domestic distribution: Universal Pictures
Producers: Paul Brooks, Elizabeth Banks, Max Handelman
Executive producer: Scott Niemeyer
Co-producer: Jeff Levine
Associate producer: Sian McArthur
Screenplay: Kay Cannon
Cinematography: Julio Macat
Editor: Lisa Churgin
Music: Christophe Beck, Mark Kilian
Website: www.PitchPerfectMovie.com
Main cast: Anna Kendrick, Anna Camp, Brittany Snow, Skylar Astin, Rebel Wilson, Adam DeVine, Ben Platt, Alexis Knapp, Hana Mae Lee, Ester Dean, Utkarsh Ambudkar, Kelley Jakle, Jacob Wysocki, Elizabeth Banks, John Michael Higgins, Christopher Mintz-Plasse