Dir: Julian Gilbey. UK. 2014. 102mins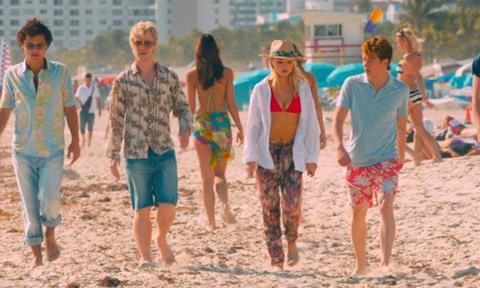 The cast may be young and full of swagger and gusto, but sadly wannabe British heist film Plastic is a rather plodding and simplistic crime film that despite its slick locations and action-moments lacks the charm and energy to help it stand out. It is a story of cons and double-crosses that has been done so many times before, and while there are some moments to enjoy it desperately needs a sense of humour to match its macho bluster.
The real problem with the film is that none of the characters are particularly likeable or possess any kind of moral compass.
Established genre director Julian Gilbey received appropriate acclaim for his mountain thriller A Lonely Place To Die in 2011, and while Plastic – not the most evocative of titles – has the gloss and cast of British bright-young-things to give it an edge, the script lacks a much needed knowing wit, while an undercurrent of old-fashioned sexism doesn't help matters. The film is opened by Paramount in the UK.
The cast is headed by Downton Abbey star Ed Speleers; Game Of Thrones actor Alfie Allen and ex-Hollyoaks (a British soap) actress Emma Rigby, who at least bring publicity value (in the UK especially) to proceedings, and while Speleers especially has the innate charm to carry the film how strong it will be overseas remains to be seen.
A quartet of supposedly charming hustlers - leader Sam (Speleers); the sly and more brutal Yates (Allen); slacker Rafa (Sebastian De Souza) and peacemaker/fixer Fordy (the impressive Will Poulter) - scam credit cards and then stock up on goodies which they then sell onto other students. Apparently their main reason for crime is that student loans are so high.
Things take a dark turn when they brutally steal from a man who happens to be the accountant for Euro-villain Marcel (Thomas Kretschmann). Now, he is a serious criminal and takes his revenge by making them work for him…if they want to buy out of this 'deal' it will cost them £2million (a figure she seems to pluck out of the ether), to be delivered in two weeks.
The foursome decide to go for one major money-making scam, and Sam sets about charming/recruiting the shapely Frankie (Rigby), who he has taken a shine to and who also – luckily – happens to do a little part-time work for a credit card company. Before you know it they are all living the high life in Miami and targeting a series of big spenders that she has identified.
When drunken excesses by Yates ruins their initial plan they quickly work out another sting – this time a transatlantic jewel robbery involving a fake sheik, a private jet and disguises straight out of Mission: Impossible. It comes as absolutely no surprise that it all ends in double-cross and a Tarantino-esque style shoot-out.
The real problem with the film is that none of the characters are particularly likeable or possess any kind of moral compass…Will Poulter at least comes out of the film quite well, but the treatment of the few women on show is shoddy - Rigby is there mainly for the Miami beach bikini shots, and her characters gets jettisoned as the lads get on with 'man's work' – and the plot simplistic. If it had been toned down and played for laughs it would have been more engaging, but as it is Plastic is a rather throwaway film.
Production company: Gateway Films
International sales: Cinema Management Group, www.cinemamanagementgroup.com
Producers: Dan Toland, Terry Stone, Chris Howard
Executive producers: Mike Diamond, Jack Dudley, Simon Dudley, Nick Gamble, Brian Gray, Eugene Hickey, Michael Howard, Frank Mannion, Gwyn Powell, Anil Samani, Nick Simunek, Nia Syson, Catherine Sytner, Presley Warner
Screenplay: Julian Gibley, Will Gibley, Chris Howard
Cinematography: Peter Wignall
Editors: Julian Gilbey, Will Gilbey
Production designer: Matthew Button
Music: Chad Hobson
Website: http://plasticmovie.co.uk/#/filter-all/page-1
Main cast: Ed Speleers, Will Poulter, Alfie Allen, Sebastian De Souza, Emma Rigby, Thomas Kretschmann, Mem Ferda, Graham McTavish