Dir: Gabriele Muccino. US-Italy. 2012. 105mins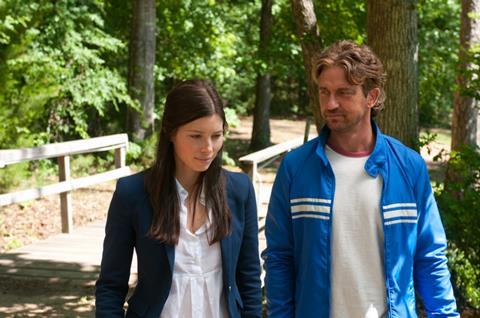 A thoroughly unconvincing dramedy about an ex-soccer star juggling the demands of more involved fatherhood and suburban nookie, Playing For Keeps is tonal misfire that attempts to pivot into romantic reconciliation and tap into the same vein of awakened responsibility and maturation as People Like Us. It fails. Seemingly designed chiefly to lionise the irresistible masculinity of producer-star, Gerard Butler, the movie's lack of commitment to consistent character traits results in an aggravating and wishy-washy combination of treacly sentimentality and male fantasy.
What could have been a more complicated and contemporary suburban spin on Alfie feels like a lazy and anonymous daydream postcard of discord and resolution.
With a poster and advertising campaign that emphasises its well known supporting cast, it's obvious that distributor FilmDistrict wishes to summon up James Brooks-ian comparisons, or memories of truer comedic ensembles like Crazy, Stupid Love. But against hearty holiday frame competition, Playing For Keeps should top out in the low- to mid-eight-figure range, amidst dim critical notices and not particularly enthusiastic word-of-mouth. Ancillary prospects could be a bit better.
Butler stars as George Dryer, a down-and-out former soccer superstar who has moved to suburban Virginia, to be close to his ex-wife Stacie (Jessica Biel) and young son Lewis (Noah Lomax). Stacie is newly engaged to Matt (James Tupper), which throws George for a bit of a loop, though not quite as much as juggling the amorous attentions of all the soccer mothers (Judy Greer, Uma Thurman, Catherine Zeta-Jones) who start throwing themselves at him when he agrees to coach Lewis' team. Against this backdrop, trying to find a real job that might also allow him to remain close to his son, George starts to wonder if he might be able to convince Stacie to give him another shot.
It's easy to see how director Gabriele Muccino was roped into Playing For Keeps, given a certain amount of thematic overlap with his hit father-son drama, The Pursuit Of Happyness. But Playing for Keeps is nowhere near as sharply sketched. What could have been a more complicated and contemporary suburban spin on Alfie feels like a lazy and anonymous daydream postcard of discord and resolution, photographed by Peter Menzies, Jr. in a series of attractively framed close-ups.
Robbie Fox's screenplay is a bewildering mixture of motivations and half-formed conflicts, perhaps the result of too much tinkering (nineteen people take some form of a producing credit on the movie), and holdover ideas from various script iterations. George's landlord (Iqbal Theba), who is owed money from his tenant, morphs into a peeping tom who pines for George's bachelorhood. And all the coaching of the kids' team is shrugged off; the sole mention of stakes pops up late in the movie, out of nowhere, when George announces, "OK, if we win this game, we win the championship!"
One problem is that Playing For Keeps refuses to let George really be either a cad or a thoughtful guy with a sincere inner monologue. But there are otherwise not so much characters here as just loud types to have George have to react to, most notably in the form of Carl (Dennis Quaid), a backslapping, money-flashing blowhard who casually confesses infidelities to a new friend. There is also so little differentiation between the women who fling themselves at George as to invite not entirely unjustified claims of latent sexism.
Muccino does again prove his touch with actors, improbably wringing a few good sequences out of very thinly drawn material. These include a scene of wistful reflection between George and Stacie, and a wonderful scene with Greer as one of George's romantic pursuers.
Fit, tan and raffish, Butler gets to use his native Scottish accent to charming effect. And the aforementioned Greer, who is so adept at communicating quiet pain underneath a sunny surface, stands out most among the women.
Production companies: Misher Films, York Square Productions, Eclectic Pictures, Gerard Butler Alan Siegel Entertainment, Nu Image, Andrea Leone Films, in association with Millennium Films
Domestic distribution: FilmDistrict
Producers: Jonathan Mostow, Kevin Misher, Gerard Butler, Alan Siegel, Heidi Jo Markel, John Thompson
Executive producers: Peter Schlessel, Avi Lerner, Danny Dimbort, Trevor Short, Ed Cathell III, Boaz Davidson
Co-producers: Andrea Leone, Raffaella Leone
Associate producers: Danielle Robinson, Andy Berman, Margaret Coll
Co-executive producers: Diego Martinez, Lonnie Ramati
Screenplay: Robbie Fox
Cinematography: Peter Menzies, Jr.
Editor: Padraic McKinley
Production designer: Daniel T. Dorrance
Music: Andrea Guerra
Website: www.PlayingForKeepsMovie.com
Main cast: Gerard Butler, Jessica Biel, Noah Lomax, Dennis Quaid, Uma Thurman, Catherine Zeta-Jones, Judy Greer, James Tupper, Iqbal Theba