Dir/scr: Nadav Lapid. Israel. 2011. 107mins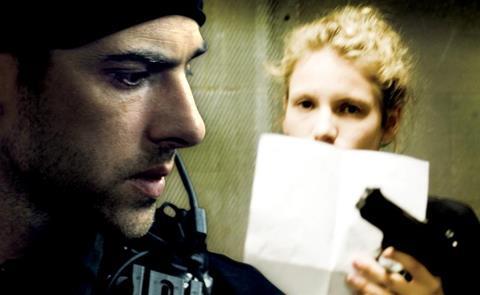 A highlight of the recent Jerusalem Film Festival and now selected to play in competition at Locarno next month, Policeman (Hashoter) is a notable debut from young Israeli film-maker Nadav Lapid which packs quite a punch as both edge-of-the-seat thriller and provocative exploration of Israel's fractured national identity.
It's a film which subverts cop story genre conventions to reveal the tortured soul at the heart of Israeli society.

Although its structural ambitions are too far-reaching and the sudden shift of focus midway through the film will turn some of the audience off, its payoff is satisfying, and Lapid's assured hand with ideas, actors and visual style render its international distribution chances that much higher. Buyers and festival programmers will also be drawn to an Israeli conflict film which paints an unflattering portrait of Israel's security services, and, without an Arab in sight, pits Jewish Israeli against Jewish Israeli.

At the heart of the film is Yaron, the policeman of the title, played with a persuasive brutishness by Yiftach Klein. Yaron belongs to the counter-terrorist unit of the Israel police force, a highly trained team of men whose activities include shady night-time killings and innocent casualties.
At home, he awaits the birth of his first child, massaging his heavily pregnant wife and dancing to entertain her. Away from home, he is all swagger and posturing, wearing his machismo on his sleeve, and engaging in the kind of male camaraderie that entails lots of back-slapping and bicep-flexing.

But Yaron and his law-enforcing buddies are not particularly good guys. One of their number has a brain tumour and they opt behind his back to apportion all blame to him for the latest innocent Arab victims in one of their operations; and while his wife lies at home, Yaron himself finds no trouble in flirting and seducing a young waitress.

Before we know whether he beds the waitress, Lapid lurches away from Yaron and, after a brief bridging scene in which a bunch of punks destroy a car for the hell of it, launches into an entirely different plotline and set of characters.

We meet a group of young extremist students who have decided to make a violent statement for their ideals. Like some kind of latter day Baader-Meinhof, they are well-educated idealists determined to change the system and redress the balance between rich and poor, privileged and disenfranchised. They are led by the steely duo of Yaara Pelzig and Michael Aloni, a would-be couple carried away with the same vanity as the policemen in the first half of the film.

Their misjudged plan involves kidnapping a couple of business moguls at a Jerusalem wedding and, using their hostages as collateral, broadcasting their demands for change on live TV.

When the counter-terrorist unit is called in, the film returns to Yaron who, in facing this unconventional group of terrorists, will be forced to start asking questions about his own existence and that of his future child.

There is no question that the first half of the film which shows the ambiguous morality of the peace-keepers is more effective than the second in which we follow the naïve young terrorists in the run-up to their action. But when the two strands come together for the tragic denouement, Lapid brings the tension to fever pitch, while raising big issues of class difference and race, and the deployment of violence as a solution. It's a film which subverts cop story genre conventions to reveal the tortured soul at the heart of Israeli society.

Production company: Laila Films Ltd
International sales: Wide Management, www.widemanagement.com
Producer: Itai Tamir
Cinematography: Shai Goldman
Editor: Era Lapid
Main cast: Yiftach Klein, Yaara Pelzig, Michael Mushonov, Menashe Noi, Michael Aloni, Gal Hoyberger. Meital Berdah