Dir: MJ Delaney. UK. 2013. 86mins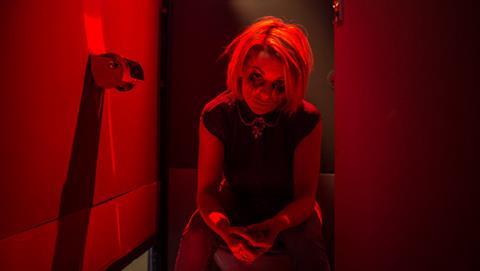 A smart and savvy comedy delve into the notion of sisterhood set largely into the confines of a London nightclub and its women's toilet, the pacy and enjoyably racy Powder Room is a low-budget delight, brimming with terrific performances (especially from lead Sheridan Smith) and scintillating dialogue.
Powder Room is a funny, feisty film about bonding and friendship.
The film, which opens in the UK on December 6, might lack the starry cast and high production values that might see it break-out internationally, but it is a genuinely well-made new British film that wears its heart on its sleeve and should be acclaimed for offering up such a thoughtful and amusing look at how contemporary young women talk and act. And while it is about women (and offers up some great female roles) men should also pay attention.
Adapted by playwright Rachel Hirons from her play When Women Pee, which started life at the Camden Fringe in 2010, the story essentially offers a snapshot of the unedited, uninhibited and unconcerned conversations and attitudes of a variety of women as they enter the sanctuary of the women's toilets.
Down-on-her-luck Sam (Smith) is determined to make an effort on her Friday night out, despite the fact she has lost her job, lacks confidence and has still not gotten over being dumped by her ex-boyfriend Sean. She joins old friend Michelle (Kate Nash), now a fashion blogger living in Paris, who is in London with her best pal Jess (Oona Chaplin).
Sam's sense of inadequacy is fueled by these two women's tales of fashion, parties and men and to try and impress them she starts to invent stories about herself and her life. And as if this isn't complicated enough for her, the arrival at the club of her old – and rather different – friends Chanel (Jaime Winstone), Saskia (Sarah Hoare) and Paige (Riann Steele) sees her trying to juggle conversations and keep the two groups of women apart.
As Sam frantically tries to maintain a cool façade in front of Michelle and Jess while also keep at appearances to Chanel (who is busy trying to make-out with various men) and Saskia and Paige, but in-between hiding out in the toilets (and overhearing a series of other conversations between other women) things gradually spiral out of control and Sam is eventually forced to take a good, hard, look at herself and work out what – and who – is important to her.
The talented Sheridan Smith – who has won two Olivier awards for her stage work (for Legally Blonde and Flare Path) and shown her comedy skills on television over the years - manages that rare balance of making the rather self-destructive Sam both vulnerable and feisty, and while Sam's decision-making is somewhat dubious her journey through the evening is one of important self-discovery. Smith innate charm, warmth, twinkling-eyed humour and intelligence shines through and her character is the beating heart that holds the film together.
Equally good are the entire cast to be honest, though Jaime Winstone has never been better than as the caring but casually sexual Chanel ( perfect balance to Sam), with Sarah Hoare and Riann Steele also memorable as the other best pals. Kate Nash and Oona Chaplin as terrific as the bitchily pretentious fashionistas, while Johnnie Fiorie makes her own quiet impact as the imperious toilet attendant who watches the comings-and-goings with a cynical eye.
Astutely made by debut director MJ Delaney, who shows a sure eye for camerawork and clearly gets the best from her performers, Powder Room is a funny, feisty film about bonding and friendship, and moves with pace and humour.
Production company: DJ Films
UK Distribution: Vertigo Films, www.vertigofilms.com
Producers: Damian Jones, James Cotton, Nichola Martin
Screenplay: Rachel Hirons, based on her play When Women Pee
Cinematography: John Lee
Editor: Ben Jordan
Production designer: Soraya Gilanni
Main cast: Sheridan Smith, Jaime Winstone, Kate Nash, Oona Chaplin, Riann Steele, Sarah Hoare, Johnnie Fiori