It has been a gruelling year for the independent sector but last week's American Film Market delivered a much-needed jolt of energy to the industry, with buyers quick to snap up top-end product. Jeremy Kay takes the temperature in Santa Monica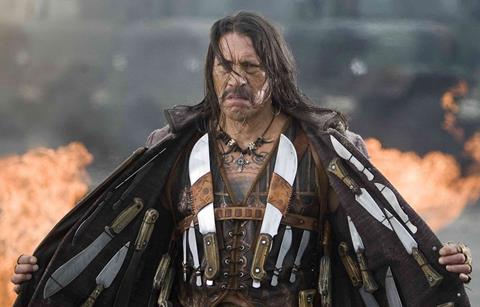 A wave of cautious optimism rippled through the corridors of the Loews and Le Merigot hotels as AFM came to a close on Wednesday (November 11). At the end of a year that has ravaged the independent sector, buyers, sellers and producers needed a tonic and the final major market of the year provided a small dose.
The walkways may have been much quieter than they have been in previous years, but there was a steady flow of ­business going on inside the suites.
"Buyers have been very collaborative and are sticking to payment schedules.There's an air of pragmatism"

Alison Thompson, Focus Features International
Buyers and sellers have reconciled themselves to the fact that leaner times mean focusing on commercial theatrical fare made for a price and sold ― mostly ― at reasonable levels.
"Pricing is down, deal flow is up," says IM Global chief executive Stuart Ford, an emerging top-tier player. Indeed Ford ­virtually sold out on Area 51, Oren Peli's follow-up to micro-budget smash Para­normal Activity and one of the most sought-after titles in the market.
Hot sellers
Marquee titles such as Summit's hot trio of The Beaver, Red and Vendome Pictures' first title, Source Code starring Jake Gyllenhaal, enticed leading buyers including the UK's Optimum, Germany's Concorde and Italy's Medusa ― proving top-quality product is still a draw.
Other titles that topped buyers' shopping lists were Kinology's Buried, with fast-rising star Ryan Reynolds; Focus Features International's (FFI) The American, starring George Clooney; Mandate International's The Next Three Days with Russell Crowe; Lakeshore's Lincoln Lawyer; The Weinstein Company's Scream 4 and Hyde Park International's Machete.
According to FFI's Alison Thompson, the company achieved everything it set out to. "Buyers have been very collaborative and people are sticking to payment schedules. There's that air of quiet determination and pragmatism," she says.
While the market had a semblance of optimism, it is still facing challenges. The end of the "silly money" that spilled from the pockets of high-net worth individuals has led to a severe drop in independent US production, ranging from 50% to 70% depending to whom you talk.
Transformed landscape
High-end product now sits side by side with smart genre fare and arthouse films, while the mid-range titles have disappeared. The austere times have killed off the "programmers" ― the needlessly pricey projects that, according to one leading seller, a decade ago would have been released in the US on 800-1,000 screens with a $7m-$10m p&a spend, grossed about $10m and become profitable on ancillary platforms.
With p&a costs now prohibitive and ancillary only offering modest returns, North American buyers have stayed away, decreasing their international value and, by and large, that breed of ill-conceived, overpriced mid-level projects has vanished.
"Domestic is key. Without that for a real movie, it isn't realistic that it will get made."

Patrick Wachsberger, Summit International
The dwindling number of US distributors has also informed the new landscape, although good films will continue to find distributors and new players are still springing up. Tribeca Enterprises, for example, was at AFM looking to acquire.
"Domestic is key," says Summit International's Patrick Wachsberger, who can dangle the carrot of built-in domestic distribution in front of his buyers. "Without domestic for a real movie, it isn't realistic that it will get made."
Elsewhere, Japanese buyers responded to select Asian product at AFM but remained wary of US fare as youngsters in Japan eschew Hollywood titles and female film-goers emerge as influential decision-makers. Meanwhile, some European territories, including Germany and France, were buying aggressively again.
Arclight closed a steady flow of deals on shark thriller Bait 3D and martial arts action title, 14 Blades. Mark Lindsay, the company's president of sales and acqui­sitions, says: "The tough markets are still tough but we have done fairly well in Germany, the UK, France, Scandinavia and Spain."
The leaner times and cash flow woes among international distributors mean the key decision-makers attended the market without the large entourages seen in previous years. This has streamlined the deal-making process and, in some cases, speeded it up.
IM Global's Ford says that once buyers arrived in Santa Monica, they were "laser-like" in their focus. "The more aggressive buyers have been extremely focused and streamlined in their market activity. Lots of advance discussions before the market and plenty of deal flow."
Unsurprisingly, buyers have been pickier than ever, haggled harder on prices and demanded to see footage where available; nobody wants to get bogged down discussing a project that may never materialise. However, this means theatrical titles are now appealing, even at the lower end of the valuation spectrum.
"The more aggressive buyers have been extremely focused and streamlined in their market activity."

Stuart Ford, IM Global
"We have two theatrical titles and those are the pictures that are going to sell," says Ed Noeltner of Cinema Management Group. He reported strong interest on horror title The Collector and documentary Good Hair narrated by Chris Rock, selling both to Icon in the UK and cutting deals with leading buyers from Germany, France and Australia among others.
Of the UK sellers, Protagonist reported its best ever AFM with Bel Ami and StreetDance 3D, while Icon UK CEO Stewart Till also sounds a positive note. He says: "There are some really interesting films we are looking to acquire. Prices in the main seem a little more realistic. It's all about quality."
Guy Collins of HandMade Films says he closed deals on heist movie The Job and adds that buyers were excited about his animated film Planet 51."There are fewer buyers here than in previous markets," he says, "but I think that is also the way the business is today. The attitude of buyers is quite positive. If you have product that they like the look of, there is business to do."
Producer adjustment
While sellers and buyers are adjusting to the new realities of the market, there is a feeling that producers need to follow suit.
Wild Bunch's Vincent Maraval says: "Suddenly, you have a market where on 60% of your budget, you have zero.If you are conservative, you put zero.The production costs of the film need to be adapted to that but the producers have no clue.
"Today, the market has changed drastically. Japan, which was buying for 10% of the budget, buys today for 0%-3%. Spain and Italy are not buying anymore.With the US, we are coming from a ­market with 10 independent buyers to a market with three independent buyers. The UK is slowing down. There is only France and Germany which are at the same level as before."
While the market is still evolving and the industry is still finding its way within that, the pervading attitude coming out of the AFM is that the outlook is positive. "As a sales company we will look at being significantly more selective," says Lightning Entertainment's Richard Guardian, who did good business on genre title Road Train and Jonathan Hensleigh's true gangster story The Irishman, which stars Christopher Walken and Val Kilmer. "The patient will survive," he adds. "But at the moment he's got a bad case of flu."
DEALS DIGEST
Summit International sold Jodie Foster's upcoming The Beaver to UK and Australia (Icon); France (SND); Germany (Telemunchen-Concorde); Italy (Medusa); Spain (Aurum); Scandinavia (Nordisk); and Benelux (Belga). It
also sold Red to UK (E1); Germany (Telemunchen-Concorde); France (SND); Spain (Aurum) and Benelux (RCV).
Protagonist Pictures' Streetdance 3D was a hit, selling to France(Metropolitan); Canada (Alliance); Spain (Aurum; South Korea (Mars); Benelux (RCV); Scandinavia (Scanbox); Middle East (Front Row); Hong Kong (Golden Screen); China (Lens Media); the Middle East (Front Row); Israel (Independent); and Eastern Europe (Monolith).
Sony Pictures Classics bought US rights to Argentinian Oscar-entry The Secret In Their Eyes sold by Latido Films.
Wild Bunch Germany bought Edge Of Darkness, starring Mel Gibson, and The Young Victoria from Graham King's GK Films. Wild Bunch sold Julio Medem's Room In Rome to IFC for the US.
IM Global sold Oren Peli's Area 51 to the UK (Momentum); Germany(Concorde); France (Euro TV); Spain (Zelta); Australia and New Zealand (Village Roadshow); Latin America (PlayArte); Scandinavia (Svensk); Benelux (RCV);Greece (Village Roadshow); and the Middle East (Gulf).
Gaumont's Twelve secured deals with Germany (Tobis); Scandinavia (Svensk); Benelux (Dutch Filmworks); and South Korea (Keowon).
Strand Releasing bought US rights to Sarah Watt's hit My Year Without Sex from The Works International.
Rainbow Media's new label Sundance Selects picked up US rights to Dominic Murphy's White Lightnin' from UK outfit Salt.
ContentFilm's epic Ironclad sold to Czech and Slovak Republic.