Dir: Karim Aïnouz. Brazil-Germany. 2013. 106mins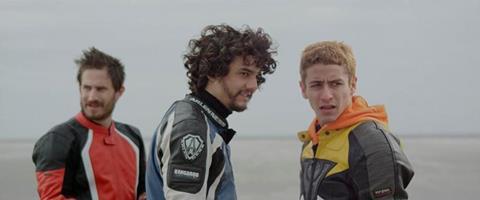 Bikes, beaches and an exile's saudade - Portuguese for the blues - combine to laconic but potent effect in Brazilian-German gay relationship drama Praia do Futuro. Low on dialogue, high on gorgeously moody photography, this thoughtful, erotically-charged piece from Brazilian writer-director Karim Aïnouz will obviously be a hot ticket for LGBT fests, but also has strong prospects for art-house distribution, given the Brazilian-European crossover flavour and the increasing global visibility of lead Wagner Moura, who scored as lead in the 2008 Golden Bear winner Elite Squad.
This is altogether a visually elegant film, with equal emphasis on the characters and on the landscapes, maritime and urban, that they inhabit.
In a three-part drama divided into separately titled chapters, Moura plays Donato, lifeguard at the titular 'Futuro Beach', a strand in the director's native Fortaleza, Brazil, that's notorious for its powerful waves. In a punchy opening, set to the Suicide track Ghost Rider, two men ride to the beach on motorbikes, then plunge into the sea - and the next thing we know, in a thrilling montage of underwater shots, Donato is coming to their rescue.
But only one man survives, and Donato has to tell the other - German visitor Konrad (Schick) - that his friend Heiko has drowned. Konrad doesn't seem too bothered, and instantly starts a passionate affair with Donato, which leads to the film's second chapter, in which Donato visits racing biker Konrad in Berlin. He's not too taken with the city's wintry austerity, but decides in the end to stay - leaving behind his kid brother Ayrton (played age 10 by Ramos)
It's therefore not a big jump to guess the identity of the moody teenager seen wandering around Berlin in the third chapter. Sure enough, it's the older Ayrton (Barbosa), who hasn't forgiven his big brother - now working as an aquarium diver - for leaving, and who vents his rage by making off with Konrad's bike. Rapprochement comes about, however, in time for an elegant final sequence set on a colder beach than at the start, with some beautiful slo-mo bike-bound photography.
This is altogether a visually elegant film, with equal emphasis on the characters and on the landscapes, maritime and urban, that they inhabit - from an imposingly chilly Berlin to the industrial sites and wind farms of Fortaleza. Ali Olcay Gözcaya shoots in magnificent widescreen, often using artful central framings, but without the film feeling excessively stylised. The sexual content is pretty upfront, Moura and Schick convincingly communicating the immediate and enduring spark of desire between their characters.
Moura's sensitive Donato contrasts nicely with Schick's more abrasive style, and Barbosa makes a spiky impression as the older Ayrton. Moody, contemplative string and guitar music by Hauschka is effectively boosted by rock and dance tracks, mainly from the '90s onwards, although the film somewhat loses points for the button-pressing obviousness of choosing David Bowie's Heroes (in English and German) for the end credits.
Production company: Coração da Selva, Hank Levine Film, DETAiLFILM, Watchmen Productions
International sales: The Match Factory, www.the-match-factory.com
Producers: Georgia Costa Aruájo, Hank Levine
Executive producers: Luciano Patrick, Andro Steinborn
Screenplay: Karim Aïnouz, Felipe Brangança
Cinematography: Ali Olcay Gözcaya
Editor: Isabela Monteiro de Castro Araújo
Production designer: Marcos Pedroso
Music: Hauschka
Main cast: Wagner Moura, Clemens Schick, Jesuita Barbosa, Savio Ygor Ramos, Sophie Charlotte Conrad