Dir: Shlomi Eldar. Israel. 2010. 86mins.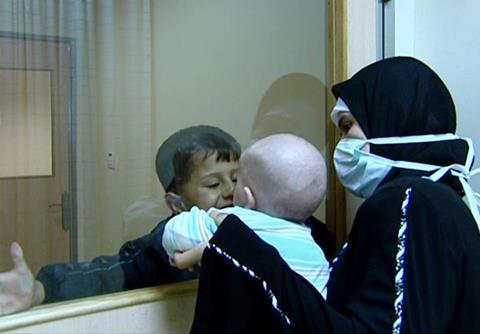 One of the more thought-provoking documentaries in recent years about the Israel-Palestine stalemate, Precious Life beautifully wraps the fundamental dilemmas of the conflict into the moving story of a baby fighting for his life. Directed and shot by Eldar, an Israeli TV journalist who has been covering life on the Gaza strip for 20 years, the film rarely resorts to the sentiment pregnant in a story like this, yet asks some emotive questions of its characters and audience.
It should be a strong ticket for TV buyers and could easily score theatrical deals based on its powerful subject matter.
The film had its world premiere at the Jerusalem Film Festival in July and plays in the Real To Reel section at Toronto this week. Already sold to HBO in the US, it should be a strong ticket for TV buyers and could easily score theatrical deals based on its powerful subject matter.
Eldar is recruited by his doctor friend Raz Somech to document the fight for life of a Palestinian baby at Sheba Medical Center on the outskirts of Tel Aviv in Israel. The baby – Mohammad Abu Mustaffa - has been born without an immune system and is in desperate need of a bone marrow transplant which can only be done in an Israeli hospital. Through Eldar, the doctor makes a nationwide plea and an anonymous donor comes up with the $55,000 which will finance the operation, allowing Somech to try to find a suitable donor in the close and wider family of the baby.
Central to the story is the baby's mother Raida Abu Mustaffa, who has already lost two daughters to the rare genetic disease. Raida is grateful but somewhat bemused by the help of the Israeli community in her baby's plight and enters a dialogue with the ever-present Eldar as to why they would help her.
In the film's most engrossing scene, the two are apparently casually chatting when she says that her son might grow up to be a suicide bomber killing Israelis and that he will be raised to believe that is acceptable. Does she not believe life is precious, asks Eldar. No, she replies.

After this conversation, which aggravates Eldar, the relationship between the journalist and his subjects becomes more complex, as does the film. The feisty Raida, who is battling her own people's accusations that her family has fallen under the sway of the Israelis, is forced, like Eldar and the audience, to balance the nature of life with the power of belief and the demands of the Palestinian resistance.

Production company: Origami Entertainment, Bleiberg Entertainment

International sales: Bleiberg Entertainment, www.bleibergent.com

Producers: Ehud Bleiberg & Yoav Ze'evi
Cinematography: Shlomi Eldar

Editor: Dror Reshef

Music: Yehuda Poliker