Dir: Lee Daniels. US. 2009. 109 mins.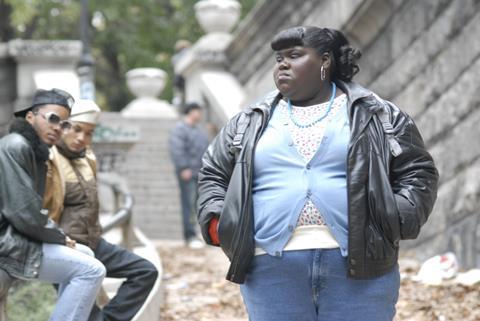 Easily the most talked about US filmat Sundance this year, Push: Based On The Novel By Sapphire is both a horribly upsetting and movingly inspirational film about the plight of an obese African American teen in Harlem whose 16 years of life have encompassed more suffering than most people could comprehend. Adapting the best-selling novel by Sapphire to the screen, second-time director Lee Daniels creates a must-see portrait of life's underprivileged which is utterly compelling.
Front and centre is newcomer Gabourey 'Gabby' Sidibe whose brave performance as the teenager Precious Jones is one of the most electrifying debuts in years. Sidibe's Precious is a resilient mountain of a girl who has constructed barriers against the shocking abuse inflicted on her by her parents and other kids. So undereducated that she is virtually illiterate, Precious is nonetheless determined to make a change for herself, and Sidibe handles her transformation with humour and dignity.
People like Precious rarely get their own movie, and that will ironically help break its commercial prospects beyond the ghetto for 'urban' films. Like Sapphire's 1996 book, it could become a major talking point among kids and adults, and even make people think twice before passing judgment on a Precious passing them in the street.
While a domestic deal is assured, international buyers might at first dismiss this US-centric story told in a thick urban vernacular. But Precious is so strong and unusual that it should transcend traditional wisdom about black stories, and cross borders faster than at first imagined. The presence of famous names like Lenny Kravitz and Mariah Carey in the cast will also help with marketing, not to mention the storm of press attention it will receive wherever it plays.
We first meet Precious in a classroom, sitting uncomfortably in a school chair which can barely hold her girth. Summoned to the principal's office, her classmates make pig noises as she walks out of the room. The principal confronts her and asks if she is pregnant. If so, she says, she will have to leave school. She is indeed pregnant.
Daniels then takes us into the hell that is Precious' home life - flashbacks to years of sexual abuse at the hands of her mother's boyfriend, scenes of shocking physical and verbal abuse by her mother (Mo'Nique) who systematically breaks down her self-esteem and force feeds her to keep her fat and depressed. She escapes into a fantasy world when things get too tough, imagining herself a model or singing star performing to huge crowds or walking the red carpet.
As a parting shot, the principal encourages her to attend an Alternative School where she finds a mentor in Miss Rain (Patton) who teaches literacy to a class of desperate girls. There, she learns how to read, write and express herself. She has the baby - her second - and leaves her mother's house. Along the way, she makes new friends in her classmates, a sexy nurse (Kravitz), and her social worker (Carey). But there are further blows in store for Precious, including a final confrontation with her mother.
Daniels successfully fashions different environments in the film from the poorly lit hell of her homelife to the safety of the classroom to the fantasy sequences; he fills the story with mordantly comic moments that effectively relieve the tension, and elicits remarkable performances from his cast. Comedienne Mo'Nique is sensational as the mother and her work in the confrontation scene at the film's finale is awards-worthy; Carey is surprisingly authentic and decidedly unglamorous as the social worker, while the girls in the schoolroom are all completely natural.
Production companies
Lee Daniels Entertainment
Smokewood Entertainment Group
Domestic sale
Cinetic Media
International sales
Elephant Eye Films

Producers
Lee Daniels
Sarah Siegel-Magness
Gary Magness
Screenplay
Damien Paul, based on the novel by Sapphire
Cinematography
Andrew Dunn
Production designer
Rochelle Berliner
Editor
Joe Klotz
Music
Various
Main cast
Gabourey 'Gabby' Sidibe
Mo'nique
Paula Patton
Lenny Kravitz
Mariah Carey
Sherri Shepherd