Dir: Pat O'Connor. UK. 2012. 102mins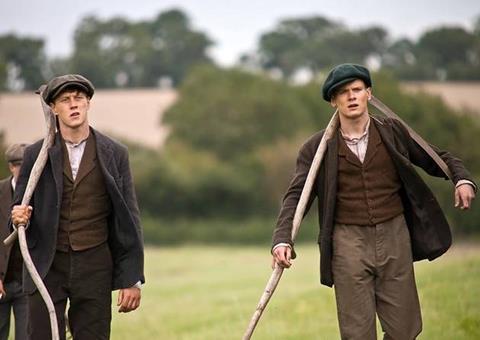 As an old-fashioned companion piece to Steven Spielberg's War Horse – and also based on a book by Michael Morpurgo – the modestly staged Private Peaceful is an honest endeavour that feels more of a television movie than a theatrical offering.
The high points come from the support performances.
It ticks all of the right boxes in terms of engagingly earnest performances and solid central drama, but while its depiction of Devon country life just before World War I is appropriately pastoral and familiar to lovers of classic British television dramas, it can never quite rise above its humble origins.
In a small Devon village, brothers Tommo (George MacKay) and Charlie Peaceful (Jack O'Connell) both take a shine to Molly (Alexandra Roach), and since childhood have spent time with her, playing in the woods and streams. But Charlie is nearer her age, and while she is affectionate to Tommo she falls for Charlie's cheeky charms.
The two marry after she becomes pregnant, and not long afterwards Tommo, looking for an escape, joins the army when war is announced with Germany. Charlie stays behind to look after his young family, but blood is thicker than water and he soon follows Tommo into the same regiment and to the front line at Flanders.
The story flits back and forth from the horrors of the trenches and the slowly revealed plot twist that Tommo is facing a court martial. There is an attempt at a rather manipulative twist, but it is all rather obvious and offers no real surprise.
The high points come from the support performances. Maxine Peake is excellent as the brothers' supportive and caring mother; Richard Griffiths has fun playing the portly and patronising local landowner, while Frances de la Tour is nicely cast as Grandma Wolf, who has her sights set on Griffith's character when his wife dies.
John Lynch crops up late into the film as the clichéd moustachioed shouting sergeant who makes the brothers' army life hell, and while he makes an impact it is a role that is just way too familiar.
Veteran director Pat O'Connor has a firm control of his story and gets some fine performances from the cast, though the film seems more at ease in the pastoral village scenes that at the front line where the lack of budget (and extras) exposes it a little. Rachel Portman's score helps the film find the right tone, but eventually it all seems too modest to click with audiences. That being said, it may find a solid life playing regional cinemas (especially in the UK) where this often a fondness for such period pictures.
Production companies: Eagle Media, Fluidity Films, Poonamallee Prods., Peppermint Pictures
International sales: Goldcrest, www.goldcrestfilms.com/sales
Producers: Guy de Beaujeu, Simon Reade
Executive producers: Michael Morpurgo, Jack Bowyer, John Broxup, Martin Hill, Damian Perl, Jo Podmore, Nick Quested, Rhys Thomas, Austin Shaw, Rhian Williams
Co-producer: Sue De Beauvoir
Screenplay: Simon Reade, based on the novel by Michael Morpurgo
Cinematography: Jerzy Zielinski
Editor: Humphrey Dixon
Production designer: Adrian Smith
Music: Rachel Portman
Main cast: George MacKay, Jack O'Connell, Alexandra Roach, Maxine Peake, Richard Griffiths, Frances de la Tour, John Lynch, Samuel Bottomley, Hero Fiennes-Tiffin, Izzy Meikle-Small, Kyle Summercorn, Stephen Kennedy, Anna Carteret