EXCLUSIVE: Production services department sees cuts, core film team put on notice of further job losses.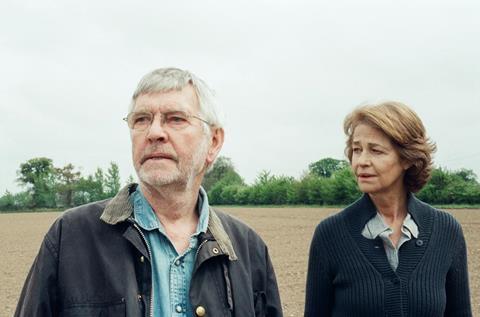 45 Years backer Creative England is having to streamline its film department due to budget constraints.
Three members of the organisation's 12-strong production services team, which helps find shoot locations, have been made redundant, while the majority of the ten-strong film team have been put on notice that their jobs are in jeopardy with two staff members expected to face redundancy this month.
The not-for-profit organisation, whose primary backers are the BFI and the UK government's department of business, innovation and skills, currently has a staff of around 45 full-time employees.
Creative England CEO Caroline Norbury told Screen the streamlining is a result of government cuts to Creative England backer the BFI and the discontinuation of funding from the European Regional Development Fund via the now defunct West Midlands Fund.
According to the BFI, its annual investment in Creative England has fallen between 2013/14-2016/17 from £4.83m to £4.697m, a decline of 2.75%.
"We've had to make some cuts to right-size and make sure our overheads fit our budget for film," Norbury told Screen.
"We're a business that has grown during a time of major cuts. What we're doing now is right-sizing because certain things we've had before aren't there anymore. We're now creating a plan which will ensure that we can continue to deliver the high level of services our collaborators have come to expect and want more of."
Norbury said Creative England has a budget of around £12.5m this year, which would be "roughly" the same next year.
She denied any sizeable holes in the organisation's budget, something reported by several Screen sources, but admitted that a delay in the delivery of government funding in 2015 had led to internal "issues" for Creative England.
The valued creative industries-oriented agency, which has a remit to grow and promote regional companies and which gains the vast majority of its income from public sources, last year launched a trading company in a bid to stimulate needed commercial contracts.
As part of that drive, in 2015 the public and privately-backed outfit added senior executives including a director of content and a chief marketing and strategies director and is soon to appoint a new head of games. It formed a partnership with eOne TV last year and also recently took on a central London office near Oxford Street.
According to Screen sources, some of the organisation's budget allocated to film production has been rerouted to 'strategic partnerships' but Norbury confirmed that the company would deliver on the £2m earmarked for production in the latest four year plan agreed with the BFI.
The company invested £150k - its biggest investment to date - in Andrew Haigh's acclaimed drama 45 Years. More recent investments include Tribeca-bound comedy Adult Life Skills and Thomas Napper's boxing drama Jawbone.
The content budget for popular micro-budget film scheme iFeatures, run in collaboration with the BBC, is not expected be impacted by the cuts.
The cuts are a blow for the UK's regions and will put a strain on Creative England's existing team but they come during a difficult time for publicly funded culture agencies in the UK, with multiple organisations feeling the pinch after government enforced cuts.
Amanda Nevill, CEO of the BFI commented: "Creative England is a key partner of the BFI, delivering valuable support for film within the English regions, from talent development through to business growth. All institutions in receipt of public funds - including the BFI - have been asked to respond positively to the challenge of sustaining activity with less funding.
"We have sought to cushion as much of this as we are able to, and all of our partners, including Creative England, have stepped up to help meet this difficult task."