French actress starred in new wave classic Hiroshima Mon Amour.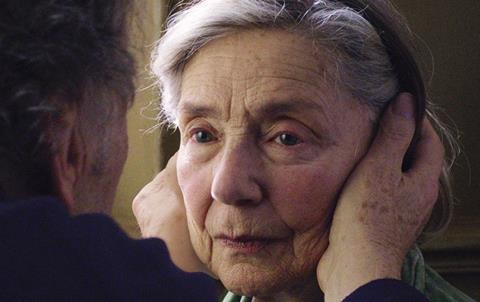 Oscar-nominated French actress Emmanuelle Riva has died in Paris aged 89.
Riva, who had cancer, became the oldest woman to be Oscar-nominated in the best actress category for her performance in Michael Haneke's 2012 drama Amour.
In the acclaimed feature, Riva plays an octegenarian music teacher who suffers a series of devastating strokes.
While the actress missed out on the Oscar to Jennifer Lawrence her performance garnered wins at the Céssar and Bafta awards.
Riva shot to fame aged 26 in 1959 new wave classic Hiroshima Mon Amour and worked steadily on stage and screen over six decades.
During her career she worked with film directors including Gillo Pontecorvo, Jean-Pierre Melville, Georges Franju, Marco Bellochhio, Julie Delpy and Krzysztof Kieslowski in Three Colours: Blue.
She most recently performed in 2016 Icelandic thriller Alma, which is currently in post-production.