EXCLUSIVE: List of best unproduced movie scripts topped by two projects from emerging writers; biopics of Priscilla Presley, Alexander McQueen also feature.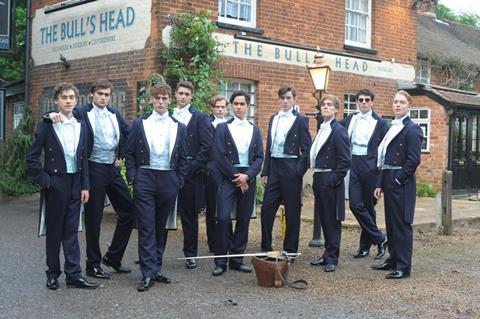 The 2016 Brit List – a line-up of the best yet-to-shoot movie screenplays as voted on by the UK industry – has been topped by a sci-fi and an apocalyptic western, both from emerging writers.
Scroll down for the full list
The UK version of America's Black List list is topped by joint-winners The Competitors, an apocalyptic western written by Ruth Greenburg, and sci-fi The Far Edge Of The World, written by Felix Harrison. Both projects received nine votes.
In second with seven votes was rom-com Bride Or Groom written by The Thick Of It and In The Loop actress Olivia Poulet and Lucy Brown.
Also making the list are Ecosse Films' Lonesome Tonight, a biopic of Priscilla Presley written by Paul Viragh (The Face Of An Angel), Matthew Orton-scripted Eichmann and Chris Urch's Alexander McQueen biopic, as well as projects from BBC Films, Film4, Big Talk Pictures, Lionsgate, and a techno coming-of-age script with Sixteen Films.
Previous films to appear on the Brit List include The King's Speech, The Best Exotic Marigold Hotel and The Riot Club (pictured). The list was on hiatus last year but the 2014 list was topped by by Richard Galazka's rom-com Matinee Idol and Malachi Smyth's Gateway 6, which is now heading to production with Sofia Boutella and Ed Skrein on board to star.
More than 80 producers, agents, distributors and sales agents from the UK submitted more than 160 of their favourite scripts this year.
A total of 22 scripts made the grade of three votes or more, but the spread of nominated scripts was wider than in previous years, according to organisers.
In order to qualify for the Brit List a screenplay must receive: 3 votes or more; be unproduced (yet to shoot); be written by a non-US writer; and not have featured on previous Brit Lists.
The Brit List 2016
NINE VOTES
THE COMPETITORS by Ruth Greenburg (The Agency)
Producers: Escape Plan Productions
Genre: Apocalypse Western
Summary: A runaway prostitute falls in with a lone rider pursuing a stolen child through a brutal landscape.
THE FAR EDGE OF THE WORLD by Felix Harrison (42)
Producers: Newscope Films
Genre: Sci-fi
Summary: When three scientists at a remote research base in Antarctica discover they're picking away at the very edge of reality, their world begins to fray and their existence threatens to collapse around them.
SEVEN VOTES
BRIDE OR GROOM by Olivia Poulet (The Agency) & Lucy Brown (The Agency)
Producers: Stigma Films
Genre: Rom Com
Summary: On the eve of their wedding weekend in Paris, newly engaged lovers Sophie and Philippe magically swap bodies and attend each other's stag and hen dos, to eye opening results.
SIX VOTES
ROVANIEMI by Simon Stephenson (Knight Hall Agency)
Producers: Big Talk Pictures
Genre: Dramedy
Summary: After being left a mysterious gift on Christmas day, a depressed woman walks out of her life as a doctor and onto a plane to Rovaniemi, Lapland, in search of the one person she believes may have truly understood her: father Christmas. There she strikes up a reluctant partnership with an alcoholic failed entrepreneur, and together they search for magic and hope in a world where all seems lost.
FIVE VOTES
BEATS by Kieran Hurley (The Agency) and Brian Welsh (Independent Talent Group)
Producers: Sixteen Films
Genre: Coming of age
Summary: Tells the story of Johnno McCreadie, a teenager living in a small suburban Scottish town at the time of the 1994 Criminal Justice Act – a new piece of legislation which effectively outlawed raves, or "public gatherings around amplified music characterised by the emission of a succession of repetitive beats". Beats explores rebellion, apathy and the irresistible power of gathered youth. With techno. Lots of techno.
THE ENEMY WITHIN by Brian Martin (Sayle Screen)
Producers: Stray Bear Productions
Genre: Drama
Summary: 1984, Yorkshire: 18 year old Ste is a miner who dreams of being a ruby union star. Rocked by the industrial strike that threatens to destroy his family and way of life, Ste's complicated life becomes impossible when he falls in love with newcomer Bobby.
THE LAST RIGHT by Aoife Crehan (Independent Talent Group)
Producers: CrossDay/Baby Cow/Deadpan
Genre: Comedy Drama
Summary: A reluctant man drives a stranger's corpse across Ireland against the wishes of the Gardai, finding love and fixing family relations along the way.
LONESOME TONIGHT by Paul Viragh (Knight Hall Agency)
Producers: Ecosse Films
Genre: Biopic
Summary: The intimate biopic following Pricilla Beaulieu as she meets Elvis while he's on military service in Germany in the late '50s.
FOUR VOTES
DOING GREAT THINGS by Christopher Bacon (unrepresented) & Edward Hemming (Independent Talent Group)
Producers: Mount Diablo Entertainment
Genre: Drama
Summary: April 2009: a 60 Minutes reporter, a Vanity Fair writer and a documentary film-maker spent over 100 hours with a lawyer accused of stealing over $700m dollars. Each comes away with answers, but only one discovered the truth. Based on a true story.
GYPSY BOY by James Graham (Curtis Brown Group)
Producers: BBC Films
Genre: Drama
Summary: Adaptation of Mikey Walsh's memoir about growing up in a Romany Gypsy family.
ROSE OF DYAPAZON by Sean Buckley (Knight Hall Agency)
Producers: Film4
Genre: Urban Fantasy
Summary: Rose is set a series of quests in order to find her lost brother, Aidan, and uncover her true identity.
STOLEN TIME by Nick Whitfield (The Agency)
Producers: Forward Films
Genre: Time Travel Comedy Drama
Summary: Charlotte, a Victorian era petty thief, is catapulted to the 21st Century London.
THE UNTITLED ALEXANDER McQUEEN PROJECT by Chris Urch (Untied Agents LLP)
Producers: DJ Films/Pathé
Genre: Biopic
Summary: An emotionally charged depiction of the six months leading up to one of McQueen's greatest shows, probing both his personal and professional personas.
THREE VOTES
13 O'CLOCK by Johannes Roberts & Ernest Riera (42)
Producers: The Fyzz
Genre: Horror
Summary: The American Mid-West – a brother and sister on the run after killing their father, meet a strange man who makes them an even stranger offer: spend an hour in the coffin of a recently deceased corpse buried six feet underground. Soon they will discover what happens every night at 13 o'clock – the hour of the dead.
CIPHERS by Dawn King (Berlin Associates)
Producers: Cowboy Films
Genre: Thriller
Summary: A woman tries to find out the truth about her twin sister's mysterious death.
DRY LAND by Marcus Shepherd (unrepresented)
Producers: Dan Films
Genre: Comedy
Summary: Five years after drinking himself into a coma on his stag night, Duncan Blake wakes up to discover that all alcohol has been banned and that he is the poster boy for the prohibition campaign "Don't be drunken like Duncan".
EICHMANN by Matthew Orton (The Agency)
Producers: MGM
Genre: Historical Thriller
Summary: Based on the true story about Mossad agents tracking down a Nazi war criminal in South America.
ENTER THE DRAGONS by Joy Wilkinson (Berlin Associates)
Producers: Jeva Films
Genre: Comedy
Summary: 1970s, Britain: when a flasher strikes, Gloria is forced to defend herself by learning karate from Hao at the Chinese takeaway. But Hao isn't Chinese, and he doesn't know karate… A kick-ass comedy about women, men and unleashing the dragon inside us all.
EXCELLENT WOMEN by Jemma Kennedy (Untied Agents LLP)
Producers: Raindog Films/BBC Films
Genre: Comedy Drama
Summary: Based on Barbara Pym's comedy of manners about a woman in the 1950s.
GIMME DANGER by Sam Hanna (Curtis Brown Group)
Producers: Eighty Two Films
Genre: Thriller
Summary: 1950s, Cuba: a holed-up British spy on the verge of defection is pursued by the British secret service, the CIA and the KGB.
SMALL HOUSES by Clare Holman (Independent Talent Group)
Producers: Dan Films
Genre: Drama
Summary: Niamh has made the difficult decision to have a child using IVF. Tinashe is a Zimbabwean refugee who works in an IVF clinic. When they meet both are drawn together, but little do they know that this will lead to the unravelling of their lives – love, betrayal, murder and indeed, the making of their futures.
THE GOOD NURSE by Krysty Wilson-Cairns (United Agents LLP)
Producers: Protozoa/Lionsgate
Genre: Thriller
Summary: When a nurse and single mother with a heart condition discovers that her colleague may be taking the lives of numerous patients, she is tasked with secretly gathering evidence against him.