Film-maker pushed boundaries with her experimental, female-focused films.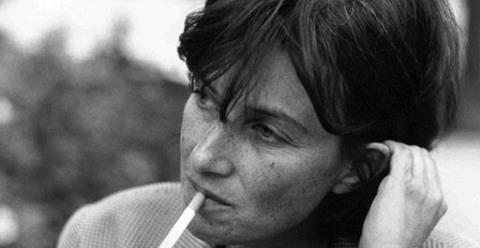 Belgian-born experimental film-maker and artist Chantal Akerman has died at the age of 65.
Her long-time producer Patrick Quinet of Brussels-based Artemis Film confirmed Akerman's death.
"She was a hugely important cineaste who by her singularity revolutionised parts of international cinema," he told AFP.
Quinet did not give the cause of Akerman's death but French newspaper Le Monde reported that the Paris-based film-maker committed suicide on Monday evening (Oct 5).
Career
Akerman was born in Brussels in 1950 to Jewish-Polish Holocaust survivors.
Her mother's experiences in Auschwitz during World War Two, where she lost both her parents, would haunt Akerman all her life and permeate many of her works including the recent No Home Movie, which premiered at the Locarno Film Festival over the summer.
Akerman made her first film, Saute Ma Ville, in 1968 at age 17, having dropped out of film school in Belgium after just one term.
The black-and-white short, following a young girl who slowly ransacks her apartment, has a prescient ending.
With its focus on a female protagonist in a domestic setting, it is often seen as a prelude to Akerman's 1975 debut feature Jeanne Dielman, 23, Quai Du Commerce, 1080 Bruxelles starring Delphine Seyrig as a widowed housewife who turns to prostitution to make ends meet.
In between Saute Ma Ville and Jeanne Dielman, Akerman spent the early 1970s in New York, where she was influenced by the work of artists like Michael Snow, Yvonne Rainer and Andy Warhol and made a series of shorts including Hôtel Monterey and Hanging Out Yonkers.
On the back of the female-focused perspective of most of her films, Akerman is often described as a feminist film-maker but it was not a description she readily accepted.
She said in a 1979 interview with film academic Angela Martin: "I'm a film-maker, but I won't say I'm a feminist film-maker. Immediately you do an interview, they say -oh, you're making a woman's film. No, I'm not making women's films, I'm making Chantal Akerman's films. I didn't decide to make films with feminist points or to change social structures; I decided to make films, to work in that medium, with that art. It so happens I'm a woman and aware of certain problems, but that isn't my main concern in making movies."
Tributes
Film-makers from across the globe paid tribute to director following the news of her death.
Director Mark Cousins tweeted: "Film lovers of the world, join me tonight to drown our sorrows at the death of one of our greatest, Chantal Akerman."
On a tribute page on the website of Liberation, French director Claire Denis recounted how she first met Akerman in the 1970s at the Rotterdam International Film Festival, which screened many of her early films.
"She made films which meant a lot to me at the time… she was already a heroine in the cinema world. It was impossible to take her as a model because she was so unique," said Denis.
"I still think a lot about her film Toute Une Nuit with Aurore Clément. I can still see all the backdrops, like that of Brussels train station at the end. The film represents a time in which film-makers like her had a sort of autonomy to make their films which later became more difficult. The film was at once the story of Chantal and a film on a female cineaste. This film had everything in it for me."