EXCLUSIVE: Ajit Thakur, CEO of Eros production banner Trinity Pictures, talks about developing stories for the two biggest audiences in the world.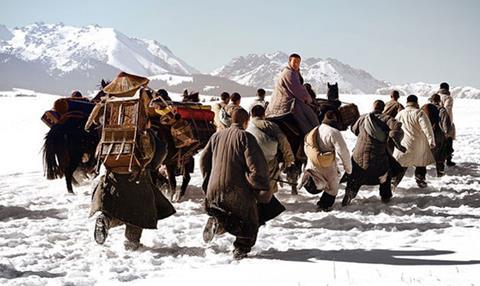 Despite sharing a border, China and India have always been two separate universes when it comes to the film business, each with their own production industries, star systems and distribution networks, and precious little collaboration in between.
Executives on both sides of the Himalayas are aware that co-productions that work in both territories could potentially reach an audience of 2.5 billion people. And that official Chinese co-productions are exempt from the country's quota system. But for many years, nobody could figure out how to make this happen. Chinese censorship, different working practices and the difficulties of matching star power from each side have thwarted previous attempts.
Then in 2014, the Chinese and Indian governments signed a co-production treaty, which prompted several new China-India collaborations – including Stanley Tong's Kungfu Yoga, starring Jackie Chan, and Huo Jianqi's Xuan Zang [pictured], starring Huang Xiaoming, a collaboration between China Film Group (CFG) and India's Eros International.
Highlighting the potential pitfalls, Kungfu Yoga has already had two Indian co-producers drop out as the cast and story are weighted towards China.
Xuan Zang, about the Chinese monk who brought Buddhist scriptures from India to China, emerged from an agreement between Eros and three Chinese state-owned entities – CFG, Shanghai Film Group and Fudan University – to collaborate on projects that can travel.
Projects that can travel
"We invested in Xuan Zang as a first step but it was produced by the China side," explains Ajit Thakur, CEO of Eros production banner Trinity Pictures.
"Then last September, we went to Beijing to see if we could get approval for a couple of projects that could be set up as full China-India co-productions. They wanted stories that Hollywood is not doing in China already – so we stayed away from big action films and pitched romantic comedies and dramas."
The two projects, which have the working titles Love In Beijing and The Zookeeper, have both been approved and set up as co-productions between Eros, CFG and China's Peacock Mountain Culture & Media, co-founded by former CFG chairman Han Sanping, Chinese star Wang Baoqiang and Beijing-based distributors Allen Liu and Prasad Shetty.
Love In Beijing, to be directed by Siddharth Anand, is a $15m cross-cultural romantic comedy, revolving around a wedding between a Chinese man and an Indian woman, along with their extended Chinese and Indian families. Eros expects to announce the Indian actress later this month and start shooting in April 2017.
Kabir Khan's $25m The Zookeeper tells the story of an Indian zookeeper who travels to China to find a panda to save his zoo. Expected to start shooting next summer, the project also has a cross-cultural romantic element between the zoopkeeper and a Chinese woman.
Unlike previous China-India collaborations, the two stories are being developed simultaneously through two teams of writers – one under Eros in Mumbai and the other under Peacock Mountain in Beijing.
"We have young writers from both India and China who are talking and exchanging ideas through [messaging app] WeChat regularly," explains Thakur. "The Chinese writers are adding a lot of creative inputs and cultural nuances that our writers may not be aware of. Around 60% of both films will be shot in China, using a mixed Chinese and Indian crew, so we needed to understand the locations, geography and culture."
The two projects will be multilingual and keep dubbing to a minimum – no easy task given the huge differences between Chinese and Indian languages. For example, Hindi is more closely related to European languages than Chinese.
The Chinese cast will speak Mandarin and the Indian cast Hindi or English – but the two sides will communicate with each other, as people increasingly do in real life, through a mixture of languages and mobile devices. Some scenes that are all in one language will be shot twice in both Hindi and Mandarin. Dubbing will then compensate for the actors' lack of proficiency in the language they're not native in.
"What we've tried to do is allow the love story to develop with communication as a barrier and as a trigger for the romance," Thakur explains. "They'll be using mobile devices to understand each other's languages. The intent is that not more than 20% of the film will be dubbed into each language. The rest of the communication should be visual, so that the language barrier itself becomes a drama point."
2.5 billion audience
Although some of the dialogue will be in English, Thakur says the projects are not aiming for Western markets; with a potential audience of 2.5 billion, they don't need to: "If these films work in China and India, then they should fly in the rest of the world with subtitles, or we can dub in English. But we're not conscious of the English market at all."
In addition to the language elements, Thakur says the other major challenges in mounting these projects are keeping the story relevant to both audiences and finding the right cast. "We need something that caters to the interests of both Chinese and Indian audiences and presents a balanced view of both countries. Sometimes the story has tipped more towards one side than the other, so we've had to balance it."
Finding actors with the same level of star wattage on both sides is also tricky, especially given the insanely busy schedules of talent in both the Chinese and Bollywood film industries. "A lot of actors on both sides are interested, but the big task is to match the dates," Thakur says.
Thakur adds that the two films should eventually demonstrate that China and India have more in common culturally than most people believe. "The wedding film looks at the stereotypes that an average Indian family would have of China, especially a conservative, vegetarian family, and how China sees India, but it goes about debunking those stereotypes to say we actually have a lot in common."
Although development is taking much longer than for a normal Bollywood film, seeking Chinese censorship approval is also time-consuming, Thakur says the process has been much easier than he anticipated: "The way their industry works is very different to ours but it's been simple to follow." He explains that the two sides are jointly financing and will share box office in China, India and the rest of the world. If all goes to plan, Thakur hopes India can also start working with other territories, such as Turkey, Mexico and South Korea.
By the time the two films are released in 2018, the audiences on both sides should have had much more exposure to each other's films. Xuan Zang is releasing in India later this year and several Bollywood films have been released in China over the past few years, including P.K., Dhoom 3, Happy New Year and Baahubali: The Beginning. Peacock Mountain's partners handled distribution on some of these titles and are also lining up a China release for Baahubali: The Conclusion and Eros' early 2016 hit Bajirao Mastani.
Meanwhile, since Eros and Peacock Mountain embarked on their mission, a few other companies have announced China-India co-productions, including Monkey Master, which brings together comic-book legend Stan Lee with Graphic India and China's Shinework Pictures.
So it appears that, despite the different orbits they inhabit, there's a growing willingness on both sides to work together. After years of skirting around each other, the Chinese and Indian film industries may have found some common ground.