Screen interviewed the US multi-hyphenate who this week receives an Honorary Award in Mallorca.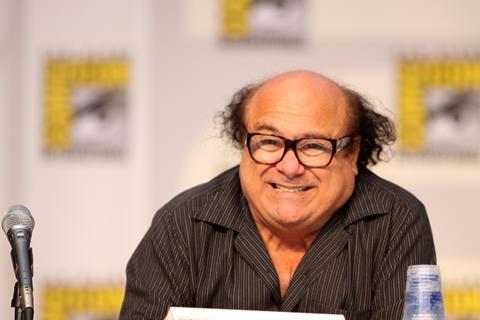 Danny DeVito has got virtually all bases covered: from stage to screen, shorts to features, comedy to prestige drama.
One of the world's most recognizable movie stars, the Batman Returns, Twins and L.A. Confidential actor has directed hits includingThrow Momma From The Train and Matilda while producer credits include Oscar winnner Erin Brockovich and Pulp Fiction (as an executive producer). More recently he has starred in long-running FX series It's Always Sunny In Philadelphia.
Across a career spanning almost 50 years, DeVito has been there, done it and got the t-shirt.
The Hollywood icon will be in Spain this week where he is being presented with with the Evolution Mallorca International Film Festival's (EMIFF, November 3-12) Honorary Award in recognition of his career.
DeVito will present screenings of The War Of The Roses and his new short film Curmudgeons, which is co-produced by his children Jake and Lucy, with the latter also co-starring.
Ahead of his award, Screen caught up with DeVito to talk career highlights, regrets and getting back into the director's chair.
Danny, congratulations on your award this week. You'll be at the festival with Curmudgeons, one of a handful of shorts you've made in recent years…
There are certain things that can be told in 10 or 15 minutes. It's like reading a short story, it's fun. We shot this one in Brooklyn. We had a bunch of friends who are talented filmmakers who came and contributed, guys who do Bond movies, big movies. These movies are a breath of fresh air - it's back to the roots.
You haven't directed a feature since Duplex in 2003. Has that been a conscious decision?
I started on It's Always Sunny in Philadelphia around then. I had planned other movies like The True Confessions of Charlotte Doyle with Morgan Freeman but it got swallowed up by other things. In that time I've also acted in some plays like The Sunshine Boys in London and I'm starting on an Arthur Miller play The Price on Broadway in January.
You recently played alongside Robert DeNiro in The Comedian…
That's going to be fun. It's a part that melds all of his [DeNiro's] talents. He's very funny and he's also very, very strong, as we know. His character in The Comedian combines heart but also angst and a lot of the stuff that we've come to love about Bob.
You've had such a rich career. What have been some of the highlights?
Working with people I really dig. That's when you have the most fun. When I'm doing Sunny, these guys are all my friends. When I'm doing War of the Roses with Michael [Douglas] and Kathleen [Turner], I had a lot of fun. And Matilda, that was the most fun because those kids were so fresh and fun and they were so eager to be in the movie. In Twins I had a great time with Arnold [Schwarzenegger]. We had a lot of laughs.
Whatever you do, you have to get up in the morning and feel good about going to work. That's the goal in life.
What are your enduring memories of One Flew Over the Cuckoo's Nest?
I have so many rich memories of Milos [director, Milos Forman], Bo Goldman's screenplay, Ken Kesey's book and all the actors. Each one of them is like a little family.
You're thrust together in the situation. Acting and directing and producing, they're very familial if you let them be. But it can be anxiety-ridden and driven by fear and stuff that really doesn't make the movie or the TV show or the play any better.
I had done the play off-broadway in 1970 so that was an added thing, to be able to continue my character Martini on the screen. There are many that I'm very proud of, but that was a shining moment.
Do you have any career regrets or parts you wished you had taken?
There's that old joke: how many actors does it take to change a light-bulb? One. They just hold it and the whole world revolves around them.
We all want to play every part that's out there. You wish that you were around for Paddy Chayefsky, you wish you could have worked with Fellini, you look at all the different directors… But then I look at the people that I have worked with: Tim Burton, Milos Forman, the late Curtis Hanson. They have all made a difference.
Is there a character that you would particularly like to play in the future?
I would certainly love to solve the mysteries of myself. Maybe that is one of the characters that I'll tackle one day. That would be odd, wouldn't it? Danny DeVito as Danny DeVito. I doubt I'll figure out what makes him tick.
How is the Twins sequel Triplets coming along?
Ivan Reitman is putting together a screenplay, and certainly Arnold and I are very excited about it. That will be really terrific if we can get it together.
There's a slew of directors out there and I would love to continue acting. I have also got a couple projects that I would like to direct and produce. I'm writing a project about my hometown, Asbury Park in New Jersey. It's about my experiences growing up down on the Shore and what things have become there. It's a sense of place. It's a place of wonder actually, the Jersey Shore and the characters down there.
We have two more seasons of Sunny coming up and in the meantime I'm very excited for my first Arthur Miller play The Price on Broadway. It's got John Turturro, Tony Shalhoub and Jessica Hecht in it, with Terry Kinney directing it. I'm looking forward to that.