EXCLUSIVE: In a tantalising development to emerge from the BAM market in Colombia this week, the studio is in discussions on the period comedy with the team behind Mexican smash The Noble Family.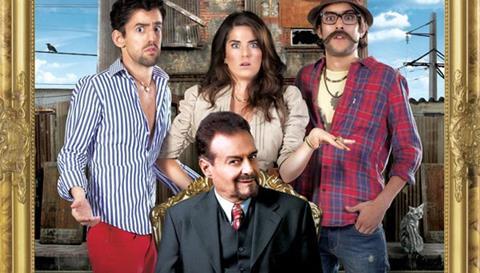 Producer Leonardo Zimbron of Traziende Films will reunite with the hit comedy's director Gaz Alazraki, who is adapting William Sutcliffe's original screenplay The Brothers Hufffington Fffyne.
Los Hermanos Marquez Castillo centres on two brothers who fight for their father's inheritance and will mark the second feature from Alazraki, who will produce alongside Zimbron, Avelino Rodriguez, Marco Polo Constandse and Mexico's Filmadora.
The Noble Family (Nosotros Los Nobles, pictured) grossed close to $30m in Mexico via Warner Bros in 2013 and generated 7.1million admissions to rank as Mexico's second biggest box office hit behind No Instructions Included.
"We're intending to shoot [the film] in Mexico next year, and are hoping for a top-line cast," Zimbron told Screendaily at the BAM Bogota Audiovisual Market in Colombia that runs all week.
Traziende Films is also working on Restaurant, which marks the directorial debut of Gabylu Lara, an award-winning director of short films.
Lara and Ricardo Aguado wrote the screenplay about an American living in Chicago who finds out that the biological mother whom he never knew has died in Mexico and left him a stack of cash and a restaurant.
"The film will shoot in Mexico City next summer and we are currently casting," Zimbron said.
The Traziende slate includes the $2m rom-com Amanda. Gabriella Tagliavini is lining up to direct in Mexico later this year from a screenplay by Anis Rangel and Ricardo Alvarez about a therapist who helps women break up with their annoying partners.
Traziende's Chile-Mexico-Colombia family drama A Horse Named Elephant (Un Caballo Llamado Elefante) is in post. Andres Waissbluth directs the story about two children who get lost in a circus.