Screen caught up with in-demand director Colm McCarthy to hear about the unusual UK package, written by Marvel Comics writer Mike Carey and starring Glenn Close, Gemma Arterton and newcomer Sennia Nanua.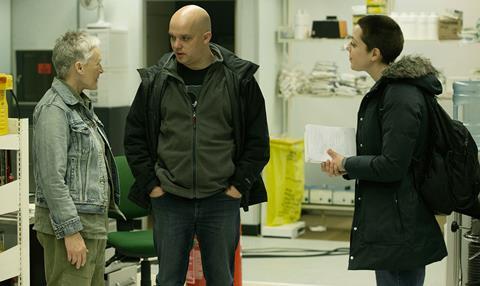 Locarno got underway last night with Colm McCarthy's UK survival thriller The Girl With All The Gifts, written by DC Comics and Marvel Comics writer Mike Carey.
The unusual UK package has been generating buzz for some time. And it's easy to see why.
Glenn Close, Gemma Arterton, Paddy Considine and newcomer Sennia Nanua lead the cast of the high-end zombie feature in which a scientist and a teacher living in a dystopian future embark on a journey of survival with a special young girl named Melanie who takes control of the group when their base is overrun.
Producers are Camille Gatin (Shadow Dancer) and '71's Angus Lamont.
Shot in and around Birmingham on a budget of around £4m, the film was backed by the BFI and Creative England, both of whom put in more than £1m, marking Creative England's biggest film investment to date and one of the largest for the BFI.
"It was something of a gamble", one of the film's executives admits in light of the genre and McCarthy, Carey and Gatin's relative feature inexperience (the trio met for the first time less than three years ago).
Will Clarke's Altitude boarded sales early and in an unusual and promising move, Warner Bros UK pre-bought the post-apocalyptic thriller three weeks prior to shoot. A US deal followed, with Saban Films announcing its acquisition at Cannes this year with a 2017 release in mind.
Additional festival berths are likely before the film's UK release in late September and the project is already propelling some of its key players.
Next up McCarthy will direct the US pilot for the Superman prequel TV series Krypton for Batman and Superman regular David S. Goyer, DC Entertainment, Warner Horizon and the Syfy channel.
The director is also in development on a number of feature ideas with Gatin and Carey, including the latter's latest novel Fellside (the project is in development with the BFI) and another story set in the world of The Girl With All The Gifts. Studios are understood to be circling.
Congratulations on completing your film and its berth at Locarno. You've previously directed TV episodes of Doctor Who and Sherlock and your first film was a horror, Outcast. Are you a genre afficionado?
As with many directors my age I was greatly influenced by Star Wars. I like many kinds of films but I do love smart genre and movies which take you to different worlds.
To what extent do you deviate from Mike Carey's novel source material?
The film wasn't actually based on the novel. The opening of the film is inspired by Mike's short story but I've never actually read the novel as it was written alongside our script.
Considering the film's subject, had you initially envisioned it on an even bigger scale and with a bigger budget?
Quite the opposite with regards to the budget. I was very interested in post-apocalyptic imagery and urban exploration. We wanted to surprise people rather than have people coming in expecting a studio level film. We sent a micro drone unit to Pripyat, Chernobyl to shoot helicopter footage with Pripyat doubling for urban London. I also spoke to Gareth Edwards about Monsters ahead of shoot. That film was a reference point.
Was it a conscious decision to have a number of central, strong women roles in the film?
Yes. We wanted to develop a story that started with strong female characters who aren't defined by their male relationships. Both Mike and I have teenage daughters. We thought about how pathetic the Bechdel test is!
This is something of an unusual role for Glenn Close…
Glenn has six Oscar nominations and they're all for very different kinds of films. She is very varied, but it's true, I'm not sure she has ever done a British, social realist, sci-fi horror. She was super cool to work with and very amazing with Sennia and the other actors. She was very focused and everyone brought their games up working with Glenn.
How did you cast Sennia?
The casting of Melanie was always going to be the most important creative decision. We met 500 girls for the role. Sennia was the last one we met. She is a working class girl from Nottingham who was 12 at the time. She came from the Nottingham Television Workshop, which is where actors like Samantha Morton and Jack O'Connel have also come from.
We wanted the casting process to be as colour blind as possible. We made a point of not referencing skin colour in the script. It was a fairytale end to our casting process. I think Sennia's first casting session with Gemma was her first trip to London.
Is she a star of the future?
My advice to her has been to be careful and not to push immediately for a career in acting. There are an awful lot of child stars who have gone off the rails but I think we managed to give Sennia a grounded experience which was still serious. That's more important to me than whether she can become a movie star.
She definitely has that in her if she wants it but I hope she works at school too. Hopefully this experience will show her she can do anything. She is very smart.
Now you're on to the pilot for US TV series Krypton for David S. Goyer …
Yes, we're shooting in October. It's a huge world-building exercise. It will be an expansive new world and an unexpected journey for the audience. I'm working with production designer Alec Hammond who did Donnie Darko, Allegiant and Insurgent and who was art director on Men In Black II.
Will that be a US cast?
The cast will be international. But that's about all I can say at this stage!