Dir: Nima Nourizadeh. US. 2012. 88mins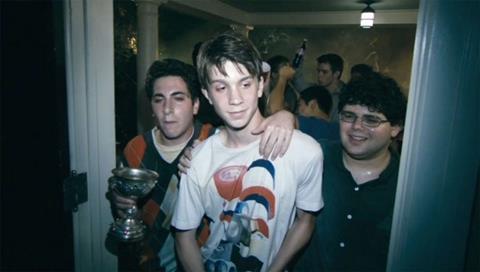 Hangover franchise impresario Todd Phillips sets his sights on a younger crowd with Project X, a high concept comedy that mashes up coming of age drama with found footage reality and R-rated teenage raunch. It's a crass mess but, on its own terms, a fun mess, one that could, for a few weekends at least, grab the attention of the fickle teen and twentysomething audience (older moviegoers will probably stay away in droves).
The film works best when it simply records the party escalating into a blur of drink, drugs, sex and music.
Worldwide distributor Warner has been giving the film a strong push in the run up to its March 2 US opening and should be able to pull in a decent-sized core audience before the arrival of the similarly targeted 21 Jump Street. The unknown cast will make Project X a much harder sell in the international marketplace, where comparable films like Superbad and Knocked Up have underperformed.
Though his stamp on the proceedings is clear, Phillips only produces, leaving the directing to UK-based feature first-timer Nima Nourizadeh, best known for his commercials and music videos.
Nourizadeh swiftly introduces nice guy Thomas (played by Thomas Mann, recently seen in It's Kind of a Funny Story), his pushy friend Costa (the promising Oliver Cooper) and the nerdy JB (newcomer Jonathan Daniel Brown) and sets up the central conceit - that the film is a shakily-shot video of Thomas's 17th birthday party, a blowout that the high school friends hope will make them popular and get them laid.
The film works best when it simply records the party escalating into a blur of drink, drugs, sex and music. Elements thrown into the high-energy mix include a grungy drug dealer, an angry midget, a couple of Taser-happy teenage security guards and a number of topless girls.
Things go over the top for the film's climax, which involves the near destruction of Thomas's suburban house and neighbourhood. A romantic subplot involving Thomas and his longtime platonic friend Kirby (Kirby Bliss Blanton, playing the only female character required to offer anything but T&A) is quite sweet but doesn't add much to the mix.
Production companies: Warner Bros, Silver Pictures, Green Hat Films
Worldwide distribution: Warner Bros
Producers: Todd Phillips
Executive producers: Joel Silver, Scott Budnick, Andrew Rona, Andrew Heineman, Marty P Ewing
Screenplay: Matt Drake, Michael Bacall
Cinematography: Ken Seng
Production designer: Bill Brzeski
Editor: Jeff Groth
Costume designer: Alison McCosh
Website: www.projectxmovie.co.uk
Main cast: Thomas Mann, Jonathan Daniel Brown, Oliver Cooper, Dax Flame, Kirby Bliss Blanton, Alexis Knapp, Miles Teller