Dir: Nick Moore. UK. 2014. 90mins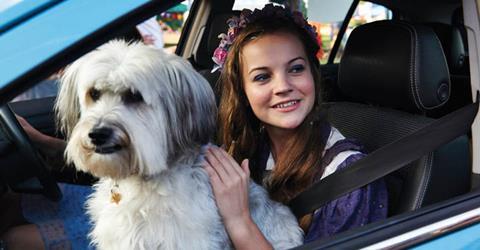 A resolutely old-fashioned family film that will appeal to youngsters who like their mutts cute, cuddly and frisky, Pudsey The Dog: The Movie is very much in the great British tradition of mainstream fare aimed fair-and-square at a summer holiday audience desperate to find something to amuse and entertain the young ones.
Izzy Meikle-Small makes a strong impact as the wacky oldest child and has a little coming-of-age subplot of her own.
The 'star' of the film is Pudsey, the canine winner of TV talent show Britain's Got Talent in 2012….a dog with the 'talent' of standing on his hind legs, bouncing around, performing tricks and generally being super-cute. Clearly he had the ability to transfer to the movies and a plot has been contrived to make the most of his abilities and charm.
The film has the feel – for those of the age, nationality and memory – of the British Children's Film Foundation films of the 1970s. Innocent and genial fare that never really stretched any creative barriers, but which offers solid (often slapstick-orientated) entertainment for young audiences.
The film opens with Pudsey (whose internal monologue is voiced by British comedian David Walliams) romping around London, happy to be a freewheeling loner in search of sausages, until he meets siblings Molly (Izzy Meikle-Small), George (Spike White) and Tommy (Malachy Knights).
After the loss of their father, their mother Gail (Jessica Hynes) is moving to the sleepy pastoral village of Chuffington so they can try and start a new life. Pudsey tags along for the ride, but runs into immediate trouble when he meets the family's new landlord Mr Thorne (John Sessions, playing things blissfully over-the-top) who hates dogs.
Good old Pudsey initially causes all sorts of problems around the sleepy village, but he comes to love his new family…and when he stumbles upon an evil scheme by Thorne to decimate not just the house the family are living in but the whole village it is time of him to get onto his hind legs and into action.
Walliams voice-over takes a bit of getting used to – and he can be irritating at times - but there is no denying the genial canine charm of Pudsey as he romps around getting into trouble but always finding ways out. Jessica Hynes is engaging as mum Gail (though the film never really exploits her comedy skills) while John Sessions racks up his performance level to 11 as he goes impressively over-the-top as the film's hiss-worthy villain.
Izzy Meikle-Small makes a strong impact as the wacky oldest child and has a little coming-of-age subplot of her own as she takes a shine to a local lad, but all of this is window-dressing to the film's central theme – the oh-so cute antics of Pudsey the dog.
Production companies: Vertigo Films, ROAR Global
International sales: Content Media, www.contentmediacorp.com
Producers: Rupert Preston, Jonathan Shalit, Alan Niblo, James Richardson
Screenplay: Paul Rose
Cinematography: Ali Asad
Editor: Daniel Farrell
Production designer: Kristian Milsted
Music: Simon Woodgate
Main cast: Jessica Hynes, John Sessions, Izzy Meikle-Small, Spike White, Malachy Knights, Luke Neal, Luke Tittensor. (voices) David Walliams, Olivia Colman, Peter Serafinowicz, Amanda Holden, Lorraine Kelly