Dir: Anup Singh. 2013. Germany-India-Netherlands-France. 109mins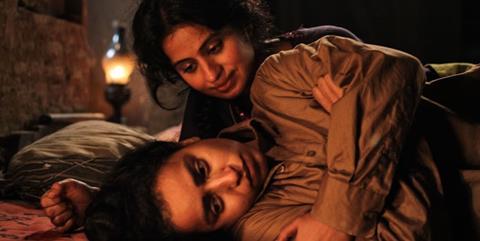 A strangely compelling blend of gender-switching romance, drama and ghost story, Anup Singh's Rotterdam Film Festival opener Qissa – which also played in Toronto – is a beautifully shot fable destined to be little seen in its home territory but a regular on the festival circuit. The star quality of lead Irrfan Khan gives it a real punch, though the young support cast help balance his often-overpowering presence.
Tillotama Shome is terrific as Kanwar, and her straight-faced performance is nicely balanced by Rasika Dugal as the vivacious and independent-minded Neeli.
There is no denying Qissa's sheer strangeness (its core story is odd in itself, but a matter-of-fact ghost story towards the end pushes into bizarre territory), but its post-Partition drama gives it an edge at times. The full title of the film is Qissa: The Tale Of A Lonely Ghost, but that rather over-eggs a decidedly non-spooky pudding.
The bloody events of the 1947 Partition of India are detailed briefly, as the film dwells on Umber Singh (Khan) and his family in a Sikh village in the Pakistani part of the Punjab. The women and children hide away when the village is attacked just before handover is complete and forced to depart into Indian territory.
Well-to-do Umber is a determined man and keen for his family to prosper, but the only handicap is that his wife Mehar (Tisca Chopra) keeps on bearing girls. When she is next pregnant she is positive it will be a boy, and despite the fact that she gives birth to a girl he refuses to acknowledge the fact, and names the child his long-awaited male heir Kanwar.
With brittle determination Umber raises Kanwar as a son, with Mehar agreeing to his charade and when Kanwar (played as a child by Danish Akhtar) has his/her period, Umber simply says not to worry and sets about building up the child's strength through manly wrestling lessons and buying a new shotgun for Kanwar.
The older Kanwar (Tillotama Shome) continues the deception, but things come to a head when gypsy girl Neeli (Rasika Dugal) flirts with Kanwar, who plays along and snares her in a wooden cabin overnight. When Kanwar goes to let her out, Neeli's father sees the two together and assumes the worst, though for Umber it offers simply an opportunity. He works on the theory that Neeli would be grateful to marry the higher caste Kanwar, but she turns out to be a stronger and more forthright woman than Umber assumed.
A nicely violent dramatic twist sees the supernatural element to reveal itself as the pressure on Kanwar mounts to terrible proportions. A climactic scene where an emotionally distraught Kanwar bears her breasts to women from a high window is powerfully staged.
Tillotama Shome is terrific as Kanwar, and her straight-faced performance is nicely balanced by Rasika Dugal as the vivacious and independent-minded Neeli, with the scenes of both finally dressed as women and declaring with laughter how they both fell in love with a woman are impressively staged.
There is great power in Qissa, particularly from Umber's violence towards the women in his family (which he unleashes when he blames his daughters for Kanwar being injured in a fall), though it is hard to believe his obsession for keeping the façade of Kanwar as a boy for so long, simply as a reaction to Partition. It is a hard role for the statesmanlike Kahn, but despite his casual brutality there is warmth and love in his eyes, and he does a great job in making a deeply unsympathetic man rather sympathetic.
Production companies: Heimatfilm, National Film Development Corporation, Augustus Film, Cine-Sud Promotion, ZDF/Das kleine Fernsehspiel, Arte
International sales: The Match Factory, www.the-match-factory.com
Producers: Johannes Rexin, Bettina Brokemper
Co-producers, Nina Lath Gupta, Bero Beyer, Thierry Lenouvel
Executive producer, Vikramjit Roy
Screenplay: Anup Singh, Madhuja Mukherjee
Cinematography: Sebastian Edschmid
Editor: Bernd Euscher
Music: Beatrice Thiriet
Production designer: Tim Pannen
Main cast: Irrfan Khan, Tisca Chopra, Tillotama Shome, Rasika Dugal, Danish Akhtar, Faezeh Jalali, Sonia Bindra