Dir: Dustin Hoffman. UK. 2012. 97mins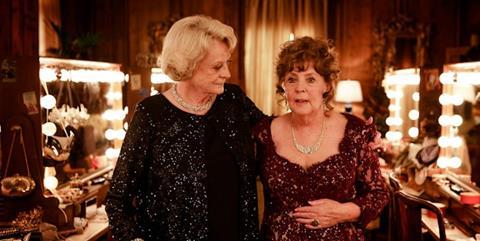 Dustin Hoffman's directorial debut is an affectionate, moving and charming film that offers a series of wonderful roles for a distinguished cast of veteran British performers as it dwells on aging set against the backdrop of a home for retired musical performers. The sheer quality of the cast should secure strong releases and respectful critical attention, with awards nominations a very real possibility.
Perhaps best of all is Billy Connolly as a wise-cracking, fruity, charmer whose performance gives the film its energy and fresh humour.
Scripted by Ronald Harwood, and based on his stage play, Quartet the film offers standout roles for Maggie Smith, Billy Connolly, Tom Courtenay and Pauline Collins (as well as a plethora of other tasty supporting roles) and while Hoffman is clearly comfortable with the tale old musical performers coming towards the end of the years, he smartly restrains from showy directorial flourishes, instead setting up some beautifully composed shots (working with cinematographer John de Borman) and letting his actors do what they do best.
Hoffman does, though, seem to relish shooting the elegant and beautiful British locations – residents live in the opulent Beecham House retirement home with its lush grounds – and some of his set-ups outside of the manor house are lovingly staged. It is intriguing that he chose such a British story – and associated bouts of localised humour – but he makes a fine debut.
Retired opera singers and lifelong friends Reggie (Courtenay), Cissy (Collins) and Wilf (Connolly) live in the retirement home with other old folks, all of whom worked in the music world at come point. There is plenty of singing, instrument playing and banter (rather like scenes from Fame, but for the elderly), with former stage director Cedric (pronounced 'See-dric') Livingston (played with relish by Michael Gambon) planning an annual Verdi concert that will raise much-needed fund for the home.
The easy life of the home is thrown into mild disarray – for Cissy, Reggie and Wilf at least – with the arrival of Jean Horton (Maggie Smith), the fourth and most famous singer in their original quartet, and who was once married to Reggie…for a few hours.
Subsequent comedy and drama revolve around whether Jean and Reggie can resolve their old differences; whether Jean can be convinced to sing in the Verdi concert, and whether Jean can adjust to life in the retirement home.
It comes as no surprise that Maggie Smith is at her withering best delivering barbed comments to those around her, while Tom Courtenay is intelligent and dignified as a man still in love with her. Pauline Collins delivers heart and warmth – which is a nice balance to the plethora of engagingly eccentric elderly performers around her – though perhaps best of all is Billy Connolly as a wise-cracking, fruity, charmer whose performance gives the film its energy and fresh humour.
While Quartet might not have the pace, vibrancy of – say – The Best Exotic Marigold Hotel - to work across the age ranges, it should find a welcoming audience who should appreciate its gentle charm and spot-on performances.
Production companies: BBC Films, DCM Productions, Headline Pictures & Finola Dwyer Productions, Decca
International sales: HanWay Films, www.hanwayfilms.com
Producers: Finola Dwyer, Stewart Mackinnon
Executive producers: Jamie Laurenson, Dario Suter, Christoph Daniel, Marc Schmidheiny, Dickon Stainer, Thorsten Schumacher, Xavier Marchand, Dustin Hoffman
Screenplay: Ronald Harwood, based on his play
Cinematography: John de Borman
Editor: Barney Pilling
Production designer: Andrew McAlpine
Music: Dario Marianelli
Main cast: Maggie Smith, Tom Courtenay, Billy Connolly, Pauline Collins, Michael Gambon, Sheridan Smith, Andrew Sachs, Dame Gwyneth Jones