Dir: Alex Ross Perry. US. 2015. 90mins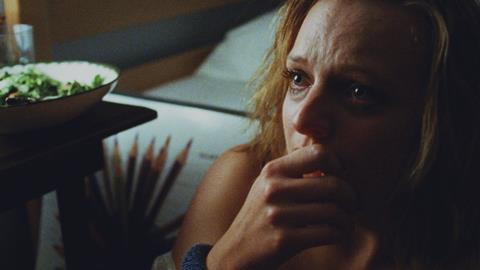 Who needs tragedy when friends can make you horribly miserable in your time of need? A young woman has the worst of both worlds in this delicately calibrated portrait of dissolution which points to the versatility of writer/director Alex Ross Perry.
This clever director has shown that he can create characters and establish a mood that pushes you up against misery and downward with it.
Queen Of Earth's taut pace and polished neo-Hitchcock chill will strengthen Perry's ties to the cinephile crowd, and Elizabeth Moss's turn as a woman unwound will rally the critics. Yet even with an indie star like Moss, the film's icy interior is unlikely to take it past a festival embrace and beyond the hipster art house crowd.
Stellar cinematography in soft 16 mm by Sean Price Williams creates a look for the film that could help vault Perry and Williams into higher budgets. Elegantly filmed misery may be tough to sell widely, but it makes for an exquisite calling card, complete with end-titles that seem to spoof calligraphic engraving, a wry sendoff to a somber package.
The film opens with tactile tearful close-ups as we learn that Catherine (Moss) has just loss her artist father – it was depression, she says – when her boyfriend James (Kentucker Audley) reveals that he has been unfaithful while she's been in anguish. To ease her compounded pain, she dumps James and heads to the family lake house of Virginia (Katherine Waterston), where she had spent a happy time a year before.
Having set the tone with tight shots of pained Catherine and ominous bells in DeWitt Keegan's unsettling score, Perry gnaws away at his characters' discomfort. Waterston is relentless as Virginia in probing Catherine's vulnerabilities as she takes her friend apart. Rich (Patrick Fugit), Virginia's casual bedmate from a nearby house, finds ways to taunt the troubled Catherine and rub salt even deeper into her wounds, or so Catherine feels.
Moss (filmed mostly at point black range) fills the house with pain to cause as much unease as empathy. Waterston reminds us that another's weaknesses can bring out the worst in a friend.
A turn toward darker dramatic territory from the wit and blithe neurosis in Perry's earlier films, Queen Of Earth may end up being more admired than enjoyed. Its close quarters call to mind cinema in enclosed spaces like Woody Allen's terminally-solemn Interiors or Rainer Werner Fassbinder's classic dramas Martha and The Bitter Tears of Petra von Kant. Bitter Tears brought a hard German edge (and a skepticism about gender solidarity) to a story of women turning on each other, but the warm wood-trimmed Pottery Barn look of the house in Queen Of Earth falls short of the forbidding cold metal palette that envelopes Fassbinder's original.
To their credit, Perry and cinematographer Williams aren't limited to the confines of those unhappy spaces as they deploy the lake outside to frame the drama. The reflections on the water can reproduce the house vividly in remarkable stillness, and jagged abstract patterns on the surface when it moves also mirror the tense fraying of Catherine's psyche. Keegan's spare score has an insistent power of suggestion, hinting that, if this were a more literal-minded neo-Hitchcock endeavor, that ever-present water might hold a solution for ridding the tense tale of any of the three unhappy souls.
This clever director has shown that he can create characters and establish a mood that pushes you up against misery and downward with it. If that's uncomfortable, so is the feeling that these characters have abundant leisure time to spend talking about themselves and jabbing at each other – a nastier, pettier Chekhov? Misery loves company, but this company can be hard to take. Otherwise, the masterfully realised Queen Of Earth might have a deeper heart.
Production companies: Forager Film Company, Faliro House, Washington Square Films, Her Majesty September Productions
International sales: Match Factory www.the-match-factory.com
Producers: Elisabeth Moss, Alex Ross Perry, Joe Swanberg, Adam Piotrowicz
Executive producers: Peter Gilbert, Edwin Linker, Christos V. Konstantakopoulos
Screenplay: Alex Ross Perry
Cinematography: Sean Price Williams
Editor: Robert Greene
Music: DeWitt Keegan
Main cast: Elisabeth Moss, Katherine Waterston, Patrick Fugit, Kentucker Audley