Dir/scr: Hitoshi Matsumoto. Japan. 2013. 100mins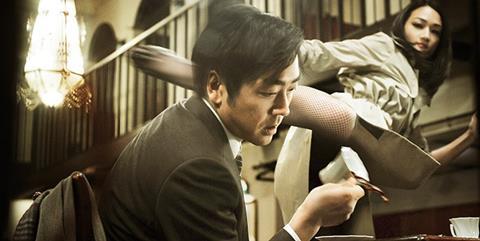 Cult Japanese filmmaker Hitoshi Matsumoto delivers another delightfully skewed and oddball film with the subtly titled R100, which follows the travails of a genial Japanese family man whose liking for S&M sees him pursued by an increasingly strange and tough band of leather-clad dominatrixes.
There is no denying the almost breathless fun and zeal that goes into his films.
Matsumoto pushed boundaries with his challenging and impressive earlier films – such as Big Man Japan and Symbol), and here presents his variation on the sex comedy…not that there is any sex on show here. The film, picked up by Warners and which screened in Midnight Madness at Toronto, is a strange and often very funny offering (never quite as it seems) from a director always in control of his subject matter.
Nao Ohmori (from Ichi The Killer) stars as Takafumi Katayama, a quiet and mild-mannered office drone who joins a strange S&M club (a fabulous set in itself) where he signs on for a little humiliation from the leather-clad dominatrixes.
It all starts 'innocently' enough as he his dominated and abused by a raincoat wearing woman in a restaurant, but things start to spiral out of control as the brutal treatment and humiliation he receives starts to extend to his home and work and he realises he can't seem to get out of his contract. He has to try and find a way of getting the upper hand or be prepared to take whatever comes his way.
It is a typically Hitoshi Matsumoto concept, and while racy, surreal, absorbing and challenging for much the time, it heads off into oddball action B-movie territory in the final third (mysterious ninja women getting blown up along the way), but there is no denying the almost breathless fun and zeal that goes into his films.
The leather clad ladies include Saliva Queen (comedienne Naomi Watanabe); the Gobble Queen (stage actress Hairi Katagiri); the Whip Queen (Shinobu Terajima) and the Voice Queen (Mao Daichi), while revealed in the bizarre closing sequences is the boss of the Bondage company, played by the blonde giant Lindsay Hayward, better known as the world's tallest female wrestler.
Hitoshi Matsumoto can always be relied upon to deliver something rare, challenging, entertaining and bizarrely watchable (with extra kudos here to Satoe Araki for the stunning costume design) with the real shame that more of his films don't receive a bigger release.
Production companies: Yoshimoto Creative Agency, Phantom Film
International sales: Free Stone Productions, www.stonefreeproductions.com
Producer: Akihiko Okamoto
Executive producer: Hisaya Shiraiwa
Cinematography: Hitoshi Matsumoto
Editor: Yoshitaka Honda
Production designer: Etsuko Aikou
Music: Hidekazu Sakamoto
Main cast: Nao Ohmori, Mao Daichi, Shinobu Terajima, Matsuo Suzuki, Atsuro Watabe, Lindsay Hayward, Hairi Katagiri, Naomi Watanabe