Dir: John Cameron Mitchell. US. 2010. 92mins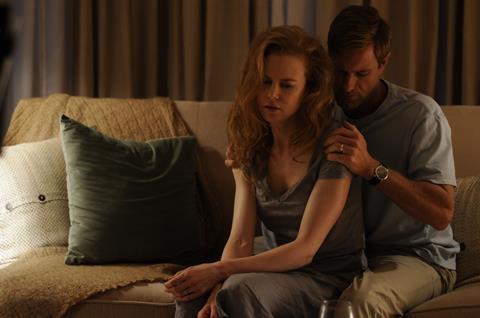 The dialogue remains mostly the same in David Lindsay-Abaire's film adaptation of his 2006 Broadway success, which featured Cynthia Nixon and John Slattery as an affluent suburban couple mourning the death eight months earlier of their four-year-old son after he ran into the path of a car driven by a neighbourhood teen. Tyne Daly portrayed Nixon's working-class mother, who herself had lost a son. The casting was perfection: The actors felt like real people in mourning who looked in all the wrong places for palliatives and a catharsis that can never come.
It is laced with some wicked humour.
Mitchell's choice of subject matter is light years away from his two earlier, more transgressive, and much more personal efforts, Hedwig And The Angry Inch and Shortbus. Here he places himself at the service of the material. The style is satisfactorily conventional, if uninspired. Opening up a stage piece where there had been few distractions and a strong focus on particular lines is always risky, especially given the funding requirement that the movie leads be cut from star cloth.
Here willowy Nicole Kidman is Becca Corbett, Aaron Eckhart her husband, Howie. Diane Wiest plays Becca's mom. Kidman's marketability has often been questioned, and it is uncertain whether audiences will flock to a rather sad film, even if it is laced with some wicked humour and has an arguably believable happy ending.
The tightest relationship in the film is that between Becca and the driver, Jason (Miles Teller). A chance sighting, curiosity, and a desperate search for closure prompt her to follow him after he gets out of school until they begin meeting on a park bench. These are the least "cinematic" scenes, shot mostly straight on and in class shot/reverse-shot, but that is why they are the strongest in the film: The dramatic weight falls almost totally on their words, their facial gestures, their awkward silences.
Teller is an average-looking young man, without major magnetism, so is credible in the role. In spite of herself, Kidman is too glamorous to match that sense of veracity. Nixon's countenance is strong yet imperfect, and she could change the mood of the moment with the slightest facial movement. Kidman doesn't have that range here. She plays Becca's distress mostly with little smiles and downward tilts of her eyeballs. (Few women working gardens in back of their Westchester County homes have her mannequin-like frame.)
The connection Becca and Jason forge is much stronger than the one between her and Howie. They are certainly in couple's crisis following the loss of their only child, but there is no evidence that there ever was any chemistry. Eckhart plays Howie as a high-energy extrovert, much like Slattery did in the play, but the former's chiselled face begins to yank him out of the reality orbit. As an actor, he displays breakdown well, but it is difficult to get beyond him and into the character. (Sandra Oh is hilarious as another parent in their group therapy.)
Becca and Howie argue over what to do with their child's possessions, whether or not to sell the house, whether therapy is worthwhile. The impact is softened by the star quotient as well as the transition to celluloid. Even the casting of the always reliable Wiest, whose face has an attractive softness, makes her more palatable than the burly Daly. Tammy Blanchard delivers a fine performance as Izzy, Becca's bad-girl sister who becomes pregnant, her growing state being a source of tension between the siblings.
The title refers to a graphic novel that Jason is writing and drawing, and which he ultimately presents to Becca. In it is a rabbit hole that allows one of the characters to move to another galaxy. "Somewhere out there I'm having a good time," Becca tells him in a memorable moment. Observing the growth of their rapport alone makes Rabbit Hole worth a watch.
Production companies: Olympus Pictures, Blossom Films
International sales: Oddlot Entertainment, www.oddlotent.com
Domestic sales: CAA, www.caa.com
Producers: Leslie Urdang, Dean Vanech, Nicole Kidman, Per Saarik, Gigi Pritzker
Executive producers: Dan Revers, William Lischak, Linda McDonough, Brian O'Shea
Screenplay: David Lindsay-Abaire
Cinematography: Frank G. DeMarco
Production designer: Kalina Ivanov
Editor: Joe Klotz
Music: Anton Sanko
Main cast: Nicole Kidman, Aaron Eckhart, Dianne Wiest, Miles Teller, Tammy Blanchard, Sandra Oh