Dirs: Jehane Noujaim, Mona Eldaief. Denmark-US-UK. 2012. 75mins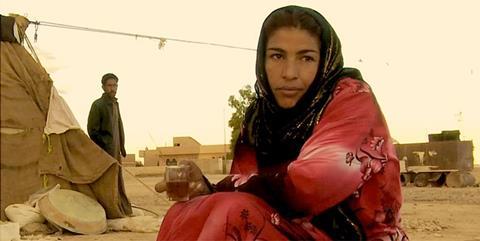 A powerful and extremely watchable documentary, Rafea: Solar Mama follows a strong-minded Bedouin woman as she struggles against tradition and society as she seeks to become the first solar engineer in Jordan. A popular success recently at the IDFA and Doha Tribeca Film Festivals, it is beautifully shot, nicely structured and gently uplifting and while it has a political message it most importantly celebrates the strength of women from around the world befriending each other.
Seeing her interact with women from such different cultures at the Barefoot College is moving.
Apparently the filmmakers originally wanted to track four women from different countries traveling to India to take part in a programme run at the Barefoot College, which over the course of six months trains 30 illiterate women from different continents to become solar engineers.
But clearly the personality of Rafea somehow had more impact and she became the focal point. With the support of the Jordanian Ministry of the Environment she and another Bedouin woman decide to take the opportunity to go to India, but it is not without opposition from her family, young daughters and her husband (she is his second wife), who does little to help raise the children.
Nervous but excited about the new challenge, she travels to India – along with women from Kenya, Columbia and Burkina Faso – learn the basics of solar engineering. It is moving stuff as these women from very different cultures share time together…laugh and dance as well as gradually pick up the basics of engineering. But Rafea gets repeated calls that her children are ill, and feels she has to return half way through the course.
Once home her husband tells her that he doesn't want to her to return, while her mother and children also lay on the emotional pressure. Its needs pressure from the Ministry to finally get her husband to agree, and with a certain glee she returns to India to finish the course. Returning home she wants to use her skills to teach other impoverished women – in a culture who rarely do formal work – and offer the option of solar technology to help improve village life.
Rafea is a fascinating figure. Strong, modest, playful, loyal and at all times struggling against demands of motherhood and a culture that insists she live a certain way while wanting to better herself. Seeing her interact with women from such different cultures at the Barefoot College is moving – the sense the she is gaining strength amongst these women is the moving heart of the film, and it her mission to bring technology to her village is important it is the strength of the sisterhood that she finds that is most powerful.
Production companies: Noujaim Films Inc., +Plus Pictures, Roast Beef Productions, Steps International, BBC, Sundance Institute, DRTV, ITVS
International sales: Goldcrest Films International,
Producers: Karim Amer, Mette Heide
Executive producers: Mike Lerner, Don Edkins, Nick Fraser, Cara Mertes, Mette Hoffman Meyer
Cinematography: Mona Eldaief
Editors: Jean Tsien, Jenny Golden
Music: Jonas Colstrup, Omar Fadel, Simon Russell