Dir: Brad Bird. US. 2007. 110mins.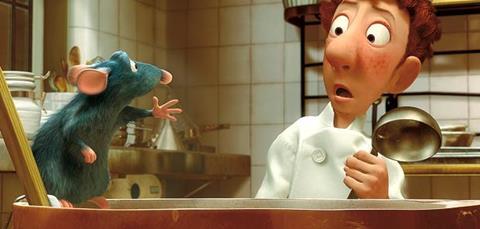 The Academy might as well hand over the animated feature Oscar to Brad Bird right now, since it is hard to imagine any other film coming close to his glorious new film Ratatouille in this or any year. After a couple of years when animation has become stuck in a creative quagmire of penguins and assorted zoo pictures, Bird and the wizards at Pixar have taken the format to the next level of smart storytelling and visual inspiration.
By the finale, which manages to be both funny and strangely moving, it's a genuine wrench to leave these characters behind.
Ratatouille is rich, complicated, intelligent and long - 110 minutes to be precise, although last year's Cars was longer - but its unusual blend of human and animal characters, subtle charm and gentle humour, warm characterizations and wealth of detail render it as sophisticated as any live action film, and more than most.
Just as impressive is the style and movement of the animation itself. We have seen CG-animated characters come on in leaps and bounds since Toy Story in 1995, but Bird and his team experiment here with stylish camera angles, complicated set-ups and panning shots which bring the action to life.
For the kitchen in which much of the action takes place, they create a sense of physical geography which is unprecedented in these films, and to the streets of Paris, they bring an atmosphere and design which are surprisingly authentic. It's easy to forget you're watching animation, instead imagining that some hot new auteur is behind the camera.
Box office prospects are appetising for Buena Vista domestically and Buena Vista International, and the global demographic for the film is enormous. The situation where domestic box office exceeded international on Cars ($244.1m to $218m) will be reversed here, and international numbers will be closer to the $371m take of The Incredibles.
If the film doesn't near Finding Nemo numbers, it is only because the storytelling is too demanding for younger children. Certainly the nuances of the French setting and cooking terminology might be above the heads of many toddlers, although adults and critics will be delighted.
To crown his achievement, Brad Bird has finally found a sympathetic vehicle for that most vilified member of the animal kingdom, the rat.
Chief protagonist is Remy (voiced by comedian Patton Oswalt), a rat whose ambition in life is to be a gourmet chef in a five-star French restaurant like his idol Auguste Gusteau, who runs one of the finest restaurants in Paris and whose mantra 'Anyone can cook' has inspired him throughout his rat-life. Indeed, while his brother, father and friends forage around on all fours eating leftovers and trash, he practices the art of walking on two feet like humans in order to avoid handling food with dirty paws.
His life of foraging with the pack is changed dramatically, however, when an incident with a trigger-happy local pensioner leaves him stranded in the sewers. Inspired by the spirit of Gusteau (Garrett), who has now died and whose restaurant has been stripped of two stars by a savage review from food critic Anton Ego, Remy ventures out of the sewer and above ground, only to find himself in Paris a stone's throw from Gusteau's Restaurant itself.
He sneaks into the kitchen, now run by Gusteau's sous-chef, the opportunistic and malevolent Skinner (Holm), and observes the new garbage boy called Linguini (Romano) adding the wrong ingredients to the soup. He quickly remedies the mistakes made by Linguini and the soup he creates is a sensational hit with customers. Thinking Linguini has a talent for cooking, Skinner enlists one of his staff Colette (Garofalo) to take him under her wing.
But realizing that his only chance to succeed in the kitchen is to work with Remy, Linguini learns how to communicate with the rat and the two devise a system whereby Remy controls Linguini's hand movements by hiding under his toque and pulling his hair.
The trick works, but there are challenges ahead. First, Remy discovers that Skinner is concealing information which reveals that Linguini is Gusteau's son and natural heir to the restaurant. And furthermore, as word spreads about the new Remy-created dishes, Anton Ego (beautifully voiced by Peter O'Toole) once again decides to visit Gusteau's and pass judgment.
Bird, who never shied away from animating people in The Iron Giant and The Incredibles, creates as many memorable humans as rats in Ratatouille. Between Linguini, Skinner, Colette and Ego, the film is full of delicious characters in addition to Remy, a rat who is less mawkish and more cerebral than the average animated rodent, while just as cute.
Chief among the many pleasures here is the film's focus on story and character. There are few asides, no songs or comic routines to distract from the central narrative arc. By the finale, which manages to be both funny and strangely moving, it's a genuine wrench to leave these characters behind.
To sign up for Screen's weekly Reviews Newsletter with all the week's new releases, international openings and full festival reviews delivered free to your mailbox every Friday, please click HERE
Production companies
Pixar Animation Studios
Walt Disney Pictures
Worldwide distribution
Buena Vista/Buena Vista International
Executive producers
John Lasseter
Andrew Stanton
Producer
Brad Lewis
Screenplay
Brad Bird
from an original story by Jan Pinkava, Jim Capobianco & Bird
Cinematography
Sharon Calahan (lighting)
Robert Anderson (camera)
Production design
Harley Jessup
Editor
Darren Holmes
Music
Michael Giacchino
Main voice (cast)
Patton Oswalt
Lou Romano
Ian Holm
Janeane Garofalo
Peter O'Toole
Brad Garrett
James Remar
Brian Dennehy
Peter Sohn
Will Arnett
John Ratzenberger