Dir/scr: Gilles Penso. France. 2012. 90mins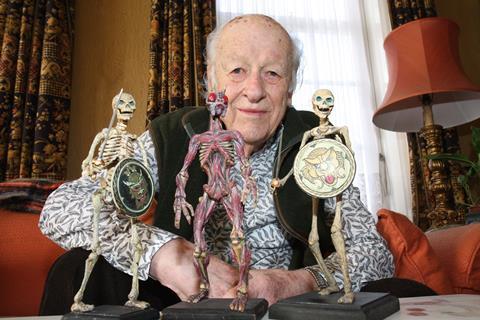 A delightfully entertaining delve into the wonderful special effects world of stop-motion effects guru Ray Harryhausen, this delightful documentary is a must for fantasy film fans. An easy fit into film festivals that favour film-themed documentaries, it will likely also sell to broadcasters who may favour programming alongside repeats of Harryhausen films.
Ray Harryhausen: Special Effects Titan is a wonderful tribute to a real cinematic talent.
It is a pleasure to see some of the current heavy-hitting greats of the fantasy film worlds paying tribute to Harryhausen, and happily admit that he was a massive influence on their early years and still refer to him in their current work even has special effects has moved into digital effects rather than old-fashioned stop-motion work.
The likes of James Cameron, Peter Jackson, Steven Spielberg, and Tim Burton all admit that he inspired them when they were growing up, and the documentary elegantly combines interviews, rare outtakes, home movies, test reels, as well as conceptual art and original models.
Harryhausen himself talks about how he was inspired by Willis O'Brien, the man who handled the effects work in King Kong, and how his friendship as a teenager with science fiction writer Ray Bradbury would also have an effect in his work. Rather engagingly Harryhausen's father and mother helped him with his model work – his father handled the mechanics while his mother made costumes – and hen he finally got to work alongside O'Brien on Mighty Joe Young his future in film was settled.
Films such as It Came From Beneath The Sea and 20 Million Miles To Earth reinforced his reputation as a master of stop motion effects animation, though his work on fantasy adventures such as The 7th Voyage Of Sinbad and Jason And The Argonauts saw his name being associated with the film to audiences. Further success followed with film such as One Million Years B.C, The Valley Of Gwangi, The Golden Voyage of Sinbad, and The Clash Of The Titans, which would be his last film.
Harryhausen himself is the central voice of documentary, and he is a generous and witty speaker who talks with warmth and enthusiasm for his work. Ray Harryhausen: Special Effects Titan is a wonderful tribute to a real cinematic talent.
Production companies: Frenetic Arts, Ray and Diana Harryhausen Foundation
Contact: www.rayharryhausen.com
Producer: Alexandre Poncet
Co-producer: Tony Dalton
Editor: Gilles Penso
Music: Alexandre Poncet
With: Ray Harryhausen, Tim Burton, James Cameron, Guillermo Del Toro, Terry Gilliam, Peter Jackson, John Landis, John Lassiter, Caroline Munro, Nick Park, Steven Spielberg