Dir: Kyoshi Kurosawa. Japan. 2013. 127mins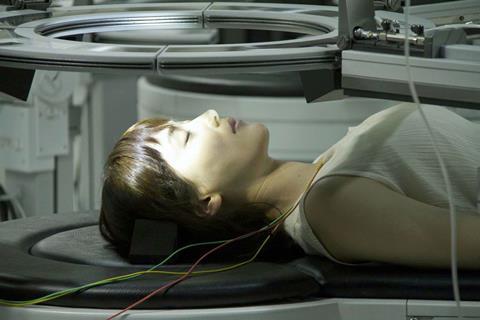 Kyoshi Kurosawa's first feature film in five years (last year's Penance was a 5 hour TV series) starts as a love story, goes on as the mystery thriller surrounding the attempted suicide of an artist who couldn't cope with reality outside the manga series she has been designing and ends as Freudian dip into childhood memories with a touch of Jurassic Park in it. All of this is wrapped into a kind of fancy neurological experiment called "sensing", which is supposed to offer the possibility of communicating with the subconscious of a comatose mind.
Kurosawa uses references to Greek mythology – the boat crossing the river of Lethe from life to afterlife and the Orpheus myth of love being stronger than death – to pave his way to a happy ending.
Kurosawa followers will no doubt appreciate the sure hand, carefully designed images, and some typical trademarks of the idiosyncratic Japanese filmmaker, who claims to have changed some 70% of the plot provided by the award-winning novel, A Perfect Day For The Plesiosaur, on which he based his script, but has done in with the full agreement of author Rokuro Inui. Already a solid box-office performer in Japan and certain to travel abroad thanks to Kurosawa's international reputation, this is still pretty far from reaching the cult status of the director's earlier Cure or the high praise showered on him for Tokyo Sonata.
Koichi (Takeruh Sato) and Atsumi (Haruka Ayase) are a perfect couple, living in perfect surroundings and confident their love will stay with them forever. One year later, Atsumi is lying unconscious in a hospital, after having tried to take her own life. Koichi, as the closest person to her, is called in by the resident psychiatrist to help delve into Atsumi's mind and try, in this way, to bring her out of her coma.
The experiment tells us, gradually, that Atsumi, who was designing a horror manga series, was feeling at the end of her artistic tether, was losing contact with reality and couldn't face life outside the universe she was creating on paper. Each of the "sensing" sessions takes the couple further back into their common memories with elements from the sessions predictably seeping into real life, to lead them both to their childhood, 15 years earlier and to the island, Hikano, where they first met.
Several twists and turns later, after Kurosawa had delved into the difficulty of an artist to tell the difference between fact and fiction and made a pass at one of his favorite themes, the ecologic catastrophes provoked by unthinking, greedy humanity (possibly a veiled hint at the Fukushima disaster), he finally provides the reason for the drawing of a plesiosaur (a prehistoric aquatic monster whose CGI version steals several of the final sequences) and the surly wet boy, both of them creeping up every once in a while in the course of the story.
But after weaving such a complex dramatic fabric in the first part of his film, the final explanation is a kind of letdown, almost like a shrink's routine interpretation of a bad dream. This is particularly the case when Kurosawa uses references to Greek mythology – the boat crossing the river of Lethe from life to afterlife and the Orpheus myth of love being stronger than death – to pave his way to a happy ending.
On top of its smooth technical credits - camera and production design are no less than exemplary – Kurosawa's film owes much to the presence of its two leads. Sato is a celebrity from roles as the lead in the local actioner hit Rurouni Kenshin (already on its way to become a franchise) and Ayase enjoys a similar status after playing the blind swordswoman in Ichi. But neither one of them is required to do much more than be on the screen and look dutifully concerned, which they both do without much effort.
Production company: Twins Japan Inc.
Producer: Takashi Hirano
International sales: TBS – Tokyo Broadcasting Service, www.tbs.co.jp
Screenplay: Hiromi Kurosawa, Sachiko Tanaka, based on the novel by Rokuro Inui
Cinematography: Akiko Ashizawa
Editor: Takashi Sato
Production designer: Takeshi Shimizu
Music: Kei Haneoka
Main cast: Takeru Sato, Haruka Ayase, Miki Nakatani, Joe Odagiri, Shota Sometani, Keisuke Horibe, Kyoko Koizumi.