Dir: Matteo Garrone. Italy-France. 2012. 115mins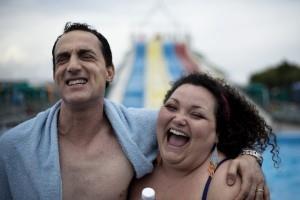 Matteo Garrone's first feature since Gomorra (2008) takes an idiosyncratic lurch into quasi-Fellini territory as it offers a whimsical reflection on the corrupting influence of reality television. Mild mannered and meandering, Reality fails to make the most of a subject that no longer feels as urgent or immediate as it once did.
Aniello Arena has the guileless, wide-eyed look of a man who believes that he has fallen into a wonderland where all his dreams will come true.
The Truman Show was a long time ago and Reality seems to belong to an even earlier era when Anna Magnani desperately pushed her daughter towards a movie career in Bellissima (1951) or James Stewart believed in his invisible friend Harvey (1950). Garrone's reputation may ensure some initial domestic interest in Reality but it seems unlikely to travel.
The Fellini influence is revealed in an opening sequence as a golden carriage is pulled through the streets by plumed horses and white doves are released into the skies as part of an elaborate wedding ceremony.
Later, a gaudy nightclub scene also has the feel of Fellini. The initial wedding party are thrilled by the arrival of Enzo (Raffaele Ferrante), a celebrity who survived 116 days in the Big Brother house. Everyone basks in the glow of his renown and seems to have bought into the notion that an appearance of the show provides fame and riches that will last a lifetime.
When Big Brother auditions are held in Naples, fish seller Luciano (Aniello Arena) is persuaded to enter. He is convinced that he will be chosen, especially after a further audition at Cinecitta in Rome (the clearest echo of Bellissima). In anticipation of his success, Enzo sells his business, grows increasingly Bellissima paranoid around family and neighbours, alienates his wife and slowly surrenders his grip on the real world.
Reality is nicely staged with Garrone's regular cinematographer Marco Onorato capturing a tangy flavour of the decaying majesty among the buildings of old Naples and Alexandre Desplat contributing a score that tinkles with Potteresque charm. The problem lies not with the craftsmanship but with a discursive, verbose, screenplay that never seems entirely sure whether to approach Reality as a caustic satire, an amusing Walter Mitty fantasy, a cutting commentary on a world enslaved by the inanities of reality television or a plaintive window into the mind of a hopelessly deluded innocent.
It is a little of all these things but the comedy is only half-hearted at best, the material is dated and the boisterous, endlessly argumentative extended family that surround Luciano quickly grow tiresome. Aniello Arena has the guileless, wide-eyed look of a man who believes that he has fallen into a wonderland where all his dreams will come true but you wonder whether a young Nanni Moretti or Roberto Benigni might have had the comic skill and charm to make the character more appealing and this sweetly pointless film more compelling.
Production companies: Archimede-Fandango, Le Pacte-Garance Capital
Producers: Domenico Procacci, Matteo Garrone
International sales: Fandango Portobello, sales@fandangoportobello.com
Screenplay: Maurizio Braucci, Ugo Chiti, Matteo Garrone, Massimo Gaudioso
Cinematography: Marco Onorato
Editor: Marco Spoletini
Production designer: Paolo Bonfini
Music: Alexandre Desplat
Main cast: Aniello Arena, Loredana Simioli, Nando Paone, Graziella Marina, Nell Iorio