Dir-scr: Lodge Kerrigan. Fr-US. 2010. 71mins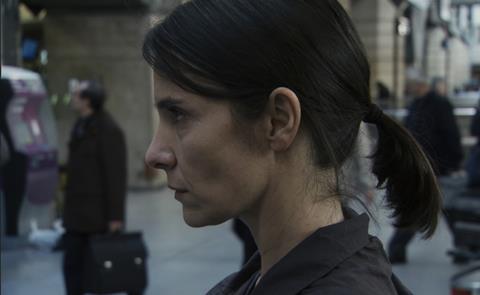 Less a fiction feature proper than a cinematic objet d'art made of mirrors, Lodge Kerrigan's Rebecca H. (Return to the Dogs) is a film about acting, about mental disturbance, about reality blurring with fiction, and about what it's like to appear in a Lodge Kerrigan film about all those topics. It is also a homage to West Coast music icon Grace Slick, mighty-voiced singer of quintessential hippie-era band Jefferson Airplane. Lead Geraldine Pailhas mesmerisingly carries off multiple roles in a film that could just as easily be called Being Geraldine Pailhas.
Rebecca H. is nothing if not formally bold, although the film stops just as it seems ready to push further.
But, complex and challenging as it is, the film's somewhat rarefied musings – and consistent wrong-footing of the viewer – don't altogether break new ground, and even committed art-house viewers may be alienated by Rebecca H.'s extreme self-reflexiveness. Only very specialised niche sales beckon, but festivals will be the film's natural home – although its kinship with video art could find it an additional constituency on the gallery crossover circuit.
After an enigmatic nocturnal prologue, with kenneled dogs barking in the Paris suburbs, we meet Rebecca Herry (Pailhas), a woman who listens too loud to Jefferson Airplane while ignoring the protests of her aggravated neighbours. She then tells a man – later identified as her brother Jérôme (Greggory) – that she's given up her job and is moving to California to become a singer. Realising she's not taking her medication, Jérôme cautiously puts a damper on her enthusiasm – at which point, wild-eyed Rebecca storms out.
Suddenly, we switch to a press conference for a yet-to-be-made Lodge Kerrigan film in which Pailhas, now seen as herself, is to play Grace Slick. In private, however, a preoccupied Pailhas confides to Greggory that she may not play the part, as she's pregnant and about to leave her partner. Then she confides to him again - as what we've just been watching is the shooting of a scene from a film in which Pailhas plays actress 'Geraldine Pailhas', Greggory plays 'Pascal Greggory' and director Kerrigan, apparently, is just being his affable gangling self as he interacts with his cast.
Things get more complex as Pailhas, seemingly just being herself, gives an interview in which she talks of her lifelong admiration for the late director Maurice Pialat – before we see Rebecca watching that very interview on TV. It becomes increasingly difficult to separate the film's various layers: a long sequence, shot in close-to-the shoulder style of the Dardenne brothers (who are namechecked at a key point) shows a haggard-looking Rebecca striding around Paris and its outskirts. But it it her we're seeing, or Pailhas acting in Rebecca H., or Pailhas filmed preparing for the part? Finally, made up as Slick, Pailhas recreates a filmed Airplane performance, and here the film slips into the mode of ritualised re-enactment that has become an influential strand in contemporary video and performance art.
There's nothing new in French cinema – and this is essentially a French film – in films that explore films through complex mirror-play. But Rebecca H. reveals little not already uncovered by Truffaut's Day For Night, Godard's Passion or Olivier Assayas's Irma Vep. The film is most impressive in the Bergmanesque scenes between Pailhas and Greggory, especially when they play the same dialogue repeatedly with differently nuances.
Rebecca H. is nothing if not formally bold, although the film stops just as it seems ready to push further. Deliberately echoing the realism of his films Keane and Clean, Shaven (both dramas about mental illness), Kerrigan seems to be pastiching his previous work from a conceptual distance. The result is provocative, but finally comes across as a somewhat academic critical footnote to Kerrigan's earlier, more fully realised films.
Production companies: Les Films du Worso, Sky Films LLC
French distribution: Wild Bunch Distribution
International sales: Wild Bunch, www.wildbunch.biz
Producers: Lodge Kerrigan, Sylvie Pialat
Executive producer: Steven Soderbergh
Cinematography: Laurent Brunet, Josée Deshaies
Editor:Marion Monnier
Production designer: Katia Wyszkop
Main cast: Géraldine Pailhas, Pascal Greggory, Lodge Kerrigan