Dir: Dan Bradley. US. 2012. 94mins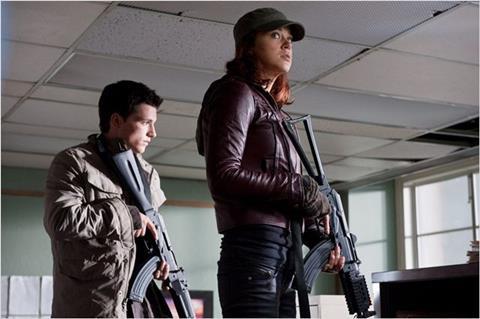 The long-delayed remake of John Milius' 1984 Cold War drama Red Dawn turns out to be heavy on noisy action and light on almost everything else, including plot development and dramatic tension. A young cast headed by Thor star Chris Hemsworth should stir up initial interest, but a quick retreat from theatrical to home video platforms could follow.
First time lead director Dan Bradley delivers some decent action sequences with a good quota of pyrotechnic effects.
Premiered at September's Fantastic Fest in Texas, the present day redo gets a wide US release through Film District on November 21, giving it the long and appropriately patriotic Thanksgiving holiday weekend to make a mark at the box office. Independent distributors that have bought the film for international markets will have to make the most of the cast and perhaps downplay the American flag waving.
Shot for MGM in 2009 but shelved because of the studio's bankruptcy, the film kicks off with a montage of recent news clips that make the story appear more current but don't change the fact that the premise seems even less credible now than it did in the eighties.
The introduction of a group of characters from a Pacific northwestern American city - among them US Marine Jed (Hemsworth), his high school football star brother Matt (Josh Peck, from The Wackness) and tech geek Robert (The Hunger Games' Josh Hutcherson) - quickly gives way to effects-heavy action as a massive force of North Korean soldiers invades the area. (The invaders were originally supposed to come from China, but the film was reportedly re-edited and digitally altered to re-identify the bad guys.)
Jed, Matt and a bunch of the city's other youngsters escape into the surrounding countryside and turn themselves, with surprisingly little trouble, into a well-armed guerrilla unit called the Wolverines. The film then turns into a series of urban warfare sequences punctuated by quieter dramatic moments, most of them involving the two arguing brothers and their girlfriends (played by Adrianne Palicki, from TV's Friday Night Lights, and Australia's Isabel Lucas, from Transformers: Revenge of the Fallen).
First time lead director Dan Bradley, best known as a stunt co-ordinator and second unit director on films including The Bourne Supremacy and Quantum Of Solace, delivers some decent action sequences with a good quota of pyrotechnic effects. But the punctuating scenes are weak, with nondescript characters and overwrought performances. As a result there's little emotional build up or payoff - other than the predictably crowd-pleasing sight of spunky young freedom fighters kicking enemy butt.
Production company: Contrafilm
US distribution: Film District
International sales: FilmNation, www.wearefilmnation.com
Producers: Beau Flynn, Tripp Vinson
Executive producers: Kevin Halloran, Vince Newman
Screenplay: Carl Ellsworth, Jeremy Passmore, Tony Gilroy
Director of photography: Mitchell Amundsen
Production designer: Dominic Watkins
Editor: Richard Pearson
Music: Ramin Djawadi
Website: www.RedDawnFilm.com
Main cast: Chris Hemsworth, Josh Peck, Adrianne Palicki, Josh Hutcherson, Connor Cruise, Isabel Lucas, Jeffrey Dean Morgan