Dir: Anthony Hemingway. US. 2012. 125mins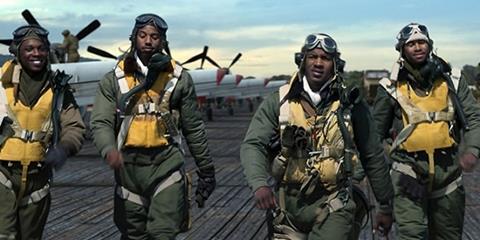 The World War II drama Red Tails is a passion project from executive producer George Lucas that's curiously lacking in passion. A by-the-numbers inspirational historical war film based on the heroics of the Tuskegee Airmen – a group of African-American fighter pilots who took on the Nazis – this Fox release seems better suited to the classroom than the movie theatre, its entertainment value far less noticeable than its bland, instructive tone.
Red Tails is filled with flashy special effects, dull characters and square-jawed performances.
Red Tails will be catering to an older audience that will be less interested in the weekend's competing fare, Haywire and Underworld Awakening. Advertising itself as an action movie replete with aerial battles, this period drama is akin to other January-released true stories (like Glory Road and Coach Carter) that feature predominantly African-American casts and offer feel-good stories about overcoming bigotry. Cuba Gooding Jr. and Terrence Howard's presence as supporting players will help some commercially, but in a busy month of new offerings, Red Tails may end up a more robust performer in ancillaries than during its theatrical run.
Set in Italy in 1944, Red Tails tells the story of a few of the Airmen, focusing on the long-time friendship between squadron leader Marty "Easy" Julian (Nate Parker) and Joe "Lightning" Little (David Oyelowo). Easy values Lightning's aerial prowess but disapproves of his reckless behaviour, while Lightning worries about his friend's secret drinking problem, which he fears might endanger the man's judgement during combat. Although the squadron's superiors dismiss them because of their race, Easy and his team slowly begin to earn the military's trust through their bravery and discipline.
Although the film is directed by first-timer Anthony Hemingway (who previously has helmed episodes of The Wire, Treme and Battlestar Galactica), Red Tails very much feels like the product of executive producer George Lucas, who reportedly spent 23 years getting this story to the screen. Unfortunately, Lucas's fingerprints on the film are a detriment to the story: Red Tails is filled with flashy special effects, dull characters and square-jawed performances, which all draw unflattering comparisons to the weaknesses of his Star Wars prequels. (The movie's main villain – a feared Nazi pilot – is most noteworthy for the scar on his face.)
This is not to discount the worthiness of the tale being told, but in highlighting the achievement of the Tuskegee Airmen, who had to battle not just the enemy but also lingering racism among their own countrymen, the filmmakers travel a painfully predictable story arc. Those familiar with other recent period dramas – such as The Express or Glory Road – about African-Americans fighting for acceptance will be able to recognise all the clichéd emotional beats that get checked off here. Add to that a series of war-movie conventions – the love-story subplot, the young kid who may not be ready for battle – and you're left with a movie whose good intentions are repeatedly shot down by its adherence to formula.
The movie's main selling point is probably its aerial dogfights, which have an energy that the rest of Red Tails lacks. But even here, the film doesn't seem particularly inspired. Rather than emphasising the danger and heroism inherent in these high-flying battles, the movie settles into a videogame-like display of visual flair that's frustratingly impersonal. Years after the groundbreaking action sequences in Top Gun, Red Tails can't figure out any novel new ways in which one fighter plane can chase after another fighter plane.
As Easy's commanding officers, Gooding Jr. and Howard lend the film some gravitas, but they tend to overdo the sincere sermonising, with Gooding Jr. resorting to chomping on a pipe to suggest martial authenticity. Better are Parker and Oyelowo, who give their characters some pizzazz, despite the fact that they're playing one-dimensional heroes without much nuance. Of the supporting cast, singer Ne-Yo resonates strongest as a swaggering, fun-loving pilot, giving this otherwise stolid affair a little life around the edges.
Production companies: Lucasfilm Ltd.
Domestic distribution: Twentieth Century Fox, www.foxmovies.com
Producers: Rick McCallum, Charles Floyd Johnson
Executive producer: George Lucas
Screenplay: John Ridley and Aaron McGruder, story by John Ridley
Cinematography: John Aronson
Production designer: Nicholas Palmer
Editors: Michael O'Halloran, Ben Burtt
Music: Terence Blanchard
Website: www.redtails2012.com
Main cast: Nate Parker, David Oyelowo, Ne-Yo, Elijah Kelley, Cuba Gooding Jr., Terrence Howard