Dir: Robert Schwentke. US. 2010. 111mins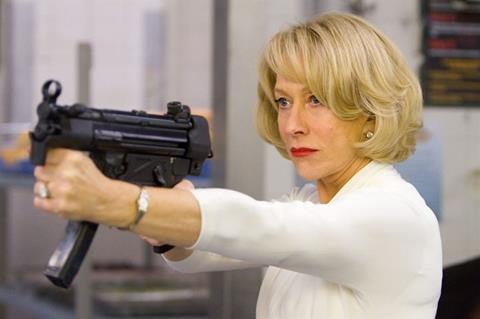 It might look on paper like The Expendables with a classier cast, but action comedy RED thankfully has a subtler appeal - and much more enjoyable performances - than Sylvester Stallone's recent eighties muscle man revival. The audience will still be at the older end of the spectrum, though, and that's likely to limit the box office potentialof this DC Comics graphic novel-based Summit Entertainment release.

German director Robert Schwentke (Flightplan) handles the bursts of action quite capably.
Making a play for at least a part of the younger action audience, Summit launched the film this week at Texas fanboy event Fantastic Fest. A wide US release follows on October 15 and an international rollout through independent distributors continues through the autumn.

Bruce Willis (who also had a cameo in The Expendables) stars as Frank Moses, a former black-ops CIA agent, now deemed 'retired and extremely dangerous' (hence the title acronym). When a mysterious hit squad tries to eliminate Frank he grabs his would-be girlfriend (Mary-Louise Parker, from The Assassination Of Jesse James) and sets off round the country to reassemble his old team: suave Joe (Morgan Freeman) is living restlessly in a retirement home; crazy Marvin (John Malkovich) is concocting conspiracy theories in his backwoods hideout; and still sexy Victoria (Helen Mirren) is living the life of a country lady while taking the odd contract job on the side.

German director Robert Schwentke (Flightplan) handles the bursts of action quite capably, but there's nothing much on that front to wow thrill seekers. The comedy is nicely understated, though sharper dialogue would have enhanced the humourous moments considerably.

Most of the fun is in the performances. Willis, of course, has always been good at this kind of winking action caper but it's a nice surprise to see Malkovich, Mirren and Parker getting into the same spirit. Besides the main performances there are also nice turns from Brian Cox (The Bourne Identity), Richard Dreyfuss and Ernest Borgnine.


Production companies: Summit Entertainment, di Bonaventure Pictures
US distribution: Summit
International sales: Summit www.summit-ent.com
Producers: Lorenzo di Bonaventura, Mark Vahradian
Executive producers: Jake Myers, Gregory Noveck
Screenplay: Jon Hoeber, Erich Hoeber based on the graphic novel by Warren Ellis and Cully Hamner
Cinematography: Florian Ballhaus
Production designer: Alec Hammond
Editor: Thom Noble
Music: Christophe Beck
Website: www.red-themovie.com
Main cast: Bruce Willis, Morgan Freeman, John Malkovich, Helen Mirren, Karl Urban, Mary Louise-Parker