Currently in post production, John Woo and Su Chao-pin's martial arts action thriller Reign Of Assassins stars Michelle Yeoh as a retired female assassin whose past returns to haunt her.The film will have its world premiere at Venice.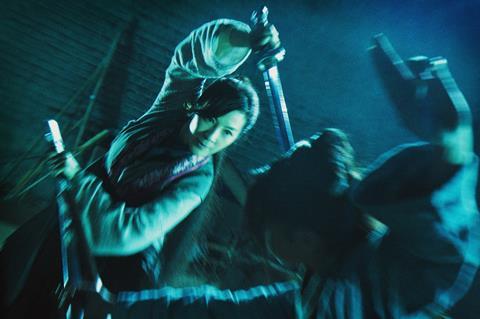 Synopsis: A female assassin retires after killing a monk she had fallen in love with and marries a seemingly ordinary man, hoping to lead a peaceful family life. But her husband is actually the son of an official she might have killed and the past soon returns to haunt her.
Directors: Su Chao-pin, John Woo.
Writer: Su Chao-pin.
Producers: John Woo, Terence Chang.
Cast: Michelle Yeoh, Jung Woo-sung, Wang Xueqi, Barbie Hsu, Shawn Yue.
Budget: $12m.
Financing: Beijing Galloping Horse Film & TV Production, Media Asia Group, Gamania Digital Entertainment Company, Lumiere Motion Picture Company.
Language: Mandarin.
Countries of Production: China, Hong Kong, Taiwan.
Status: Post-production.
Release date: September 28 (China), October 7 (Hong Kong), October 10 (Taiwan).
Reign Of Assassins started life when producer Terence Chang, partner with John Woo in Lion Rock Productions, was looking for an action vehicle for international star Michelle Yeoh. After several meetings with Taiwanese writer-director Su Chao-pin, he decided on a wuxia film to showcase Yeoh's skills as a martial artist.
The wuxia genre depicts the adventures of martial artists in ancient China and is closely associated with chivalry and swordplay. Although wuxia films date back to the 1920s, and were made popular by Taiwanese filmmaker King Hu and Hong Kong's Shaw Brothers studios in the 1960s, they only came to wide international attention with Ang Lee's Crouching Tiger, Hidden Dragon (2000) and Zhang Yimou's Hero (2002). However there hasn't been a big international hit in this genre for several years as Chinese directors have been experimenting with other genres. Woo's last film, the two-part blockbuster Red Cliff, was a period war movie rather than a wuxia film.
Chang and Su are both huge fans of the genre and wanted to revive it. "We decided to take the Gu Long approach, having many characters, and add mystery and suspense to the plot," says Chang, referring to the famous Taiwanese writer of wuxia novels. "We also took out any reference to the particular period and history, and stressed the theme of re-birth."
Su wrote the script which had the original title of Jianyu Jianghu – which literally means "swords and rain, rivers and lakes" – but to a Chinese person has a much deeper meaning. Jianghu refers to a special imaginary world, a kind of parallel martial arts universe, which Su says he'd always wanted to have a go at creating. "Just like every other boy who grew up reading martial arts novels and watching martial arts films, I believe that making a film that reflects the martial arts world of my own imagination is a director's dream," says Su.
Impressed by Su's script and aware of Lion Rock's strong track record, Hong Kong-based Media Asia Films and fast-rising production house Beijing Galloping Horse Film & TV Production signed on as co-producers in summer 2009. To complete the financing, Chang also brought on board two Taiwanese investors – online gaming company Gamania Digital Entertainment and film and TV production house Lumiere Motion Picture Company.
Fortissimo Films, which has a long association with Chang, picked up all international rights outside China, Hong Kong, Taiwan and South-East Asia to the film. Media Asia is handling sales in South-East Asia. Fortissimo sold a slew of European and Middle Eastern territories at Berlin 2010, and more recently sold rights for North America and South Africa to The Weinstein Company.
Yeoh plays the role of a skilled martial artist who changes her identity in order to leave a gang of deadly assassins, The Dark Stone, and attempts to lead a normal life. Korean star Jung Woo-sung, who played a gun-slinger in kimchi western The Good, The Bad, The Weird, plays her seemingly innocent husband. The cast also includes Chinese character actor Wang Xueqi, Taiwanese actresses Barbie Hsu and Kelly Lin and Hong Kong star Shawn Yue.
Principal photography began on October 4, 2009 in Songjiang, China, and then moved to Hengdian World Studios. Behind-the-scenes talent also included action director Stephen Tung (Bodyguards And Assassins), DoP Horace Wong (A Better Tomorrow), art director Yang Baigui (Red Cliff), costume designer Emi Wada (Hero) and composer Peter Kam (Isabella). Main unit shooting lasted for 89 days, while a separate action unit shot simultaneously for 50 days. The film wrapped on February 27.
It was decided when Reign Of Assassins was being financed that Woo would co-direct the film. Su is one of Taiwan's hottest young talents – in 2002 he wrote and directed the hit comedy Better Than Sex and has also written high-concept thrillers Double Vision and Silk. He also directed the latter film, but as he only has two directing projects under his belt, and is relatively unknown in mainland China, the investors said they would be more comfortable if Woo co-directed.
Woo was on set to give guidance to Su on the set-up, choreography and filming of the action sequences, and directed some of the scenes himself. "John also edited the film with editor," explains Chang. "However it is different from the classic John Woo films, because the theme is very different. It is also a love story."
The film is set to receive its world premiere in an official out of competition slot at the Venice Film Festival next month. It will be released in Chinese-speaking territories in late September-early October to coincide with China's National Day holiday – a peak box office period on the mainland. The Weinstein Company is considering coinciding release dates in North America and South Africa.
Next up: Woo will direct Flying Tigers, about a US volunteer group that trained the Chinese Air Force to fly fighters planes during World War II. Chang is producing the film and also developing two English-language pictures – a remake of Woo's The Killer and Stranglehold, based on the John Woo-developed video game – and a few Chinese-language projects.